If you have your natal Moon in Cancer or know someone with this placement, this article is for you. This placement suggests that you are soft but powerful at the same time. People with this placement have a big heart. You want to belong and love to make others feel that they belong too. The Moon in Cancer gifts you strong intuition.
The Moon sign is extremely important. If you want to understand how someone manages his emotions, you should look to their Moon in the natal chart. This luminary governs your emotional nature, reactions, instincts, urges. The Moon sign is less frequently discussed as the Sun sign, but it is just as important, if not more. It helps you understand how someone loves and how they want to be loved. And someone with their natal Moon in Cancer has a lot of love to give.
Cancer is the sign ruled by the Moon. This means that this celestial body becomes much stronger here, because it is at its own 'home'. Unless severely afflicted, it operates with ease and harmony. People with this placement are great at navigating the world from a place of love. If they live the best octave of this lunar sign, they bring love and support to the world.
Keep reading to find out more about the Moon in Cancer in the birth chart!
Moon in Cancer Characteristics
What do you have to know about this lunar sign?
This is a very interesting position of the Moon, because it is a very good dignity in Cancer. The Moon is the planetary ruler of the Crab, and it works very well here. People who have this placement usually have very high emotional intelligence. They have deep emotions, much deeper than most lunar signs.
This can make you feel misunderstood-others have know idea about how emotional and sensitive you are. You often experience that people don't really get you and you are left alone. This can be very painful, because you have a deep desire to connect with others. Intimacy means a lot to you (not just in the physical sense of the word, you also want emotional bounding.)
It can be hard for you to express yourself and your deepest needs. Water signs are mute signs (the Crab, the Scorpion, and the Fish make no sounds), and you can also feel that you are stuck in your world, without the opportunity to connect with others. Depending on the sign of Mercury, people with the Moon in Cancer keep their emotions to themselves because they feel that nobody gets them.
You absorb the energies around you. You are very sensitive to what is happening around you. You are always in tune with the feelings of people in your environment. With a Cancer Moon in your natal chart, it is important that you surround yourself with people who are a beneficial influence in your life. If you feel that people around you drain your energy, you easily become distressed.
This lunar sign becomes emotionally involved very quickly. You are very empathetic. Suffering deeply bothers you. For a Cancer moon, it is the best to retreat from the world from time to time. Alone time is important to get rid of the external influences you absorb like a sponge.
People with this placement can get stuck in a bad mood for longer periods of time. Because of the intensity and depth of your feelings, you are more prone to depression than most lunar signs.
The Moon in water signs suggests a very powerful intuition. You instinctively feel what is the right option for you and what should be done. Sometimes you don't understand either how can your gut feelings be so accurate, let alone other people. Because of this, a Cancer moon can be labeled as irrational. Cancer is the sign of the unconscious. The Moon here can tap into the unconscious very easily. People with this position simply feel things.
The Moon in Cancer suggests that your memory is excellent. You remember many details and you especially remember how something made you feel. The negative side of this is that you also remember the bad things, and you can recall these memories very vividly. It is hard for a Moon in Cancer to move on. Others don't understand this and they can find it annoying, what additionally bothers you. The Moon in Cancer is a beautiful placement but by no means easy.
Because of your enhanced sensitivity, sometimes a Cancer Moon can be touchy. Others can unwillingly hurt you with things they don't even notice. It is very hard for others to understand this because they are not as sensitive as you, and they often say that you overreact. When a Moon in Cancer gets upset, it often fails to communicate assertively and enforce boundaries. In general, the negative side of water signs includes manipulation, using guilt to pressure others, martyr syndrome. An unevolved Cancer moon can use the same tactics to get what they want. This placement in the natal chart suggests a contemplative person.
This placement indicates that you hold on to pain, and you have to make a conscious effort to let go. This is one of the hardest things for a Cancer moon. You should find a healthy way to process negative emotions and work through your traumatic experiences. Verbal self-expression can be challenging. If you get stuck in the negative manifestation of a Cancer Moon, you easily become overwhelmed and insecure.
People who have this lunar signs often enjoy art. They are often talented at art themselves. It can be a wonderful way to release what bothers you and relax. It is important to find a coping mechanism with this moon sign. You are often very creative, and there are many fields where this can come to expression. For example, many people with an emphasized Cancer in the birth chart like cooking, and they are usually excellent at it. Cancer is the best cook of the Zodiac.
Cancer Moon Children
The Moon sign is often more expressed than the Sun sign in children. The Moon in Cancer suggests a very sensitive child who needs a lot of affection. She needs physical touch and reassurance that she is good. As kids, these people often struggle with fitting in and they find the world overwhelming. Many of them suffer a lot and they take things to their heart.
A child who has this lunar sign wants to be protected. It is important to establish a healthy self-esteem because Cancer is a labile sign at the end of the day. People with this placement need good coping mechanisms or they can easily become self-destructive.
In a birth chart, this placement suggests that the mother (or the primary caregiver) was a very influential figure. She was likely nurturing and gentle. The relationship with this person was usually good, unless the Moon is severely afflicted in the natal chart.
People with this lunar sign are usually very good parents themselves too. They are responsive to their kids' needs and they provide stability and safety. Some people with this placement want to adopt children, and they take care of other's kids as if they were their own.
With this placement, your home is your sacred space. A nice living environment where you can retreat and recharge is a must if you have a Cancer moon. You are a born homemaker. You often like old furniture, clothes, jewelry, especially if you inherited them from your family. There can be a tendency to hoard.
Cancer Moon in Love
How is this moon sign in love?
Moon in Cancer people find relationships with their loved ones very important throughout their lives. They usually prioritize relationships over other goals and achievements. Their family and friends are their greatest source of joy. The Moon here is very caring, gentle, nurturing. When it loves someone, it expresses it by acts of service, physical touch, undivided attention. It is amazing to have an evolved Cancer moon friend. They are good listeners and you feel that you can tell them your darkest secrets, they won't judge.
These people are faithful and committed in a relationship. They value family a lot.
A person with this lunar sign is a hopeless romantic. The Moon in Cancer wants the perfect love. They might not express their affection in a corny way, but if they once fall in love with you, they will love you forever. They are selfless and love very deeply. They will take of care of you no matter what. You have to do something really nasty to make this moon sign stop loving you.
At the same time, people with a Cancer moon should be more careful who they give their heart to. Not everyone feels as deeply as you do, and you should avoid people who will break your heart. Sometimes you have to distance yourself from people who cause you pain and suffering. This moon sign is prone to choosing partners who they can save in some way. One of the most important lessons of a Cancer moon is that you can only help someone who wants to be helped.
Keep in mind that the crab consists of a squishy body in a hard, thick exoskeleton. This is a pretty accurate description of someone with this lunar sign. As Moon in Cancer people grow older, they often become more self-protective and cautious.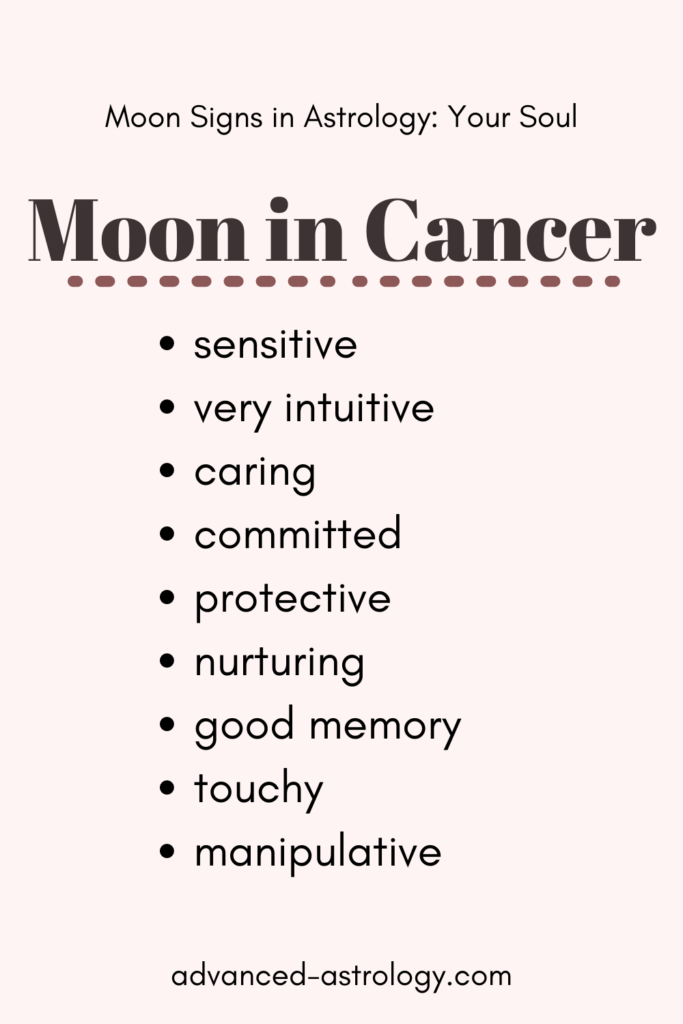 The aspects of the Moon and the house where it is placed modifies how it manifests in your life. For example, the Moon conjunct Saturn―or even just in the same sign―indicates a gloomier, more reserved person.
The house of your Moon reveals in which life area you want to find comfort and where you express your nurturing nature. For example, the Moon in the seventh house wants to be close to their spouse, while someone with the Moon in eleventh house can be seen as a mother figure in their communities and groups.
Read about the Moon through the houses of the natal chart here.
Moon in Cancer Woman
What is a woman with this lunar sign like?
Moon in Cancer women are very sensitive and nurturing. This placement suggests a very soft, feminine woman. They are great friends and family members. Others often seek advice from them.
A Moon in Cancer woman is very sensitive and emotional. However, even though her emotions run deep, she often keeps them to herself. This lunar sign dislikes oversharing. She can sometimes expect others to find out about her needs without she speaking about them.
In a relationship, a Moon in Cancer woman seeks safety and nurturing. She is very family-oriented and she wants the same in her partner. Commitment is important for her.
This is one of the best lunar signs when it comes to parenting. A Moon in Cancer woman intuitively feels what her child needs and she is very receptive to her child's emotions.
What Is a Moon in Cancer Man Attracted to?
A moon in Cancer man has a strong need to take care of those around him. He wants to make sure his loved ones are doing well emotionally, physically, materially, on every level. He is often more on the conservative side.
There is something feminine about a Moon in Cancer man. He is very nurturing and empathetic. When choosing a partner, he wants a woman who is family-oriented and feminine in the traditional sense of the word. A Moon in Cancer man is attracted to softness. Once he has found the person they want to commit to, he is usually very loyal.
The Zodiac Sign Cancer in Astrology
Cancer is ruled by the Moon. It is the fourth sign of the Zodiac, and it is connected with the fourth house of home and family in the natural chart. Cancer is oriented on private life. Its priority is taking care of its loved ones. It governs emotions, intuition, ancestry, homeland. Cancer is a retentive sign in astrology.
By element, Cancer is one of the water signs (the other two are Scorpio and Pisces). Water signs possess depth. The same is true for those who have this sign emphasized in their birth charts.
By modality, Cancer is a cardinal sign (the other three cardinal signs are Aries, Libra, and Capricorn). Cardinal signs are initiative and ready to take action. They are ready to make changes, but they react to change better if they initiate them. Cancer season marks the beginning of summer.
Moon in Astrology
Here are some of the things you have to know about the Moon in astrology.
The Earth's only natural satellite, the Moon is the celestial body the closest to us. Humans have payed attention to its beauty an mysteriousness since the earliest days. No surprise it has such an enormous influence on the Earth and on us, humans.
Every planet rules a zodiac sign in astrology (the luminaries are also counted as planets in astrology for the sake of tradition). The Moon is the planetary ruler of Cancer. Taurus is the sign of its exaltation, Scorpio the sign of its fall, and the Moon is in detriment in Capricorn.
In the birth chart, your emotional nature is described by the Moon. It shows how you process your emotions, how you react to the world, how you want to be nurtured, and what makes you feel safe and comfortable.
The Moon sign is one of the most important characteristics of a natal chart.
Moon in Cancer Celebrities
Here is a list of Moon in Cancer celebrities:
Shakira
Prince William
Harrison Ford
Janis Joplin
Miranda Kerr
Charles Baudelaire
---
If you found this article helpful, maybe you want to bookmark it for later. Make sure you share it with your friends who enjoy learning astrology!