Have you met those people who seem to chatter all the time about what they are feeling? Or do you happen to be one of them? With a moon in Gemini in the natal chart, it is likely.
This placement is an interesting one for multiple reasons. The energy of the Moon is not really compatible with Gemini, but this position has its advantages as well. Gemini moon people are extraordinarily witty, curious, and great conversationalists. They intuitively feel what approach is necessary in a situation. With this placement, your brain is coming up with ideas all the time.
Moon signs are very important in astrology. Everyone knows their Sun signs, but the Moon signs help you understand people on a next level. The position of the Moon in the birth chart reveals how you want to be loved and how you love others. Understanding your moon sign will reveal a new level of introspection.
Keep reading to learn more about the moon in Gemini in the natal chart!
Moon in Gemini
The Moon here is in the sign of communication and intellect. It is no surprise that these are so emphasized in people who have a Gemini moon in their natal chart. In this case, the Moon' dispositor is Mercury (the planetary ruler of Gemini), the planet of thinking and communication. The position of Mercury is also important when analyzing your Moon in Gemini.
What does this placement reveal about your emotional nature?
This placement is characterized by a genuine curiosity. You want to learn about the world and you need new information all the time.  The Moon in Gemini suggests that you feel the best in a place where you can always learn something new. You enjoy being around smart people.
You are smart yourself too. A Gemini moon in the natal chart suggests that you have a very active mind. You are constantly thinking and processing information from your environment. Sometimes this can make you overwhelmed, but in general, you like it that your brain is faster than most people's brains. With your Moon in Gemini, you are very smart and you offer unique insight just about any topic you have read about.
The Moon in Gemini is often described as chatty and talkative. In general, this is true, but depending on its aspects and house. For example, the Moon in Gemini in 12th house prefers to keep her real thoughts to herself. These people often avoid sharing their real emotions.
People with their Moon in this sign prefer light-hearted conversations to discussing deep personal topics. They want the discussion to be fun. This lunar sign likes to joke around, and in general, people with this placement are fun to be around.
Gemini moons are capable of getting along with anyone. This placement suggests a person who intuitively feels what the other person expects to hear or wants to hear. The Moon here can be manipulative too (this does not mean that everyone with this placement is manipulative. But they have the talent for it). It can exploit the weaknesses of people and use it to their advantage. Don't forget that Gemini is also the sign of swindle. It can be two-faced too, if it is necessary in a situation.
When stressed, Gemini moons often use humor to release tension. They make jokes about the things that bother them. This can be hard for more emotional moon signs to deal with, and they can perceive Gemini moons as superficial. This lunar sign also likes to communicate about their issues. Sharing what is on your heart can be great with a Moon in Gemini in the natal chart. With this placement, you can also find journaling helpful.
This lunar sign often dislikes pressure.Moon in Gemini people tend to be nervous, especially if there is something bothering them. In a mildly stressful situation, you can benefit from focusing on your breath. This placement indicates that you easily get lost in a chaotic environment.
People who have their Moon in Gemini are often unorganized. There is a tendency to be all over the place. You can easily overwhelm both your mind and your physical space. You want to acquire new knowledge, surround yourself with new stimuli, but you can lack follow through. This position suggests that you are hungry for new things. Gemini is a mutable sign by modality, adaptable and ever-changing.
Your mood also changes quickly, you are not as likely to be depressed for longer periods as some other lunar signs in astrology.
A Gemini moon in the birth chart suggests that learning is important for you. You are genuinely curious about the world and about people. You are always after new information. This placement indicates that you enjoy reading and writing.
The Moon in Gemini can be a wonderful position for work with people. Anything related to communication, reading, writing, media, marketing is very compatible with this placement of the Moon, and so is teaching, especially in elementary school and secondary education.
Your people skills are one of your greatest assets. You can become a great conversationalist with this placement in the natal chart. Talking to smart people inspire you, and you value intellectual connection more than connection based on anything else. You are a great friend. This placement suggests that socializing and chit-chatting is easy for you, but you also cultivate deeper friendships with a few people who are on the same wavelength as you.
How Is A Gemini Moon in Love?
In the natal chart, the Moon tells about what makes you feel that you are safe and taken care of. It has a lot to do with how you give and receive emotional nurturing. The Moon in the sign of the Twins is often said to be superficial. Air signs in general are intellectual rather than emotional, but this doesn't mean that they have no emotions. They often want a relationship and they have a strong need to connect with others.
Gemini moons are not the one to cry with you. They are not as intuitively empathetic as a water moon, but this emotional uninvolvement can help them see the situation clearly. Depending on how evolved the person in question is, they can use this for good or for bad. They can be wonderful people to talk to, but they can also be manipulative and two-faced.
A Gemini moon needs intellectual connection with someone to fall in love with them. This position indicates that you are after the perfect relationship and perfect love. It is not easy to settle for you with this placement in your birth chart.
The Moon also shows your parents and you as a parent in the natal chart. A Gemini moon suggests that you perceived your mother as a friend, and your relationship is light-hearted. She was often very smart and out-going. Chances are that she taught you many things. A mother with this placement is often very supportive of her children's education.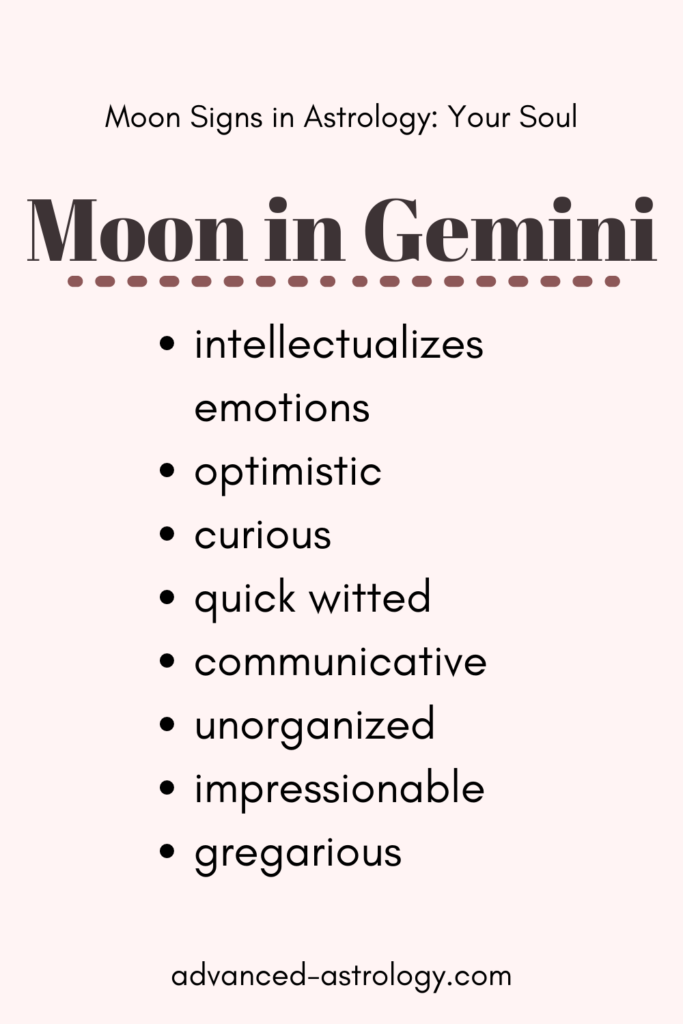 As you have probably heard before, the natal chart is more than the sum of parts. The sign of your Moon is only one piece of the puzzle. You need to consider everything in the natal chart to fully understand it. The house of your Moon, the position of its dispositor in the natal chart, and aspects to the Moon are also important.
Read more: the Moon through the houses in the birth chart
The astrological house where the Moon is located tells in which life area it expresses itself primarily. For example, the Moon in Gemini in the fifth house becomes more playful and dramatic, it loves excitement and it is often a great actor, while a Moon in Gemini in ninth house is characterized by an insatiable hunger for education.
Planets conjunct the Moon are also important. Their influence is felt even when in the same sign. For example, a Gemini Moon conjunct Saturn is definitely not as chatty and light-hearted as a Moon conjunct Venus. Everything should be interpreted in the context of the whole natal chart.
Moon in Gemini Woman
In one word, the moon in Gemini woman is fun. She is witty and entertaining. She is a very interesting person to talk to, and she seeks the same qualities in other people too. She is often well-liked in her community and seen as a teacher of some kind. People are attracted to her.
In a relationship, she wants her partner to be smart and funny.
As mothers, Moon in Gemini woman wants to have a friendly relationship with her children. She wants to teach them about various topics and she is a great role model.
Moon in Gemini Man Traits
How does a Moon in Gemini man process his emotions?
This placement in a male's chart suggests that he is not shy about expressing what he wants. He verbalizes his needs he communicates in a direct manner. However, if he assesses that the situation is not right for revealing his intentions, he can conceal them and use more refined tactics.
A Moon in Gemini man values intelligence in his wife rather than physical appearance. He wants someone who inspires him and who sparks fascinating conversations. He is attracted to playful, witty, funny partners.
Gemini Moon Compatibility
Which are the best lunar signs if yours is Gemini?
As an air sign, Gemini gets along the best with other air signs and fire signs. Air signs approach things similarly: they are objective, intellectual, relationship-oriented. There is a lot of common ground for Gemini moon compatibility with other air moons. Fire is the element that complements air.
The best lunar signs for Moon in Gemini compatibility:
Libra
Aquarius
Leo
Aries
Sagittarius
Fire signs are the best for Moon in Gemini compatibility. They are optimistic and funny, and they instinctively get it why a Gemini Moon dislikes gloomy moods.
Sagittarius is the opposite sign of Gemini, and compatibility here can be not as smooth as with the other fire signs. But it is still a good lunar sign combination for relationships.
The Moon in Astrology
384,000 kilometers away from us, the Moon is the celestial body the closest to us. It is not surprise that its influence is so expressed, both on the Earth and humans. In astrology, it is one of the most important celestial bodies. 
The Moon and the Sun represent two different parts of the personality (among other things). The Sun radiates the light, and the Moon reflects it. In astrology, the Sun represents the active, masculine principle, and the Moon the passive, feminine. They make a whole together. In the birth chart, the Sun shows your conscious self and ego, while the Moon shows your emotions and reactions.
There are many other things the Moon governs in astrology, too. It represents women, mothers, children, and pregnancy. The Moon is a planet of motherly, nurturing energy. The Moon in the natal chart describes how you want to be loved and what makes you feel nourished. Someone's Moon sign holds the key to understanding the person's inner world.
Some other things associated with this luminary include periodicity, changes and fluctuations, the subconscious, memory, intuition. Your Moon tells about your reactions to what is happening to you, your coping mechanisms, instincts, and urges. It also represents your intuition in the birth chart.
Moon signs are among the most important things in the natal chart.
Gemini in Astrology
Gemini is one of those signs you either love or hate. It has a pretty bad reputation, but this sign has just as many strengths are the other eleven.
Gemini is the third zodiac sign, ruled by Mercury, the planet of thinking communication. It is one of the three air signs. The element air is intellectual, observant, objective, communicative, reluctant to make a decision. Gemini, Libra, and Aquarius all reflect these qualities.
By modality, Gemini is a mutable sign. Mutable signs are versatile, changeable, easily adapt to new circumstances.
Gemini is the sign of communication in astrology. People who have a lot of Gemini energy in their chart have excellent social skills and they easily get along with just anyone. They adapt to new people and they can become the 'twin' of anyone. This sign needs new stimuli all the time.
Gemini is one of the most intellectual zodiac signs in astrology. It is characterized by very high intelligence, unique insights, quick, witty remarks, and usually a great sense of humor (however, it can be insensitive and scoffing as well).
Gemini Moon Celebrities
Here is a list of some moon in Gemini celebrities:
Jim Carry
Sigmund Freud
Tina Turner
Karl Lagerfeld
Priyanka Chopra
Edith Piaf
---
If you found this article useful, maybe you want to save it for later. Make sure to share it with your friends who enjoy learning astrology!