In this article, you can learn about the meaning of a Pisces moon in the birth chart. This is a very special lunar sign. People with this placement are extremely intuitive, sensitive, and they can easily tap into the magic of the unconscious. They are old souls. However, it can be challenging to navigate your everyday life with such a sensitive personality. You are easily overwhelmed by the noise of the world and upset by the harshness out there.
Your moon sign describes your emotional nature. It can help you understand your hidden, private self that you only show to your closest friends and family members. Learning about the lunar signs can help you understand yourself and other people better and improve your relationships.
Keep reading to learn more about the Moon in Pisces in astrology!
Moon in Pisces Personality
The Moon in Pisces is one of the most sensitive lunar signs. Here, it is under the influence of Jupiter and Neptune. In this water sign, the Moon's watery energy is enhanced. How this placement plays out depends on the level of maturity of the person. Water moons can be truly wonderful, but don't forget that they have a dark side as well.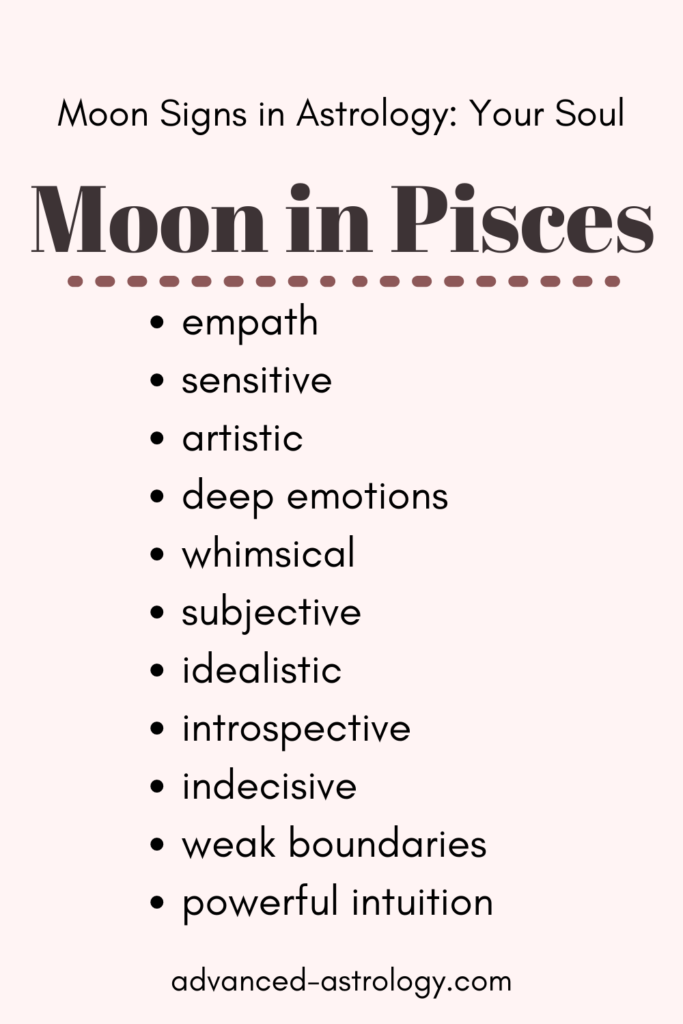 The Moon in Pisces indicates a sensitive, emotional person. They may or may not show this side of their personality to others, but rest assured that the Moon in this sign has an emphasized inner life.
There is something charming about a Pisces moon. People with this placement are warm and friendly. They are empathetic, want to make others feel good and at ease.
This lunar sign usually enjoys being around others to some extent, but it is also important to retreat from time to time and let go of the external influences you have absorbed. The Moon in this sign suggests that you absorb energies around you like a sponge. If you are in a negative environment, it can take a toll on your mental health. You should do everything in your power to create the optimal environment for yourself, because it has a bigger impact on you than on most people. Make sure you surround yourself with people who support you.
The Moon in Pisces flows freely in the ocean of emotions. Your emotions run really deep. The Moon here experiences so intense and strong emotions that it assumes everyone operates this way and it is challenging to deal with it. It is not easy to make other moon signs understand your emotions. You can feel that others abandon you or they are not there for you when you need it.
If you don't know how to deal with your Moon in Pisces, you can find yourself overwhelmed and out of touch with reality. Pisces is an otherworldly sign and it can be challenging to adapt to the mundane world. Many people with this placement feel that they don't belong. Your heart gets broken all the time. You feel that others don't appreciate you enough and don't reciprocate your efforts.
It is your innate talent to be receptive to the needs of others. You are an empath. The Moon in Pisces intuitively feels what people need. This can be a great strength, but also a weakness, depending on how you use it. If you don't learn how to control, it you can be a people pleaser. You tend to give too much. You are always there for others, but you can burn out quickly if you don't learn how to protect your energy. Pisces is one of the most misunderstood lunar signs.
One of the greatest Moon in Pisces weaknesses is a lack of assertiveness. You don't know how to let others know about your feelings. If water signs are emphasized in your chart, your boundaries are often weak. You don't know how to protect them. Learning to stand up for yourself is one of the most important lessons of a Pisces Moon.
This placement makes you aware of the needs of others. You tend to prioritize the needs of your loved ones over your on needs. You can struggle with codependency. The Moon in Pisces wants to save the world, but make sure you don't burn yourself in the process. Pisces is good at giving but not always good at taking equally.
As a mutable sign, Pisces is very adaptable. The Moon here makes you adapt quickly to changes. You usually get over minor issues quickly. When some more significant changes happen in your life, you are resilient and flexible. However, the Moon in Pisces is often melancholic by nature.
The Moon here indicates an extremely strong intuition, sometimes to the level of psychic ability. Moon in Pisces people are in tune with their unconscious. Sometimes it is a mystery to even you how you just know things, but this is how the Pisces moon operates. You are receptive to the clues around you. The Moon in Pisces has strong feelings about people and these turn out to be true in most cases. Make sure you trust your powerful intuition.
This placement is characterized by vivid imagination. Pisces is one of the most imaginative signs, and emphasis on this sign is common in the charts of artists. Your creativity knows no bounds. People with this placement often feel a need to create and share their world with others. You appreciate the arts as well. You especially enjoy music, movies, the theater. A Pisces moon is receptive to divine inspiration and it can turn it into amazing pieces of art.
Personal planets in Pisces indicate naivety and gullibility. You are pure and you assume that everyone is like you. You are impressionable and some people don't have good intentions. Many people with Pisces emphasized in their charts have painful experiences that bring it to their attention that they must have stronger boundaries.
Anxiety is familiar to many Moon in Pisces people. This placement can indicate low self-confidence, especially when young. As children, lunar Pisceans are often shy and self-conscious.
This placement indicates an interest in spirituality. You enjoy learning about different religions, philosophy, astrology, everything mystical. You are instinctively connected with the divine. Unless the Moon is seriously afflicted in the birth chart, people with this lunar sign are good-willed and kind. They want to help others and make the world a better place.
The Moon in Pisces suggests a sensitivity to the suffering of others.
The negative side of a Pisces moon can be manipulation. People with this placement fail at directly letting others know about their needs, but we all need to receive nurturing in return. The moon in water signs has unconscious expectations for others how they should behave. If they fail at this, you can grow resentful and suffer in silence.
Pisces has its dark side as well, as the rest of the Zodiac. The Moon here indicates a tendency for escapism. People with this placement often just go with the flow, which can be great from time to time, but if you keep drifting, there is no guarantee you will end up where you wanted to be. The Moon in Pisces uses various coping mechanisms. You can 'choose; maladaptive daydreaming or different addictions to deal with stress. Pisces is the sign of alcoholism and drugs among other things, and the Moon here is prone to seeing salvation in these things.
How the Moon behaves in each sign is modified by its house position and aspects to the rest of the planets. The house of your Moon tells in which life area you need security and nurturing. Aspects from other planets to the Moon color how it manifests in your chart.
If you want to learn about the Moon through the houses of the natal chart, check out this article.
In the natal chart, the Moon speaks about your childhood as well. The Moon in the sign of the Fish can indicate that you were taught to focus on serving others. In some cases, this placement suggests that your mother could not assert her boundaries.
Moon in Pisces Woman
Moon in Pisces woman radiates with feminine energy. She is soft and romantic. There is an innocent, childlike quality to her. She enjoys life and she follows her heart rather than her brain sometimes. Emotions are important to her.
In a relationship, the Moon in Pisces woman is sensitive to the needs of her partner, she wants to give them the best and she sometimes forgets about taking care of herself. She is kind, empathetic, and fun to be with. She is prone to missing red flags and giving her heart to the wrong person.
Moon in Pisces Man
What is the Moon in Pisces man attracted to?
This placement is easier for women to deal with, as it is not the most masculine placement. A man with a Pisces moon is not the stereotypical macho. He is rather feminine and sensitive.
The Moon in the chart of a man describes the kind of woman he wants to commit to, his ideal wife. The Moon in Pisces man wants to settle down with a feminine, soft woman who understands his emotional world intuitively. He prefers women who are open to helping others, artistic, spiritual.
Moon in Pisces Compatibility
When it comes to astrological compatibility, lunar signs are among the most determining factors. For long-term compatibility, Moon connections are a must. Which are the best moon signs for Moon in Pisces compatibility?
As a water sign, Pisces is the most compatible with other water signs and earth signs. The Moon here works together the best with other water moons. Water carries depth, emotional involvement, intensity, and for a Pisces moon, these are essential in a relationship. Air and fire moons are not really capable of giving the Moon in Pisces what it wants in the long run.
Earth moons are also a great option. Earth has a grounding effect and it can help a Pisces moon let go and look at things from a more practical, solution-oriented perspective instead of fueling emotions.
The best moon signs for Moon in Pisces compatibility in astrology:
moon in Cancer
moon in Scorpio
moon in Taurus
moon in Virgo
moon in Capricorn
Meaning of the Moon in the Natal Chart
What does the Moon represent in astrology?
This luminary is one of the most important celestial bodies. As the closest celestial object to us and the Earth's only natural satellite, the Moon influences us in many ways.
In astrology, it is associated with emotions and nurturing. The Moon is fluctuating and ever-changing, just like your mood and feelings. It makes a full circle through the Zodiac every month, spending 2.5 days in each sign. It is the quickest celestial body. This makes its position in the birth chart particularly important. If you nothing about someone except their Moon sign, you can still have an idea about how this person's psyche works.
In the natal chart, the Moon describes how you express your emotions and how you process them, how you want to be nurtured and taken care of. It is also associated with reactions, deep urges, instincts, mood, habits, periodicity, fluctuations.
The Moon is a parental planet in astrology. It is connected with the archetype of the mother. The Moon in your birth chart describes your relationship with your mother, you as a parent, and your parenting style in general. In the chart of a woman, the Moon describes her as a wife, while in the chart of a man, it speaks about his ideal wife, the qualities he seeks in the woman he wants to settle down with.
Pisces in Astrology
Pisces is the last sign of the Zodiac. Endings are always special, and so is the last zodiac sign. Pisces is part of a different world beyond mundane existence. Those with this sign strong in their chart can easily tap into the magical world of the Fish, but they also have to face its challenges which is not always easy.
Pisces is the mutable water sign of the Zodiac. Its energy is feminine, it is a passive or negative sign by polarity. The element water is connected with emotions. Water signs are intuitive, sensitive, empathetic. Mutable signs are always changing and they are associated with endings an transition.
The Fish is soft, gentle, dreamy, artistic, creative, compassionate, sensitive, intuitive. The negative traits of this sign include escapism, illusions, addiction, self-destruction, confusion, being lost in general.
Moon in Pisces Celebrities
Here is a list of some popular Moon in Pisces celebrities:
Martin Luther King
Grace Kelly
Audrey Hepburn
Frank Sinatra
Coco Chanel
Marie Curie
Edgar Allan Poe
---
If you found this article helpful, maybe you want to save our site for later. Share it with others who enjoy learning astrology!