Moon in Scorpio people experience great depth and their emotions run really deep. This position of the Moon in the natal chart is one of the most intense. These people have a lot of experience with hardships and traumatic events, and this makes them resilient. This is one of the most badass lunar signs in astrology. A Scorpio moon in the natal chart suggests a person who is deep and passionate, and who will get what they want. They are very capable.
The Moon in Scorpio indicates a mysterious, reserved person. You are not someone to be taken lightly. In your relationships, you need intensity and passion, and you can be pretty possessive. At the same time, your boundaries are strong and you need to be respected. You remember everything and you do not move on quickly, for better or worse.
Your moon sign is one of the most important features of your astrological portrait. The Moon's importance cannot be overestimated in astrology-this luminary represents your soul, your emotions, needs, urges, your subconscious, your instincts and reactions. The Moon sign can explain why you handle emotions the way you do and it also speaks about your childhood and your relationship with your mother.
Keep reading to learn more about the meaning of the Moon in Scorpio in astrology!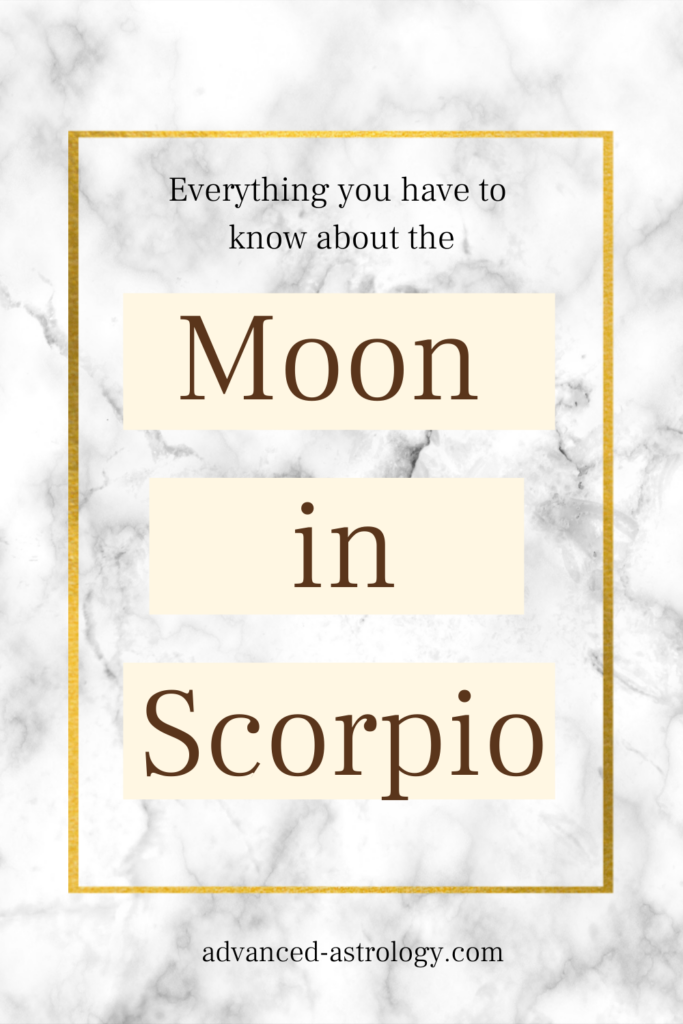 Moon in Scorpio Personality Traits and Meaning
The Moon here is in the sign of its fall. As a sensitive, soft, feminine planet, its energy does not feel at home in intense and raw Scorpio. It is under the influence of Pluto and Mars here, two malefic planets, and it is considered to be weaker in Scorpio. However, this lunar sign does have many strengths and advantages, but people with this placement are in general more prone to depression and dark moods.
The Moon in Scorpio person faces the dark side of life at an early age.In some cases, there were some issues at home or with the mother, but it is frequent with this placement that the sense of security is weakened. Scorpio moon people often couldn't get the safety and nurturing they needed, or some other events cast a shadow on their childhood. This is one of the most resilient lunar signs, as you had to develop coping mechanisms early on. This placement suggests that you had to overcome many challenges as a child.
The Moon in Scorpio personality is used to fighting and their perseverance is exceptional. In face of adversity, you become much stronger and you can turn your weaknesses into your greatest strengths. The saying what doesn't kill you makes you stronger is characteristic of the Scorpio moon. These people are survivors.
More than in other cases, how Scorpio placements play out depends on the level of maturity of the person. An evolved Scorpio uses the power of this influence to better their life and the life of other people around them, while an unevolved Scorpio can cause a lot of trouble. The Moon in Scorpio can go both ways too. These people can be exceptional healers and supporters others can lean on or they can act in extremely destructive ways.
This lunar sign gives you a unique energy which leaves few people are indifferent. The Moon in Scorpio personality radiates with charisma. There is a strong personal magnetism to Scorpio placements in the birth chart, planets in this zodiac sign indicate a powerful presence.
In many cases, people are instinctively attracted to you. At the same time, this lunar sign indicates a person who is not to be messed with. You can stand up for yourself and protect your boundaries very strongly if and when needed. You hate to be dismissed and be taken advantage of. The Scorpio might or might not be revengeful, but it doesn't forget. This placement suggests a good memory, and even if you forgive, you don't forget. It is hard for you to let go.
The Moon in Scorpio indicates that you experience things very intensely. Scorpio is all about depth, and the Moon here reacts to everything very strongly. Your emotions are strong and intense, however, you often prefer to keep them to themselves. This lunar sign is reserved and suffers in silence.
A Scorpio moon in the birth chart indicates that your intuition is strong. In general, people with water lunar signs are in tune with their unconscious. Moon in Scorpio people are very sensitive to their environments. In some cases, this placement can suggest a hypersensitive person.
You are receptive to the undercurrents around you. You can use this influence for good or bad. Scorpio and Pluto strive to control everything. There can be a tendency to try to control people around you. The Scorpio Moon is very good at psychology and they can abuse this power to manipulate others. This placement suggests a person with great self-control, they will act in a way that serves their agenda. They won't reveal their true emotions in many cases, Scorpio is a very reserved and mysterious zodiac sign.
This lunar sign indicates self-confidence. You draw your self-confidence from all the hardships you had to go through.
This placement in the birth chart often indicates a constant desire to change. Scorpio moon people transform themselves all the time. A more evolved Scorpio moon personality loves self-development, and they benefit from going to therapy and learning about managing their thoughts. They can also make great therapists. They are natural born counselors, this lunar sign is there for their loved ones and people like to open up to them. A less evolved Scorpio moon can take advantage of this. Don't forget that the negative side of this zodiac sign includes mind games, manipulation.
In some cases, the Moon in Scorpio can indicate traumatic events in the past, either in your past or in the past of your family. These events often make their marks on your upbringing and it shapes the way you see the world.
The Moon also represents your mother in the natal chart and your relationship both with her and being a woman in general. (In a man's chart the Moon represents his anima.) The Moon in Scorpio indicates that this relationship is not without any struggles. In some cases (especially if the Moon is afflicted), the mother was absent or she had health issues.
Often, this lunar sign can point to issues accepting your feminine side. If the Moon is afflicted, it can indicate abusing sexuality or settling for substandard partners.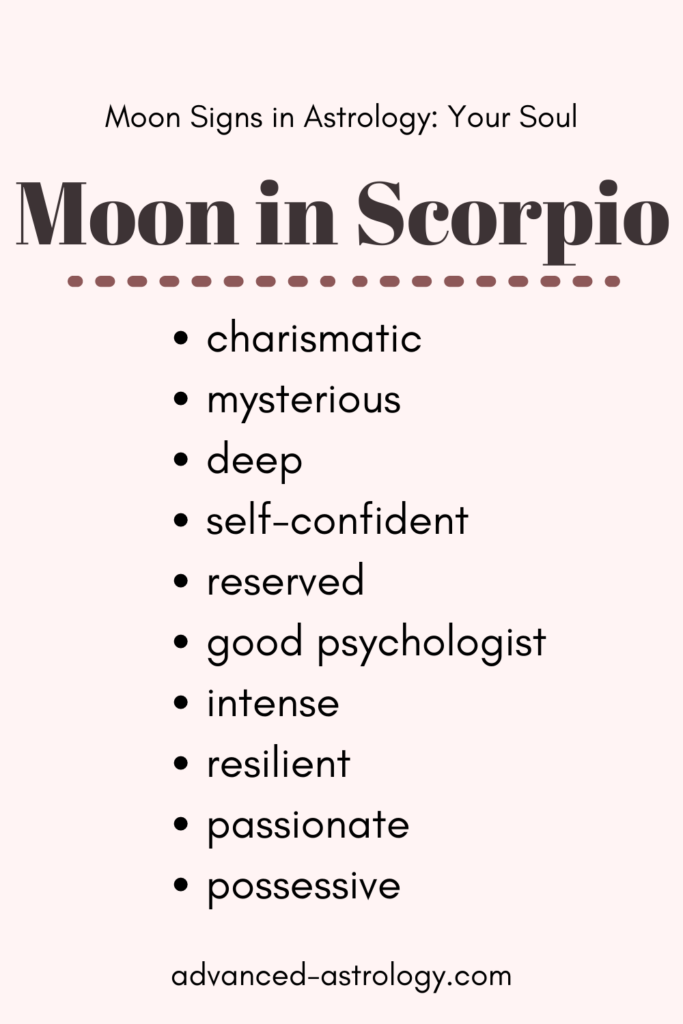 Besides the sign of the Moon in your birth chart, there are some other things that color how you experience its energies. Planets in aspect to the Moon modify how your Moon plays out. For example, Saturn aspects restrict it and it can freeze the Moon's ability to give and receive nurturing. The house of the Moon tells in which life area its energy manifests to the greatest extent. You can read the meaning of the Moon through the houses here.
Moon in Scorpio Woman
A moon in Scorpio woman is very intense. She is charismatic and strong. If Scorpio is emphasized in the chart of a woman she often has a femme fatale aura. The Moon in Scorpio woman is sensual and seductive. Sex is important for her in a romantic relationship.
In a relationship, commitment and loyalty are very important. The moon in Scorpio woman wants to be the only one in her partner's life. She does not trust people immediately, it takes a lot of work to win her heart. She tests everyone people first to see who is worthy of her attention. Once in, she is loyal and protective. She is not satisfied by superficial relationships.
What Is a Moon in Scorpio Man Attracted to?
Moon in Scorpio man is attracted to intense, complex women. He is unlikely to settle with someone who does not possess depth. He wants a mysterious, mind-boggling, sensual partner. Sex plays an important role in the relationship and he is very passionate.
In a man's chart, this lunar sign suggests that he wants loyalty and he wants to connect on many levels. If the Moon in Scorpio man is in a committed relationship that means to him a lot, he is usually a great provider and likes to share his resources with his partner.
Moon in Scorpio Compatibility
Lunar signs are among the most significant factors in compatibility. The Moon represents your soul in the natal chart, and for a long-term, committed relationship, soul connection is essential. This is when the Moon comes in.
Scorpio is a water sign by element, this means that it feels the most understood by other water signs (Cancer and Pisces). Water signs are deep, emotional, and crave intensity.
Earth signs are another good option for moon in Scorpio compatibility. Water and earth nurture each other. The Moon in earth signs can provide the Scorpio moon with objectivity, realistic thinking, practical advice.
The best lunar signs for Moon in Scorpio compatibility:
moon in Cancer
moon in Pisces
moon in Taurus
moon in Virgo
moon in Capricorn
Meaning of the Moon in Astrology
The Moon is one of the most influential celestial bodies. In astrology, the luminaries describe your personality to a great extent. In addition, they represent many other things. The Moon is associated with emotions, reactions, instincts, needs. It is the planet of memory, the unconscious, and your intuition. The Moon is a part of your personality you show only to people who are really close to you, your family members and close friends.
In the Zodiac, the Moon rules Cancer. It is exalted in Taurus, in fall in Scorpio and in detriment in Capricorn. It is in accidental dignity in the fourth house.
The Moon speaks about your emotional nature. It also describes how you react to what happens to you and your coping mechanisms. The energy of this luminary is feminine, nurturing, caring.
Scorpio in the Zodiac
Scorpio is the eighth zodiac sign. In the natural chart, it is connected with the eighth house, one of the most difficult houses to understand. Scorpio is the sign of crisis, trauma, the underworld, deep transformation, regeneration. By element, Scorpio is one of the water signs. Water signs are mysterious, deep, emotional, intuitive. By modality, Scorpio is a fixed sign. Fixed signs are persistent and stable. If Scorpio makes up its mind to get something done, it will get it done.
Scorpio is in touch with the darker side of existence. This sign is very intense and it is not always easy to deal with the intensity. It is raw and passionate. Scorpio wants to get to the bottom of things and it wants to devour what it is interested in.
Scorpio is ruled by Pluto. Before the discovery of Pluto, it was ruled by Mars, and in traditional astrology it is still considered its ruling planet.
Moon in Scorpio Celebrities
Here is a list of some Moon in Scorpio celebrities:
Beyonce
Bruce Lee
Elizabeth Taylor
Charlie Chaplin
Nelson Mandela
Johnny Cash
Steven Spielberg
---
If you found this article helpful, maybe you want to save it for later. Share it with your friends who enjoy learning astrology!