Mars in eleventh house in the birth chart is a bewitching placement. It suggests that you love to put yourself out there. You make friends easily and you are charismatic. People with this placement are creative and have a lot of energy, and this helps them realize their goals in life. Being around others makes you feel more energized.
If you have your Mars in the eleventh house in the horoscope, keep reading! In this article, you can find out what this placement of Mars means in astrology. Mars is one of the inner planets. Its position in the natal chart tells what gives you the most motivation to take action and how you fight for what you want.
Mars in eleventh house people are born to be around others. If you have this placement, you are ambitious and love to build your network. This placement suggests a capable person, and you usually become successful in life, whatever success means to you. You are ambitious and determined.
Friends are a source of inspiration in your life. However, if your Mars is afflicted, keeping them can be challenging for you, or you might face hardships in this life area.
Learn more about how to interpret your natal Mars in the eleventh house!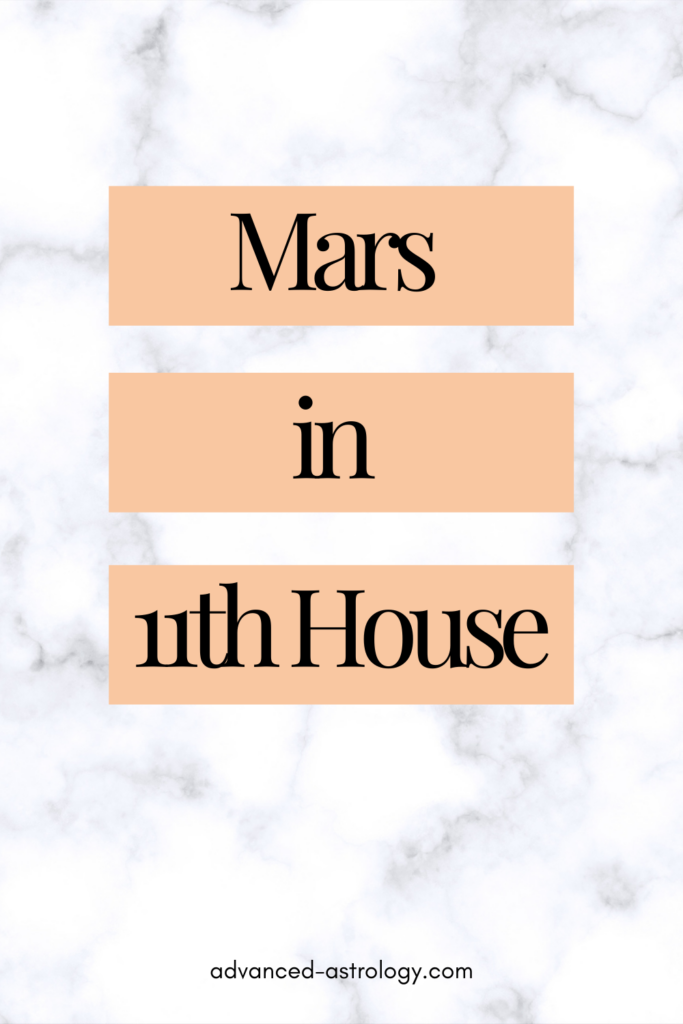 Natal Mars in Eleventh House
The eleventh house is known as the house of hopes and wishes. It's a social house too, primarily referring to your social circle. Planets here indicate that you are gregarious and outgoing.
Mars in eleventh house people have the inner drive to go after what they want. They put a lot of effort into achieving their goals. This is a good placement for Mars, because here, you can easily use its fiery energies in a constructive way.
You are motivated and can ascend to great heights in life. Mars in eleventh house indicates that you are ready to do the tiresome hard work in order to get ahead. People who have this placement in their birth charts are not afraid of competition (they actually thrive on it). They love to fight for causes they believe in and they do it in a powerful, assertive, and sometimes even aggressive way. Often, these qualities manifest primarily in their connections and social groups.
Mars here is a good position for financial gain, too. In astrology, the eleventh house shows everything that comes into your life, including material goods. It's how the universe supports you. With your natal Mars here, you are able to make the most out of its gifts.
If have your Mars in the eleventh house, money is important to you, and you work hard to achieve financial success. You are motivated to improve your social status, which is very important to you. It can be one of the major drives that motivate you to accomplish your goals, especially if your Mars in 11th house is paired with some Leo placements. You can even be overly materialistic.
Joining Forces
Mars in the eleventh house suggests someone who was born to be a team player, or more accurately, a team leader. You work the best when you are around others. They inspire you and you are more effective when working with others. A solitary profession is probably not for you if you have your natal Mars in eleventh house. Your love for networking leaves you a lot of professional connections. This helps you tremendously in getting ahead in life.
Although you have a talent for socializing and you are often very popular, you value independence. You enjoy being in charge, and you can be a good leader. Depending on the rest of the chart, you may enjoy small talk more than forging deep bonds.
People who have this placement in their birth charts enjoy socializing and networking. It goes without saying that being around others is beneficial for your career, especially if they work in a similar field. The matters of a succedent house (such as the eleventh) support the life areas of the preceding angular house (in this case, the tenth house of career).
When at an event, you are the one who walks up to people and initiates a conversation. You prefer an active approach when it comes to making friends. The more connections you have, the more opportunities come to you. Mars in eleventh house people instinctively know this, and they capitalize on the power of knowing the right people.
Mars in the eleventh house wants to make an impact on society. The eleventh house is the house of ideals. With your Mars here, you have a lot of them. If this planet receives harmonious aspects in your chart, you consider everyone your friend, or at least potential friend, nevertheless of their skin color, nationality, or religion. Mars in the eleventh house people have humanitarian ideals. You think that society could function better. You work on making this happen, often through volunteering and helping those less fortunate.
Mars in Eleventh House and Conflicts
Your circle of friends is a source of inspiration in your life. They often embody the qualities you would like to own if you don't already possess them. You choose friends who have high energy levels and prefer to spend time in an active way.
If you have this placement in your natal chart, you are enthusiastic and passionate about the organizations you are a member of. You are most often a leader ― Mars is definitely a dynamic leader. Mars in eleventh house people prefer to take action and initiate changes rather than being passive followers.
The dark side of Mars in eleventh house is a tendency to argue with friends and compete with them in an unhealthy way. Mars brings quarrels and disharmony to the matters of the house where it's located. If your Mars is afflicted, your friendships can be a source of conflict in your life.
The position of Mars in the natal chart tells where you spend most of your energy. With your Mars in the eleventh house, this is your network and circle of friends. You are excellent when it comes to organizing an event.
Group activities make you feel energized and fuel your enthusiasm. You enjoy being around like-minded people you can discuss your interests with. Making friends also help you achieve your goals.
Your place in society is very important to you. You want to become well-respected and influential in your circles, and you have a lot of acquaintances.
This placement can be political. If a Mars in eleventh house gets into politics, they have often rebellious views.
Meaning of Mars in Astrology
Mars is the soldier in us. It wants and has the strength to fight. In the natal chart, the house of Mars will tell you in which life area this comes to expression.
Mars got its name after the Roman god of war, and it represents the archetype of the warrior and the hero. Mars is the most masculine planet, the polar opposite of graceful and charming Venus. The red planet solves problems with a brute force approach, using muscle, not the brain.
In the natal chart, this planet represents your inner drive and energy. If you use your Mars constructively, it helps you protect yourself, achieve your goals and get what you want. Without Mars, life would be boring and we couldn't survive.
However, an afflicted Mars which you didn't learn how to use properly can destroy your life. It can make you vicious and impulsive, making life difficult and exhausting with its constant brawls and confrontations.
In the Zodiac, Mars rules the sign Aries. If Mars is placed in Aries, Capricorn, or in fire signs in your horoscope, you have a strong Mars by sign.
If you want to learn more about this planet, visit this article to read what Mars represents in astrology and in the birth chart.
The Eleventh House in the Natal Chart
To fully understand how a Mars in eleventh house operates, you have to understand the meaning of the eleventh house.
The eleventh house is associated with the zodiac sign Aquarius in the natural chart. Aquarius is all about freedom, humanitarian ideals, originality, and modern technologies. A strong Aquarius in the birth chart suggests that the person has many brilliant ideas, and they are an eccentric person, but sometimes even a freak.
In the chart wheel, the eleventh house is the house of groups and organizations. It's sometimes referred to as the house of friends, however, these friendships are emotionless, and they are acquaintances rather than friends.
The eleventh house is about socializing and networking. Here you find like-minded people who share your vision, and working on it together, they help you turn it into reality.
When talking about the eleventh house, it's important to mention that this house also shows everything that comes into your life. Because of this, it's sometimes called the house of hopes and wishes. If you are wondering why are these two life areas bound together in the chart wheel, it's because you can fulfill your dreams with the help of other people the best.
---
If you liked this article, maybe you want to save our site for later. Share it with others who enjoy reading about astrology!