If you have your natal Mars in the ninth house and want to learn how to interpret this placement, you've come to the right place. In this article, you can read about this placement in the birth chart.
Mars in the ninth house people put a lot of effort into their education. Knowledge is important to them, it's a source of power in their lives. They are enthusiastic about learning and broadening their horizons.
Mars here is passionate about adventure, these people love to visit foreign countries and discover foreign cultures. The ninth house is one of the most positive houses in the chart wheel, associated with Jupiter, the planet of luck and abundance.
Keep reading to learn more about the meaning of a natal Mars in the ninth house!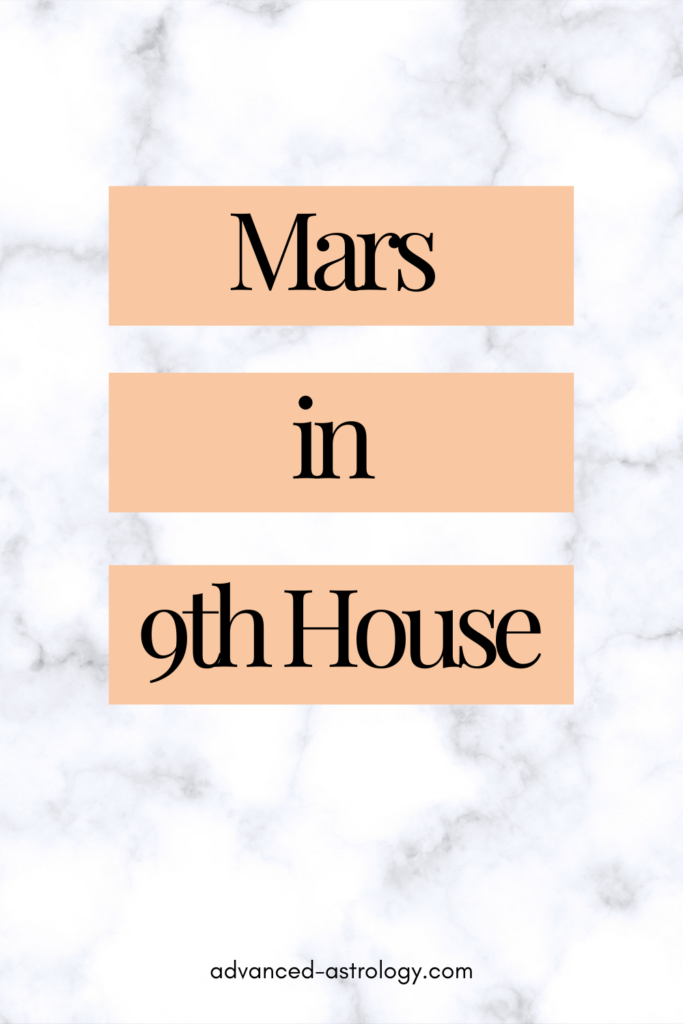 Meaning of Mars in Astrology
Mars is the active force behind our actions. There would be no drive in us to go after what we want without the red planet. Mars is the instinctual answer when something unexpected happens. It's the fight or flight response when someone attacks you, or the unconscious reflex that makes you move your hand away when touching a hot surface.
As you can see, Mars is essential for us to survive! If you learn how to work with it, it will make you capable and brave. However, Mars is hot-headed and impulsive, so it's essential to develop self-control.
Some more things associated with Mars in astrology:
energy
aggression
violence
assertiveness
passion
sex and libido
survival instincts.
In the natal chart, the sign of Mars shows how you express its energies, while the house where your Mars is located tells which life areas are you particularly passionate about.
If you want to learn more about what this planet means in astrology, here's an in-depth article about the meaning of Mars.
The Ninth House in the Natal Chart
The ninth house is the house of searching for knowledge. All the life areas connected with it serve this purpose.
The sign associated with this house is Sagittarius. And do you know which planet rules Sagittarius? Jupiter, the planet of expansion, luck, and abundance. Whatever Jupiter touches, it expands it. The purpose of the ninth house is to help you expand your mind and give you a vision.
Some of the life areas associated with the ninth house include higher education, foreign cultures and long-distance travel, philosophy, and religion.
The main lesson of the ninth house is to help you develop your personal philosophy and find answers to the great questions of life that can explain the intense experiences of the eighth house.
Natal Mars in the Ninth House
Since the ninth house is traditionally associated with Sagittarius, there is a touch of this sign to Mars here.
The ninth house is a fire house, which feels familiar to Mars. However, the ninth house is a cadent house at the same time, and this planet that loves action and the physical world has to operate on a mental level here. If not afflicted, this is a good placement for Mars in the birth chart.
There are many ways a natal Mars in the ninth house can manifest, but they have the search for knowledge in common. If you have this placement, you put a lot of effort into learning, and you are often fairly successful in it.
You are optimistic and full of enthusiasm. Mars in the ninth house suggests a highly motivated person. If it's placed close to the Midheaven (the cusp of the tenth house), this emphasizes ambition. In this case, you often choose a career that is related to Mars, for example, engineering, the military, or even a surgeon. You have high expectations in life, and strive to achieve your goals.
The ninth house is the house of travel in astrology. Mars here shows a passion for travel. If you have this placement, it can happen that you even move to a different country permanently, but you want to visit foreign countries for sure. If your Mars is afflicted, be careful because its impulsivity can lead to dangerous situations.
Mars in ninth house people are often talented in sports. They have a lot of energy, and physical activity is a way to spend it in a positive and constructive way.
There is a hunger for adventure with this placement. It goes without saying that Mars in the house of travel is passionate about traveling and foreign cultures. You are often drawn to them, if there is a connection with Gemini or Mercury, you are talented when it comes to learning foreign languages.
Intellectual Pursuits and a Love for Learning
Mars in the ninth house people are passionate about education.
They are firm believers that knowledge is a weapon, and you can use it to protect yourself if you have to. You are an independent thinker. In a debate, you can't stand it when someone has no references to their arguments.
Planets in the ninth house suggest a well-educated person. With Mars here, you are usually a college graduate, and higher education plays a big role in your life. It's often a source of power for you, something that reminds you of how strong you are and that you can keep going no matter what.
You are smart and capable of seeing the big picture. With your enthusiasm and passion for knowledge, you would make a good teacher in some form. Often, Mars in the ninth house people work in a school or in higher education, which can be a great career for them.
If you have this placement, you radiate enthusiasm, and others want to follow you. Sometimes people with this placement end up in politics.
In the birth chart, Mars shows where you invest a lot of your energy.
When it's placed in the ninth house, it's pursuing knowledge. New ideas are fascinating to you, especially in the field of law, philosophy, or education. However, this placement can make you prone to being self-righteous, and thinking that your idea is always the best. Watch out for tendencies to be hurt when someone has a different opinion than you.