In this article, you read about the meaning of Neptune conjunct the ascendant. Neptune is the planet of fairy tales, fantasies, mystical experiences. The ascendant is one of the most important points in a horoscope. It determines how the rest of the chart is laid out, and besides that, it represents the physical body. Planets aspecting the ascendant should be paid a lot of attention to, as it is a key pillar of the birth chart and the personality.
Neptune rising in the birth chart suggests that you are strongly connected to your intuition, dreamy, there is something about you that charms people away. At the same time, your compassionate, emotional nature might attract people who project their own emotions on you.
If someone else's Neptune falls on your ascendant, there is something magical about the relationship, but whether is it indeed as good as it seems is another question. The ascendant conjunct Neptune in synastry is an ambiguous placement.
Neptune is one of the outer planets. Its sign is shared by masses of people born during a 14-years period. Because of this, the position by houses and the aspects of Neptune are more significant on a personal level. When it is conjunct such an important point as the ascendant, Neptune becomes very emphasized. It might even be your dominant planet.
Keep reading to learn more about the meaning of Neptune conjunct the ascendant!
Neptune Conjunct Ascendant Natal
In the birth chart, this placement gives you a lot of Piscean qualities. (Neptune is the ruling planet of Pisces in modern astrology). You might even come across as a Pisces rising in some cases. Regardless of your rising sign, Neptunian energy influences how you present yourself and the persona others see of you.
Neptune conjunct the ascendant might indicate a wishy-washy self-image. You can lack a solid sense of self, or this aspect might play out as not seeing yourself realistically. Neptune can express its energy like a distorting mirror-sending a warped image back to your eye. You likely change a lot throughout your life, more than most people.
The positive manifestation of Neptune on the ascendant is a talent for all things magical and artistic. You have a free pass into the world of fantasy (and you probably enjoy being there a lot). This is an excellent placement for acting, music, dancing, art. These activities are great outlets for this planetary energy. There is something magical to you, something that mesmerizes the audience.
Neptunian energy is ethereal, mystical, enchanted, and the energy your physical appearance radiates is probably like that too. Some people with this placement might feel like they are a well-kept secret. Neptune's foggy energy might stop others from seeing who you are, especially when you are young. People think they know you, but then you turn out to be someone completely different.
Neptune conjunct ascendant natal placement indicates enhanced sensitivity. You notice energy around you, and you easily absorb it too. Developing strong boundaries and healthy coping mechanisms are a must. You might take on negative energy very easily, so placing yourself in environments that support your growth can be really helpful. Make sure you choose who you surround yourself with very carefully. Neptune conjunct ascendant is an indicator of strong intuition, you just need to filter out the noise. Alone time is beneficial for people with this placement.
You are connected to the ethereal world as much as to the physical world. This placement often indicates an interest in hidden, mystical things. Chances are that you have been interested in how the universe works from an early age. People with this placement are often drawn to spirituality. They are often very compassionate. Suffering in the world bothers them deeply, and they feel the pain of other people. They often stand up for the less fortunate.
If you live the lower octave of Neptunian energy, you struggle a lot with chaos in your life. You might lack security and feel that you are not cut out for this world. You can feel misunderstood all the time.
Neptune conjunct the ascendant in the birth chart can also indicate that you are an empty canvas for others to project their ideas onto. You might get a lot of attention (desired or not), for better or worse. However, others often don't have the correct idea of you, and they paint you over in their mind according to their own perception. This can be really draining, especially if the rest of the chart contradicts the personality shown by the rising sign.
There are many possible manifestations of Neptune rising. Transcendental planets are not always easy to integrate in a healthy way, but they give you a special energy to move forward and advance both your life and the life of others.
If you have this placement, you should find on the cusp of which house is Pisces in your birth chart. The themes of this house will likely be really important to you, and they might even become a part of your identity.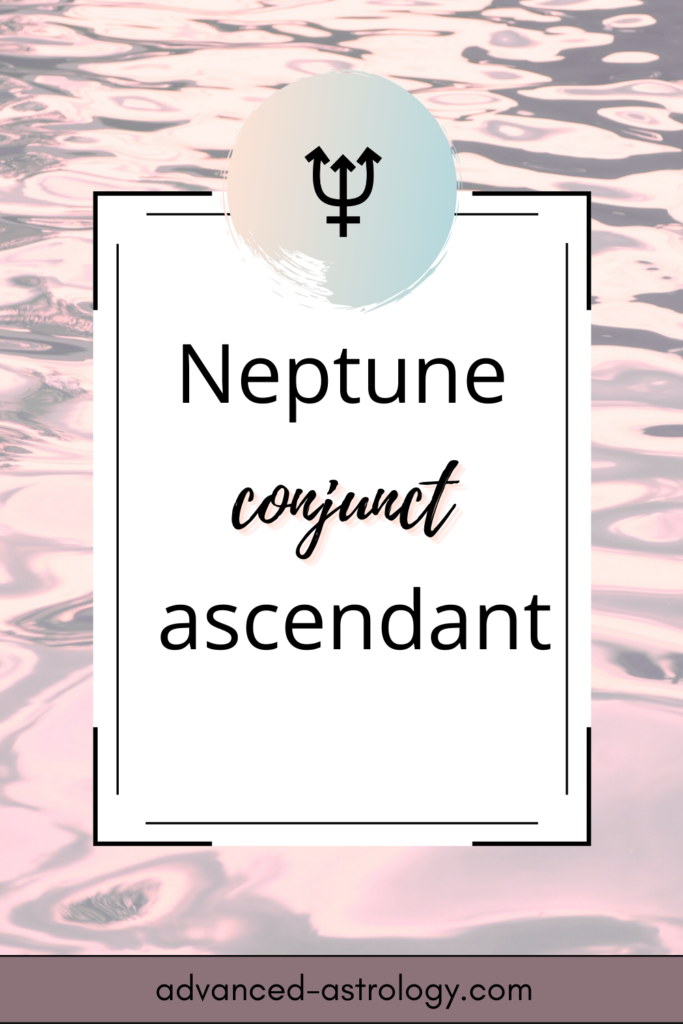 Celebrity examples with Neptune conjunct ascendant:
Ariana Grande
Bjork
Edward Norton
Pink
Gwen Stefani
Bill Clinton
Taylor Swift
Marcel Proust
Julian Assange
Neptune Conjunct Ascendant Synastry
This is a fascinating aspect, but is it good? Not always. It can be, but you should be careful. When talking about malefic planets, most people immediately think about Saturn and Pluto, but Neptune can be super dangerous too. Don't forget that this planetary energy is deceitful. Because of its mystical quality, it becomes much more difficult to actually notice the moment when things go wrong. You might have a completely different idea of a person than what they are like in reality.
With that being said, Neptune conjunct ascendant synastry aspect literally enchants you. The people are drawn to each other, but the ascendant person feels this conjunction more intensely.
When you have Neptune conjunct the ascendant in synastry with someone, you can feel like you met prince or princess charming. The Neptune person can totally blew away the ascendant person. It might feel an otherworldly, enchanting relationship. However, this conjunction can also end in disenchantment.
If you have the Neptune conjunct ascendant aspect in synastry, it is crucial how the rest of your charts work together.
Meaning of Neptune in Astrology
Discovered in 1846, Neptune is the eighth planet from the Sun. It is not visible to the naked eye, and ancient cultures were not aware of its existence.
This planet rules inspiration, fantasy, spirituality, union with the divine, otherworldly experiences. It is also the planet of dreams, sleeping, medication, modified consciousness. Named after the god of sea, Neptune is the planet of the sea, ocean, fish, maritime matters.
Neptune is the ruling planet of Pisces. It is an accidental dignity in the twelfth house. Neptune stays in the same sign for approximately 14 years, what makes it a generational planet.
You can learn more about Neptune in this article.
---
If you found this article helpful, maybe you want to save it for later. Make sure to share it with others who enjoy learning astrology!