What does it mean if you have your natal Neptune conjunct someone's Neptune in synastry?
This is a relatively frequent conjunction, but it is not very meaningful. It is not meaningful at all, to be exact.
Neptune is one of the planets the furthest away from the Sun (and from our planet as well). This means that Neptune moves through the Zodiac extremely slowly. Because of this, it is one of the generational planets in astrology.
Neptune Conjunct Neptune Synastry
In synastry, you compare two natal charts. How the charts interact with each other hints how the two people are likely to perceive each other and if the relationship has a potential.
The Neptune conjunct Neptune synastry aspect suggests that the two people are of approximately the same age. Neptune stays in the same zodiac sign for around 14 years, and it goes retrograde once a year (but it is retrograde for almost half of this period). Since it transits the Zodiac this slowly, people born within a period of a few years have their Neptune conjunct in synastry.
Neptune aspects are generational. If this planet forms an aspect to a personal planet or cusp, it becomes more meaningful, however, Neptune aspects to other generational planets are not very important in synastry.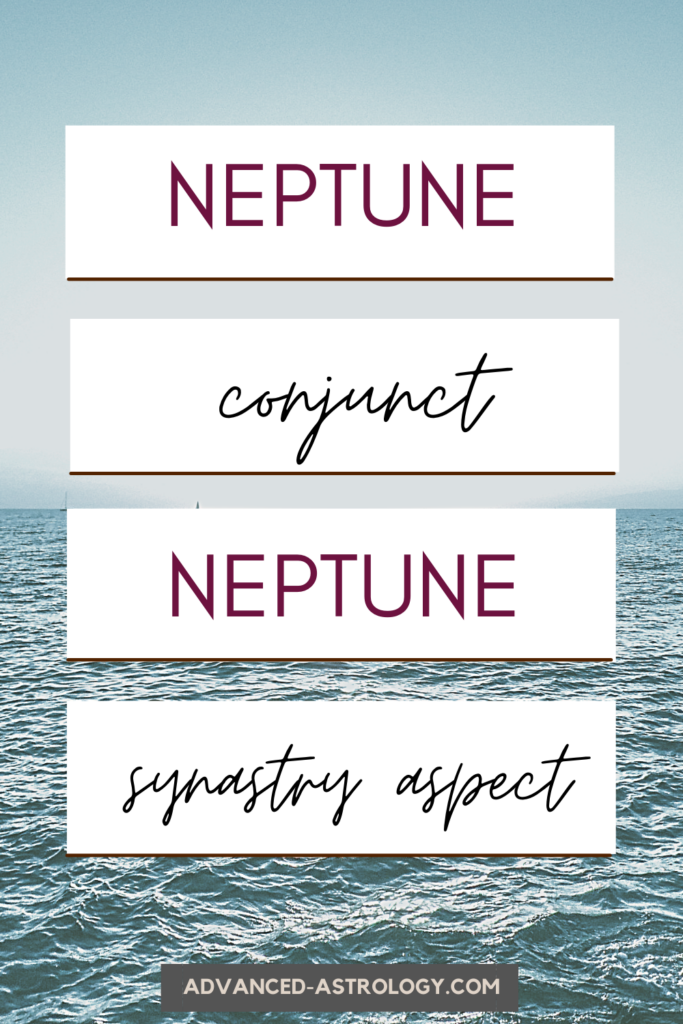 Neptune in Astrology
Neptune is named after the god of the sea in Roman mythology. This planet was discovered only in 1846. Neptune is only used in modern astrology, and it is considered the planetary ruler of Pisces.
Neptune is the planet of spirituality, inspiration, divine love, compassion, dreams. However, its negative side is escapism, illusions, addiction, false hopes, loosing touch with reality.
Read more: Neptune in astrology
---
If you found this article helpful, maybe you want to save it for later. Make sure to share it with others who might enjoy it!