If you want to read about the north node conjunct Midheaven natal and synastry aspects, this article is for you.
The Midheaven is one of the most significant points in your natal chart. This angle represents you main ambition in life. It is often associated with your career and professional goals, but there is much more to it. Planets and points conjunct it become more emphasized.
The Midheaven has to do with your goals and general direction in life. The north node, on the other hand, represents your life purpose in astrology. This lunar node shows the most important life lessons your soul wants to experience. It describes what you are supposed to learn in this lifetime.
When these two are in aspect to each other, it is an important aspect both in the natal chart and in synastry. The north node conjunct Midheaven aspect has to do with your aspirations in life, your ambition, your sense of purpose, your general direction in life and key lessons you need to learn in order to grow.
Keep reading to learn more about the meaning of the north node conjunct Midheaven in astrology!
North Node Conjunct Midheaven Natal
This placement is an interesting one in the birth chart. However, it usually does not manifest in the first part of life, or at least not in a way you would expect from the Midheaven. Here, the natural growth process indicates by the MC-IC axis overlaps with the growth process of the nodal axis.
It is important to note that angles and fictional points don't have their own energy as they are not planets, and this interaction is not as strong as in the case of conjunctions between planets.
The north node conjunct Midheaven natal aspect suggests a person who has to define his or her ambitions to live their purpose. This conjunction doesn't make you successful on its own, but there is a strong desire to accomplish great things. You are motivated and as you grow older, you focus more and more on self-realization. It can take some time to get where you want to be, but in the second part of your life you can be pretty successful.
Some people with this placement become well-known, but this doesn't have to be the case. You can also be influential in your professional circles or in your local community, it is not necessarily fame in the traditional sense of the word.
In the first part of your life, your family is a more determining influence. What you learned early on is hard for you to detach from, even if it blocks your growth. There can be a tendency to give up your own goals when young to help others achieve their goals and take care of them. Often, the north node conjunct Midheaven suggests that your family life is more important to you than your own personal goals. However, you can grow in the future by finding out who you are and what you are meant to accomplish.
The MC-IC axis is the parental axis as well. When it overlaps the nodal axis, this can be an indicator of family karma, some inheritance you need to work through. Your relationship with your parents and your family roots are a more emphasized influence than in most cases. Sometimes the north node conjunct Midheaven manifests as a restricting influence, for example, your parents drag you down, or your family members are not supportive of your personal growth and professional ambitions.
Understanding your south node can help you work through any issues related to your ancestry or family problems and early conditioning that hinders your success in the present.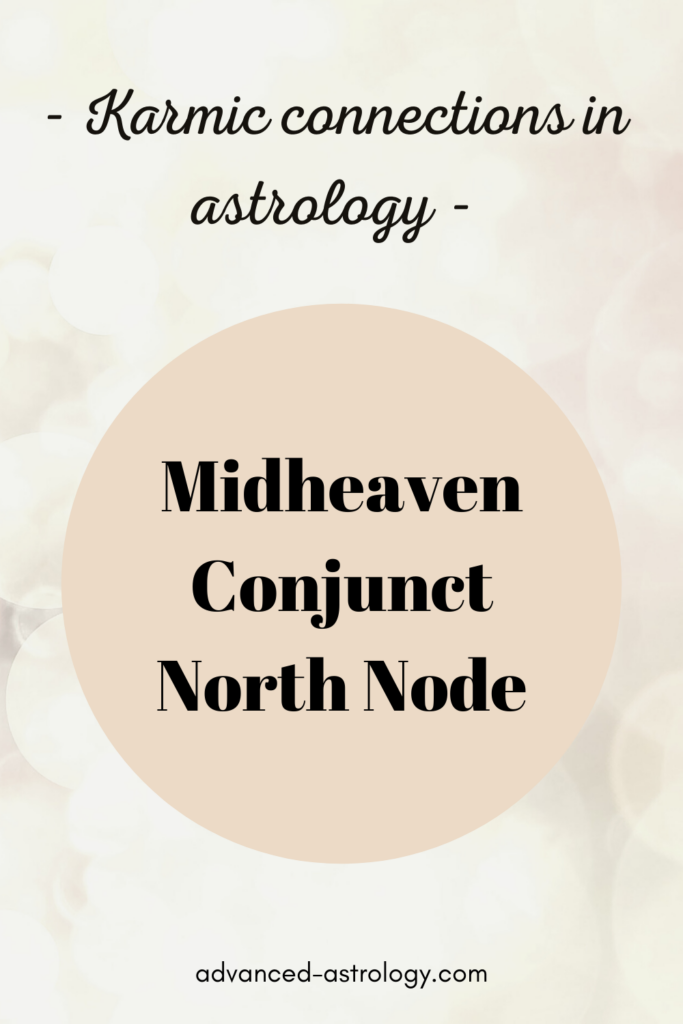 The natal north node conjunct Midheaven makes the sign where this conjunction occurs particularly important to you. You tend to integrate this zodiac sign properly only in the second part of your life. Out of sign conjunctions (for example, the north node is in Gemini and the Midheaven is in Cancer) are more complex.
If you want to learn about the north node through the zodiac signs, find out more here.
North Node Conjunct Midheaven Synastry
What does the north node conjunct Midheaven synastry aspect suggest about two people's relationship?
When you read a synastry chart, you compare two natal charts. This technique reveals the potential of a relationship by analyzing how your planets interact with each other.
The north node conjunct Midheaven synastry aspect indicates that this relationship can help your growth in life. You can bring important lessons into each other's life.
The north node conjunct Midheaven in synastry can indicate a professional connection, where you meet through work.
Meaning of the Midheaven in Astrology
What is the Midheaven all about in astrology?
There are two angles particularly often mentioned, the ascendant and the Midheaven. (You can learn more about the angles in the natal chart here). They are the pillars of the natal chart.
The Midheaven, abbreviated as MC (Medium Coeli, Latin for middle of the sky) is the point of the sky that was at the highest at the time of your birth, as seen from the place of your birth.
In some house systems, the Midheaven is the cusp of the tenth house. It is connected with your public image, your career, and profession. The Midheaven describes what you grow towards throughout your life. It is more expressed in the second part of your life.
The opposite point of the Midheaven is the Immum Coeli, abbreviated as IC.
The North Node in Astrology
The north node is one of the lunar nodes. There are two of them, and they represent different sides of the same thing. They are connected with the growth process of your soul, the journey through reincarnation. The north node and the south node are essential in karmic astrology.
The south node is associated with your past (and past lives, if you believe in reincarnation). It shows what is familiar to you and where you are coming from, but here you can't find room for growth.
The north node shows your future direction. The sign of your north node tells which traits you need to cultivate to grow. The house of your north node refers to the life area where you can expect life lessons.
The lunar nodes are the intersection between the Moon's orbit and the ecliptic. These are fictional points, they are not astronomical bodies and they don't exist in reality. However, this does not make them any less important, and the Moon's nodes can contain important information in your birth chart.
---
If you found this article helpful, maybe you want to save our site for later. Share it with your friends who enjoy learning astrology!