In this article, you can learn about Pluto-Chiron aspects in the natal chart. These celestial bodies are both generational, and their aspects to each other are likely not the most significant in the chart (but as always, you have to pay attention to every detail).
Pluto is an infamous planet in astrology. Named after the god of the underworld, it governs intense, traumatic, life-altering experiences. Nothing remains hidden from Pluto. If this planet stands out in a natal chart, the native has many intense experiences and they can become either very wise or they can embody the darker side of Pluto.
Chiron is associated with wounding, trauma, pain. It represents your unhealable wound, something that can only be soothed, not healed completely. When you learn how to deal with it, you can help others who are still in the process of healing.
When Pluto is in aspect to Chiron, your deepest wound becomes even deeper. Pluto conjunct Chiron in the natal chart suggests that you must go to the bottom of the problem and undergo thorough transformation if you want to become whole again.
Pluto-Chiron aspects in the natal chart can indicate trauma related to power abuse, sex, betrayal, losses, grief, denial of autonomy. 
Keep reading to learn more about Pluto Chiron aspects in astrology!
Pluto Conjunct Chiron Natal
This is a relatively rare conjunction in the birth chart. As both Chiron and Pluto move slowly through the Zodiac, their aspects count as generational. For Pluto-Chiron aspects to stand out the orb should be almost exact. The birth chart should always be analyzed in a broader context, separate aspects don't tell the whole story on their own.
Pluto conjunct Chiron in the natal chart suggests that whatever happens to you, it makes a deeper mark on you than on most people. You go through deep, transformative experiences. Pluto, the planet of intensity spices things up. Chiron shows where you were wounded. When Pluto joins this place in the birth chart, it forces you to face your deepest fears and be familiar with your pain. You cannot escape it. 
If Pluto conjunct Chiron is located close to an angle, it becomes more significant in the birth chart. For example, Pluto conjunct Chiron in the first house suggests early experiences with pain, and it affects your self-image to a great extent. You have a powerful presence, but your strength comes from the hard times you had to endure. You are familiar with your inner fears. However, people with this placement find helplessness much worse than pain and fear. They can be afraid of powerlessness and not being able to do anything about a situation.  
Pluto conjunct Chiron can indicate pain related to abuse, loss of control, betrayal. Situations when someone's life was at the sake can also be suggested by this conjunction. Pluto governs traumatic experiences, and when it is aligned with Chiron, these often become an important turning point in your life. They force you to go through the underworld and face your greatest fears. 
Pluto conjunct Chiron can also suggest issues with how you relate to the world, whether you can trust it or not. People with this placement can feel that they are restricted from expressing themselves, locked up in a prison of pain. This can be a quite lonely aspect. You often prefer to keep the memories of your darkest hours to yourself.
The house where you have the Pluto conjunct Chiron natal aspect is placed tells in which life area you experience this energy. For example, someone with Pluto conjunct Chiron in 6th house might face physical sickness, while in the 4th house this conjunction can refer to power struggles in the family.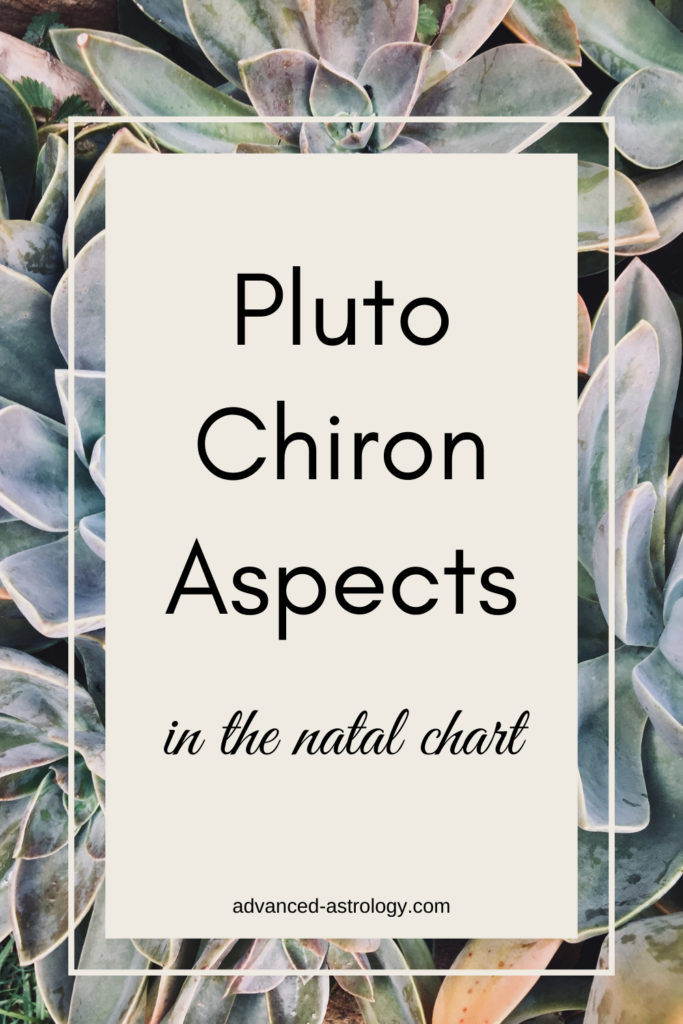 Pluto Sextile Chiron Natal
Pluto sextile Chiron in the natal chart suggests a talent for healing. You find it rewarding to work through your pain, and you can get to a quite deep level of understanding. This placement can be helpful for people working in healthcare, psychologists, but understanding people is something everyone benefits from. 
Pluto sextile Chiron can suggest childhood experiences with transformation, healing, stressful situations, trauma. These later serve as a drive to gain a deeper level of self-knowledge. Your sense of power comes from going through hard times and facing your inner fears. You learn how to support yourself and later you can be an agent of change in other people's lives by giving them the support they need too.
Pluto Trine Chiron Natal
Pluto trine Chiron natal suggests an easy flow of energy between these two celestial bodies. Your desire for control supports your healing. Unless the rest of the chart contradicts it, these people want to be in charge of their life and they are oriented on problem-solving. You are ready to do what it takes. 
Pluto trine Chiron in the natal chart indicates that you gain a sense of power from the healing journey. Transformation is as natural to you as breathing. You are introspective and gain a sense of power from working through your issues. Pluto trine Chiron suggests that you are not afraid of depth. You have an innate understanding of the human psyche. With this strine, you can be interested in topics such as psychology and medicine from an early age.
Pluto Square Chiron Natal
Pluto square Chiron is a quite intense aspect to have in the natal chart, it brings struggles but the potential for great healing ability too. There is a constant irritation, and you are forced to face your wounds. With this square, your energy is oriented on dealing with pain. This can manifest a harmful way by overcompensating, or you can work towards taming your Pluto square Chiron and becoming a healer. 
Pluto square Chiron in the natal chart can suggest issues related to power. Perhaps you don't know how to deal with your own power, or it can also happen that others denied your access to your own power. In a similar way to Pluto conjunct Chiron, this square can suggest obsession with control to avoid pain. If this desire spirals out of control, you can act in a way that hurts yourself or others around you. 
Pluto Opposite Chiron Natal
The opposition requires conscious effort to achieve and maintain balance between the two planets. With Pluto opposite Chiron in the natal chart, you are required to acknowledge the potentially destructive side of you. You can struggle with insecurity and feel that you have no power. This aspect suggests a talent for self-reflection and healing as well. You are able to see people and their motivations clearly. 
Pluto opposite Chiron suggests that you have a strong drive to gain power. Autonomy is important to you, but it might have been denied at some point. Wounds related to power struggles, lack of control or obsession with control, sex, losses can be present. This opposition can manifest as an interest in taboos.
Meaning of Pluto in Astrology
What do you have to know about this small yet so powerful celestial body?
The astrological meaning of Pluto has to do with transformation, intensity, extremes. This planet demands complete and thorough change on a very deep level. The main keywords of Pluto include control, power, obsession, secrets, investigation, transformation, trauma, healing, revenge, intensity. You can read more about the meaning of Pluto in astrology here.
Pluto is the planetary ruler of Scorpio. This sign is connected with the eighth house of death in the natural chart. This house is one of the most challenging to understand, its life areas are complex and various.
Pluto is named after the god of the underworld in Roman mythology, Pluto, who is the equivalent of the Greek Hades. As the last planet discovered in 1930, it is still being studied.
Because of its long orbital period (it takes more than two hundred years for Pluto to make a full circle around the Sun, 246 years to be exact), Pluto is more significant in houses and in aspects than in signs. Pluto in the signs is influential on the level of society. These planets are called generational planets as they spend a long time in the signs.
Chiron, the Wounded Healer
Chiron is a comet, discovered only in 1977. This means that its astrological significance is not fully known yet, but there are some general guidelines when interpreting Chiron.
In astrology, Chiron is linked with healing, trauma, unhealable wounds, deep damage, wisdom gathered through the journey of pain. This asteroid has to do with injustice, suffering you did nothing to invite into your life except being at the wrong place in the wrong moment.
Chiron's (quite erratic) orbit takes place between the planets Saturn and Uranus. These have long orbital periods, and they count as generational planets, especially Uranus. It takes Chiron 50 years to make a full circle around the Sun. This makes it a generational asteroid as well.
This celestial body is named after one of the centaurs in Greek mythology. Referred to as the "wisest and justest of all the centaurs", Chiron was known for his wisdom, great knowledge and skills. He was the teacher of many important figures of Greek mythology. 
---
If you found this article helpful, maybe you want to save it for later. Make sure to share it with others who enjoy learning astrology!