In this article, you can learn how to interpret a natal Pluto in tenth house in astrology.
Pluto in the tenth house suggests that you are known in the world as a powerful person. You experience power struggles mainly in your professional life and in your relationship with authority figures.
The tenth house is the house of career and public image. Pluto here indicates that you are ambitious, motivated, and you do everything to get what you want. You desire success badly, but for some reason, you seemingly have to work harder for it than most people. This becomes more emphasized if your natal Pluto in tenth house receives hard aspects.
In the natal chart, the position of Pluto shows where you seek power. The house of Pluto shows the life areas where you find your power, often through some painful experience. Pluto in tenth house wants power in their professional life and in the world.
As an angular house, the tenth house and planets in it manifest primarily in the physical world. If Pluto is conjunct the Midheaven, it becomes even more emphasized in your birth chart.
This placement is somewhat similar to having Scorpio on the cusp of the tenth house.
Keep reading to learn more about the meaning of a natal Pluto in the tenth house in astrology!
Natal Pluto in Tenth House Careers
When Pluto is placed in the tenth house in the natal chart, the primary area affected by this planet is of course, your career and professional life. Pluto is not an easy planet in astrology. It brings challenges and it can bring even traumatic experiences to the matters of the house where it is placed.
Career is a very complex topic in the natal chart, as you have to take a lot of things into consideration when looking for profession in the chart. There are more factors influencing it, but with this placement, Pluto is definitely one of them.
Some of the typical careers related to Pluto in the tenth house include psychology, investigation, research, surgery, but it can also indicate politics or things hidden from the public. If there are other indicators in the chart, too, it can even be involved with crime (this can be both as a detective or as a criminal, the aspects of Pluto reveal more information).
Once you work through your issues, you often find yourself working in a healing field, as Pluto supports regeneration.
You can do well in a career that needs excellent research skills or where you have to deal with lots of details. Pluto makes you a great investigator.
Pluto here starts to truly bloom later in life. The tenth house takes time to fully develop, what is not a surprise knowing that this is the natural house of Capricorn and Saturn, the ruler of time in astrology.
This placement suggests that you will be known in the world as a mysterious, somewhat strange person. You cut through the fog, and you easily spot lies. You are seen as a powerful person, but your power is hard-earned. Power is very important to you.
Pluto in Tenth House and Regeneration
Accepting that permanent success takes time and trusting the process are not easy for you. You tend to go after what you want using force and power.
However, this is often a counterproductive strategy. Chances are that you have to recreate yourself and your public image a few times through your life.
Many people with their natal Pluto in tenth house experience that their dreams become shattered. You often find that something blocks your way. In these moments, you are back to square one, having to start from scratch. Pluto here teaches you the importance of patience, and wants you to create a healthier, more respectful relationship with time.
It is essential to be more consistent with this placement. Pluto in tenth house is not a position for overnight success in the natal chart. As you grow older and gain maturity, things become easier. You find your own power through the struggle to recreate yourself.
This placement can bring unforeseen ups and downs into your career path. Pluto has a habit of taking things away in an unexpected moment, forcing you to go through a transformation process.
At the same time, a natal Pluto in tenth house gives you to the ability to go back where you were, or climb even higher. People with this placement sometimes change careers, choosing a completely different field than their previous profession. This placement suggests an extremely ambitious person. You have a strong desire to achieve your goals.
Pluto in Tenth House and Authorities
Pluto in tenth house suggests that your relationship with authority figures is not without any conflict. If you feel that there is some injustice, you are not afraid to fight back. This placement can make you an authority person later in life.
Besides career, the tenth house is also a parental house, along with the fourth. Traditionally it is the father who is connected with Saturn and the tenth house, however, opinions are mixed on which house represents which parent in the natal chart.
Pluto in tenth house suggests that the parent represented by this house was authoritative, even dictatorial or domineering (with hard aspects to Pluto). This parent probably wanted to control you, and they were quite Plutonic. You were perhaps afraid of them or perceived them as threatening in some way. In many cases, this parent had an authoritative job, and people respected or even were afraid of them.
Harmonious aspects suggest that this parent had a strong personality, was determined and had a strong will. This parent was able to conquer hardships few people can. They were an important influence in your life, but with easy aspects to your Pluto in tenth house, this could be a very beneficial influence. This parent could teach you strength and showed you with their example how to cope with the challenges of life.
Another way how this placement can play out is a parent who works as a researcher, psychologists, or has a job related to Pluto.
Pluto in tenth house indicates power struggles with this parent, but also potentially with your employer or the government.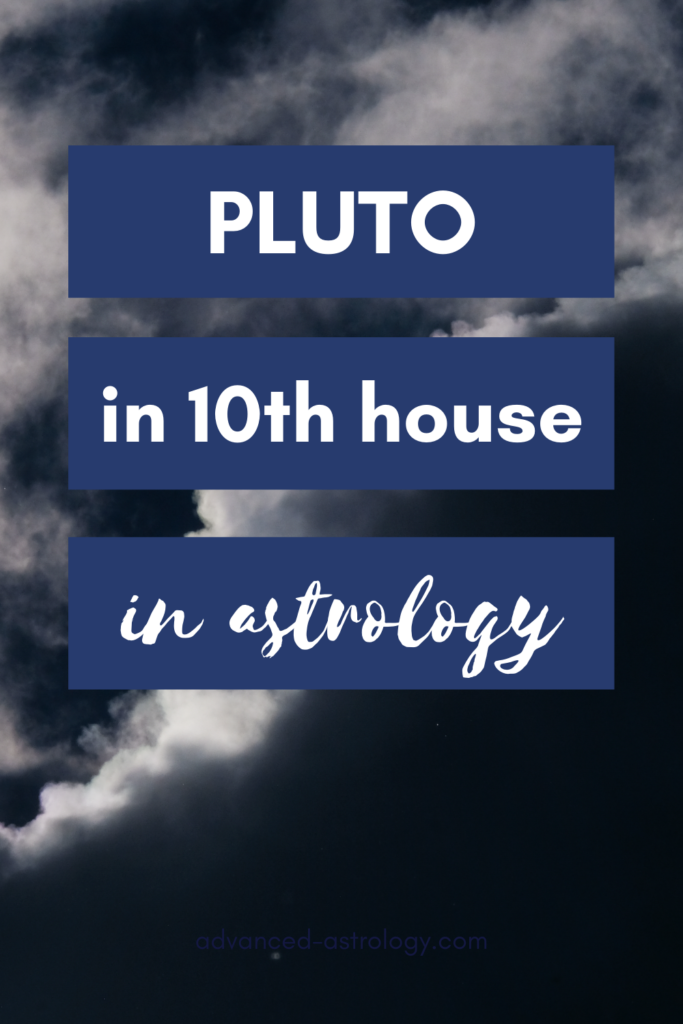 Besides hardships with authority figures, you also have to learn how to use power in a healthy way. With hard aspects to a natal Pluto in tenth house, you can become tyrannical and dictatorial. You can also be arrogant and selfish, failing to see that with great power comes great responsibility. You can be overly domineering and you can become a control freak.
This placement can suggest that you become very powerful in your community, but it is important to use your power for good. In your dealings with the public, you are seen as mysterious, reserved, but you are also seen as someone who has always a trick up their sleeve.
Pluto in Astrology
Pluto is the last planet in astrology. It was discovered only in 1930, far away from the Sun, associated with mystery and darkness. Pluto represents your dark side or shadow self, and it also represents this on the level of humanity.
Because of the long time Pluto needs to make a full circle around the Sun (approximately 248 years), Pluto stays in the same zodiac sign for a few decades. It affects you more by houses than by signs, when you analyze its influence on a personal level.
Pluto governs power and control, and these are in important focus in your life with a prominent Pluto in your birth chart. Pluto is about destroying and healing, going through painful journeys that lead to deep transformation.
Pluto is the ruling planet of Scorpio in astrology, previously ruled by the planet Mars. Pluto is the higher octave of Mars, more transcendental and also more intense.
In astrology, Pluto rules:
trauma
transformation
secrets and mysteries
things hidden under the surface
the subconscious
violence
power
control
obsession
sex
desires
If you want to learn more about Pluto, read this article about what Pluto represents in astrology.
The Tenth House in the Natal Chart
The tenth house is the natural house of the zodiac sign Capricorn. Capricorn is ruled by Saturn, and this planet is in accidental dignity when placed in the tenth house. Saturn and Capricorn has a lot to do with time and patience, just like the tenth house in the chart wheel.
This house is primarily associated with finding your place in the world and your professional path. As an earth house, the tenth house supports surviving and thriving in the physical world. It is important to note that the tenth house describes your career, not your job or how you make a living (that is the sixth house in the natal chart).
Some of the life areas governed by the tenth house in astrology:
career
what you are known for out there
your public image and reputation
one of your parents, traditionally the father
your relationship with authority figures
you as an authority figure
your employer
Planets in the tenth house suggest an ambitious person who puts a lot of effort into their career. An active tenth house also indicates that you take up a public role at some point of your life, and many people will know you in your community.
---
If you found this article useful, maybe you want to save it for later. Make sure to share it with your friends who enjoy learning astrology!