This post is all about the ascendant in Scorpio. This is one of the most talked-about rising signs. A Scorpio rising indeed makes a lasting impression on people. There's a lot of mystery surrounding this rising sign that fascinates the world. It's a powerful influence.
In astrology, Scorpio is the sign of extremes. The ascendant in Scorpio suggests that you have experienced both the highs and lows of life. You are in for quite a ride, on a long journey of exploring your and the world's depths. Sometimes life may seem to you like nothing but a big crisis that forces you to transform. But no matter how dark it gets, you possess the enormous potential to turn the coal into a diamond and deal with whatever life throws at you. If you are a Scorpio rising, you are an overcomer.
You are not easy to figure out. Scorpio is a mysterious, reserved, secretive zodiac sign. You share only what you want others to know, and privacy is of really high priority in the life of a Scorpio rising. You sincerely hope that meddlers keep their distance from you. People in your environment are often not aware of what's really going on in your mind.
Keep reading to learn more about the meaning of the ascendant in Scorpio!
Meaning of the Ascendant
So, you have your ascendant in Scorpio, but what's the ascendant all about?
The ascendant speaks about your self-image and identity (along with the Sun). It's not a celestial body but a calculated point. The ascendant refers to the degree of the sign on the eastern horizon. It changes very quickly, so to calculate it, it's essential to know your time of birth. Without the accurate birth information, it's not possible to find it, unfortunately (unless you do the rectification process which is tedious and complex). Since it changes so fast, the ascendant is the most personal component of a birth chart.
That being said, the ascendant represents new beginnings. Depending on the house system, it's either the cusp of the first house or falls in the first house. The ascendant is associated with the first impression you make on others. It's the kind of energy you put out. This angle is linked with the physical body and physical appearance as well.
At the same time, the ascendant is a general filter through which you observe life. It reveals your approach to getting started with new projects.
Also referred to as the rising sign, the sign your ascendant falls in is a key feature of your birth chart. It gives a lot of hints about your general personality.
To understand someone's ascendant fully, the chart ruler is needed too. This is the planet that rules the ascendant's sign. (For Scorpio rising, the chart rulers are Mars and Scorpio. This sign has both a traditional and a modern ruler). The chart ruler's position by sign and house and aspects modify how the ascendant works. Although the rising sign is the most important, aspects are essential too (planets conjunct the ascendant often overpower the rising sign). You need the context to get a better idea of any placement.
If you are a Scorpio rising, you might be a Plutonian.
Scorpio Rising Sign Meaning and Personality Traits
Here are the most important personality traits of the ascendant in Scorpio. The Scorpion is fixed water. Fixed signs are reluctant to change but they are incredibly persistent. The element water works on the level of emotions. It's mysterious, quiet, but essential and penetrating.
More often than with other signs, how Scorpio placements play out in a certain chart depends on the chart owner's level of consciousness. This energy is a powerful tool, and you can use it for both good and destructive purposes.
The ascendant in Scorpio suggests that you are interested in the essence of something. You are unlikely to be satisfied with superficial results, you want the real thing. In this lifetime, you are constantly searching for meaning. You are not repelled by the depth and darkness. You were born armed with resilience and persistence.
Because you crave something deeper than most people, you may feel lonely in the world of humans. It's frequent for Scorpio rising folks to feel misunderstood. Your ability to hide your feelings contributes to this, too, because others see only the surface of your soul. People you come across may want to find out more about you, but there's only so much they are allowed to learn. It's not easy to gain your trust. You instinctively know people's true nature, and your intuition is rarely wrong.
In the birth chart, Scorpio placements indicate that the native has strong intuition. Often, you just know things without being able to back up your claims with rational arguments. When you start a new project, you often rely on your intuition when it comes to making decisions.
The ascendant in Scorpio implies that others are fascinated by your presence. Scorpio has insane charisma. You make an impression on others and even have a certain power over them. Some may find you intimidating. People see you as sensitive, deep, intelligent, but reserved and mysterious.
Some react to you very positively, some very negatively, but they are rarely neutral. For some people, you are too much, but maybe a better way to put it is that you are not for everyone. You often attract drama.
Scorpio is a very sexual sign. People with their ascendant in Scorpio are often sexually irresistible. Especially with the ascendant in Scorpio, the cusp that refers to the way how others perceive you, you have a magnetic presence.
When it comes to career, many people with their ascendant in Scorpio end up in fields that require deep analytical and research skills, punctuality, resilience.
Scorpios love doing deep dive research and when something interests them, they are like a dog with a bone. Any job that allows you to investigate is a good fit. You are probably fascinated by secrets and mysteries. When you have to figure out something, you instinctively know what to look for. Complex topics fascinate you. You have a talent for understanding them and getting to the bottom of a question.
Some typical Scorpio rising careers:
medicine
psychology
research
finance
sex work
Keep on Keeping on
Scorpio is the sign of death, but also the sign of purgatory and resurrection. People with significant Scorpio placements often experience critical situations in their lives. They have to question their deep beliefs. Afterward, reemerge as their updated version.
When you really want something, you are unstoppable. The ascendant in Scorpio suggests that you have a super strong willpower. The obsessive nature of Scorpio is not just a myth. You get what you want by any means necessary should the need arise. However, if a goal is imposed on you, you are reluctant to work for it. You do your best only if you truly want the result. Scorpio doesn't believe in compromises. People with Scorpio placements want to live an authentic life.
As a Scorpio rising, you are an extremely passionate person. Not all Scorpio risings are interested in the same thing, but they all have something they burn for. It's not just a fleeting excitement, you are determined to get what you want, be it a solution to a problem or a tangible goal. You feel strongly about things that capture your attention. You might even be drawn to danger. It's a Mars-ruled sign, after all.
A natal ascendant in Scorpio suggests that you hate being vulnerable. You strive to have control in any situation. Although you crave closeness, the fear of opening up can prevent you from forming meaningful bounds. Privacy is important to you. Generally speaking, people with a Scorpio-heavy birth chart keep their cards close to their chest.
When caught up in a conflict, you are resourceful and don't refrain from low blows either. Your motto is to keep your friends close, but your enemies closer. You can be pretty aggressive and competitive.
More often, than not, ascendant in Scorpio people are not social beings. They prefer few but deep connections to being a social butterfly. Sometimes Scorpio rising folks can even display signs of social anxiety. What's expected from you socially doesn't bother you too much. Even when you show your bubblier side, simultaneously you are observing the people and monitoring your environment. You are good at catching up on hidden dynamics. Generally speaking, it's easy for you to read people. You get inside someone's head in no time.
Scorpio can be a real control freak.
Ascendant in Scorpio Dark Side
With hard aspects, there might be present even an abusive tendency. Scorpio is the sign of manipulation and mind games too. A Scorpio rising personality can easily tap into the dark arts, if needed. If you want to get something, you don't hesitate to shape your environment in a way that aligns with your goals. When the advanced tactics so typical for this sign meet the need for control of Scorpio, the end result might be an obsession with power.
In your relationships with other people, you may not feel safe unless you can dominate the other person in some way. If you express the lower octave of Scorpio, you might be manipulative, abusive, controlling. The shadow side of Scorpio can be extremely cruel.
When under pressure, you might become paranoid. The good thing about this is that you are aware of all the possible pitfalls, but if it is beyond a healthy extent, it can end in straying off the right path. Other ways how you respond to stress are obsessive tendencies and withdrawal. When you feel insecure in a relationship, you tend to be jealous. Often, the Scorpio rising personality is very afraid of loss.
Scorpio rising people are frequently drawn to the mysterious side of life. You believe that there's more than what meets the eye. All transcendental Scorpio is the sign of crisis, and it's not rare that you experience a few of them. As they say, it's the dark that you come to know the light. If you are more about the turbulent energy of Scorpio, peace might seem to you as something abnormal.
The occult is particularly fascinating to a Scorpio rising. Scorpio is the sign of psychology as well.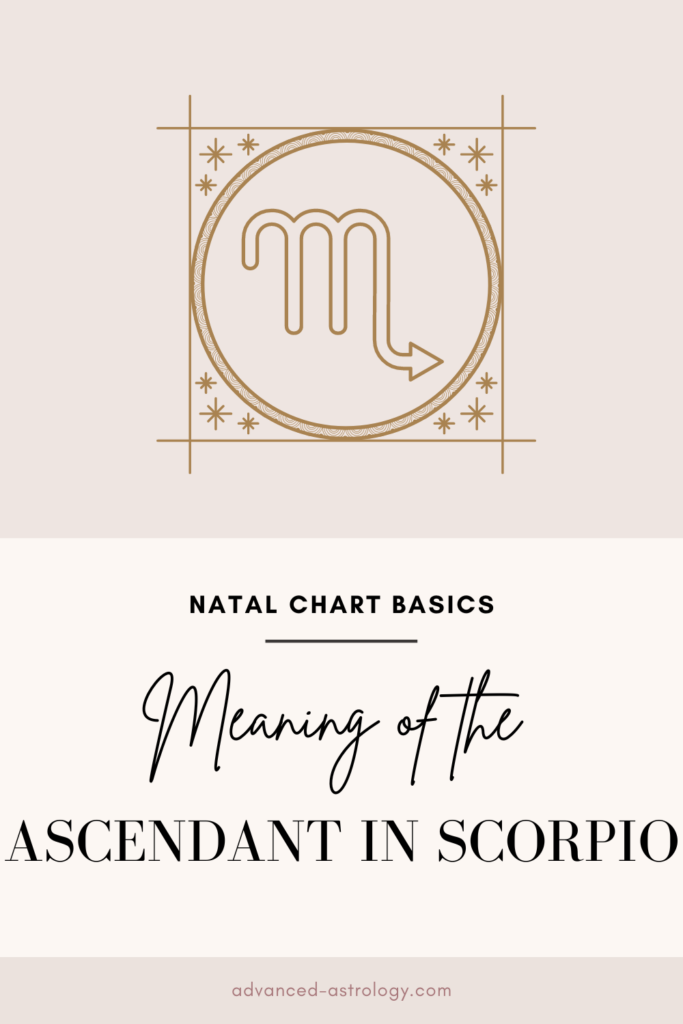 The ascendant in Scorpio suggests that self-knowledge sooner or later becomes very important to you and you understand the world better once you develop greater self-understanding. If you don't manage to tap into the healing essence of Scorpio, you may be driven to extreme experiences, all in the hope of finding the depth you need but you may end up just hurting yourself more. The ascendant in Scorpio indicates a tendency towards self-destructive behavior.
Throughout your life, you strive to be aligned with your true self. It's a journey. Healing your deep wounds is something Scorpio goes through from time to time (no matter which planets you have in Scorpio). This leads us to the ultimate purpose of Scorpio: bringing healing to others too. Your deep power is used the best when you help others transform into their healthier, accepting, wiser selves. You are the magician.
Childhood and Early Life
Just as the ascendant determines how the signs are laid out through the houses, the first years are the foundation our decisions are built upon. So, it's a good idea to look at the ascendant and see what it can tell you about a person's first experiences in life.
The ascendant in Scorpio suggests that your first years were pretty turbulent. People with this placement often grow up in a home without stability.
Children with this placement are often shy, reserved. They may feel that they don't belong. Unfortunately, many Scorpio rising children experience bullying or being told that they are less worthy than others.
As children, Scorpio rising people are often drawn to mysterious stories. Many of them have a few topics they are obsessed with and keep learning about them.
Scorpio Rising Physical Appearance
Although physical appearance is a really complex topic in astrology, the rising sign is key when it comes to physical traits. The Scorpio rising physical appearance is pretty easy to spot. People with this placement have a piercing gaze and sharp eyes. The eyebrows are bushy and strong. The face is often narrow and bony, but asymmetrical.
This rising sign attracts a lot of attention. They are particularly noticed by the opposite sex. This rising sign is the most seductive. When you enter a room, your movements command attention.
The body is in many cases lean, slim, tall, resembling the heroine chic era. The ascendant in Scorpio suggests strong regenerative ability. People with this placement often enjoy taking care of their bodies. It's important for them to be attractive to the other sex (or to whoever they want to be attractive sexually).
One of the things the stereotypical Scorpio rising physical appearance is easy to recognize from is wearing dark colors.
Relationships and Love Life – Compatibility With Scorpio Rising
Scorpio is the sign of intensity, and this is true for your relationships too. Your ideal partner is someone who provides you with stability and makes you feel grounded. They open to you the world of sensuality and they balance you out. Since you are so focused on the mysterious side of life, they are here to pull you back to the ground. However, they might be more about the mundane life while you are more emotional. Your ideal partner is patient and gives you freedom.
You are pretty stubborn, so it's no good if they want to force you to do something. As a Scorpio rising, you are independent and want to be like that in a relationship too.
Since you undergo transformation all the time, you want a relationship that is your safe harbor. Closeness is very important to you. As a water sign, you are driven by the desire to share yourself with others. Sexuality is a very important part of your life. Your relationships are characterized by intensity.
The stereotypical partner of a Scorpio rising is Taurus. People with this placement are often drawn to partners who have important planets in Taurus or who have their ascendant in Taurus (this is a very strong connection).
Ascendant in Scorpio Celebrities
Ascendant in Scorpio celebrities and famous people:
Katie Perry
Lana Del Rey
Grace Kelly
Jacqueline Kennedy Onassis
Shahrukh Khan
David Lynch
Edith Piaf
Vladimir Putin
---
If you liked this post, maybe you want to save our site for later. Share it with others who enjoy reading about astrology!