With the Sun conjunct Mars synastry aspect, you are in for inspiration, adventures, growth. The company of the other person acts as a catalyst for reaching your goals. You get there faster when you embark together on a journey. You make each other more enthusiastic about the destination.
You are likely to make a positive impact on each other's lives. This energy blend brings passion and inspiration into a union. You might be passionate about each other or you might have common passions.
Relationships are essential for human beings, no wonder synastry is such a loved branch of astrology. This technique can help you understand the fabric of a relationship better. Synastry reveals how you view each other and how your energies work together, but also the potential weaknesses. For a longer relationship, composite charts should also be read.
A synastry chart with harmonious Sun-Mars aspects can indicate a vitalizing, inspiring relationship where both people grow towards realizing their ambitions. You probably feel enthusiastic and motivated in each other's company. It can feel like together, you can accomplish anything. In synastry, the Mars-Sun conjunction lights a spark in the two of you. As you probably know, the Sun is key when it comes to astrology. Sun conjunctions in synastry are really influential.
In this article, you can read about the Sun conjunct Mars synastry aspect. This conjunction seems to be significant even if the planets just happen to be in the same sign. Generally, it is a favorable planetary connection (with a few challenges elaborated on below).
The Sun conjunct Mars is beneficial in almost all kinds of relationships—friendships and work relationships as well. This aspect encourages you to be a better, stronger version of yourself, all while bringing excitement. This enlivening relationship has a good chance of turning into a productive and valuable connection.
Keep reading to learn more about the Sun conjunct Mars synastry aspect!
Sun Conjunct Mars Synastry Meaning: Thriving Together
If you crave a vitalizing relationship, you've found it. The Sun conjunct Mars synastry aspect suggests sparks, zeal, enhanced self-confidence and creativity. Mars is full of energy and lust for life, while the Sun provides guidance and enjoys the exuberance of Mars. Mars encourages the Sun to shine. The Sun person grows into their best self when they are together.
You learn a lot from each other. This relationship is bound to teach you new ways of going at things. Often, one of you recognizes the other as an authority figure in some life area. Ideally, this process is free from power struggles, although some irritation might be there. (Hard aspects between the Sun and Mars in synastry are usually not this lucky, though! There's always a possibility of conflicts with Mars involved.)
The Sun conjunct Mars synastry aspect is said to have an expressed physical dimension. On this level, you usually find each other pretty attractive (often, even if you normally wouldn't like their kind of person). Just being around each other feels good. Your hearts beat to the same rhythm. Even if the relationship is not very smooth otherwise, you understand each other's motivations and desires. There's a lot of energy in this relationship that you need a healthy outlet for. The Sun conjunct Mars synastry aspect is excellent for all kinds of mutual goal-achieving.
Both the Sun and Mars are very masculine energy planets. They have a lot of energy, they are active and dynamic, so it's easy for them to understand each other as they are at a similar wavelength.
Harmonious Sun-Mars aspects in synastry add spice to the relationship. It suggests a dynamic connection that allows you to do more together. The more strength you can exert together, the better.
The Mars person's drive and ambition meets the life energy and creativity of the Sun person. The Mars person has the energy to accomplish the creative goals of the Sun person, while the Sun person inspires Mars to take action.
In a romantic relationship, this conjunction indicates a lot of sparks. However, the Sun conjunct Mars synastry doesn't necessarily indicate sexual attraction, but if it's there, it enhances it. The two people are attracted to each other, the Sun person embodies what the Mars person dreams about, particularly in a sexual relationship, especially if we are talking about a relationship where the Sun person is a man and the Mars person a woman.
The Sun conjunct Mars in synastry can indicate a very physical link between two people. If talking about a romantic relationship, this placement suggests strong sexual energy. If you have this conjunction in a different type of relationship, you might do a lot of physical activity together, or tackle challenges that require great effort and stamina. You amplify each other's energy, and it's great if you can direct it at something productive.
Sun conjunct Mars synastry is one of the ambiguous conjunctions. It's always important to read the chart in context, but with the Sun conjunct Mars synastry aspect, even more so. These planets have some things in common (the Sun is exalted in Aries, the sign ruled by Mars, after all). However, because of their shared need for glory and shining, they can be in conflict with each other too.
Since both the Sun and Mars count as personal planets in astrology, the sign of the conjunction is very familiar to both of you. Conjunctions like this indicate common ground which is always nice to have.
The zodiac sign of the conjunction is really important. It says what you like to do together and what you are passionate about. For example, if you have this conjunction in Taurus, you might go hiking together, make art, or have a shared passion for food. People with the Sun conjunct Mars synastry aspect in Sagittarius might travel together or enjoy philosophical debates. If it is in Scorpio, you may be strongly attracted to each other sexually, but there might be underlying power struggles.
Possible Challenges of Sun-Mars Synastry Aspects
Although the Sun conjunct Mars synastry aspect is generally considered good, there are a few hardships it can indicate in certain cases.
In astrology, Mars also represents quarrels, conflicts, and irritability. It is easy to set Mars on fire and then it gets out of control. The negative side of Mars is more expressed if the people don't have it balanced on their own or if they haven't learned to properly integrate it.
When Mars has a prominent role in synastry, it inevitably brings an intense quality some might find irritating. There might be underlying themes of hostility even (but there should be a few additional negative indicators for this). Especially over time, some patience and wisdom are required to handle this dynamic.
The Sun conjunct Mars synastry aspect can suggest a competitive relationship. You might be obsessed with victory, whether winning together or winning over the other person is a good question. The worst-case scenario includes ego clashes, fights, and annoyance with each other.
You may feel like the other person jeopardizes your position in some way. If any of you has underlying feelings of inferiority or if you are generally insecure, Mars connections in synastry can feel like salt on your wound.
Your best bet with these kinds of relationships is to have a common goal you can work with each other towards. Subliming this dynamic for the greater good can result in a fruitful relationship.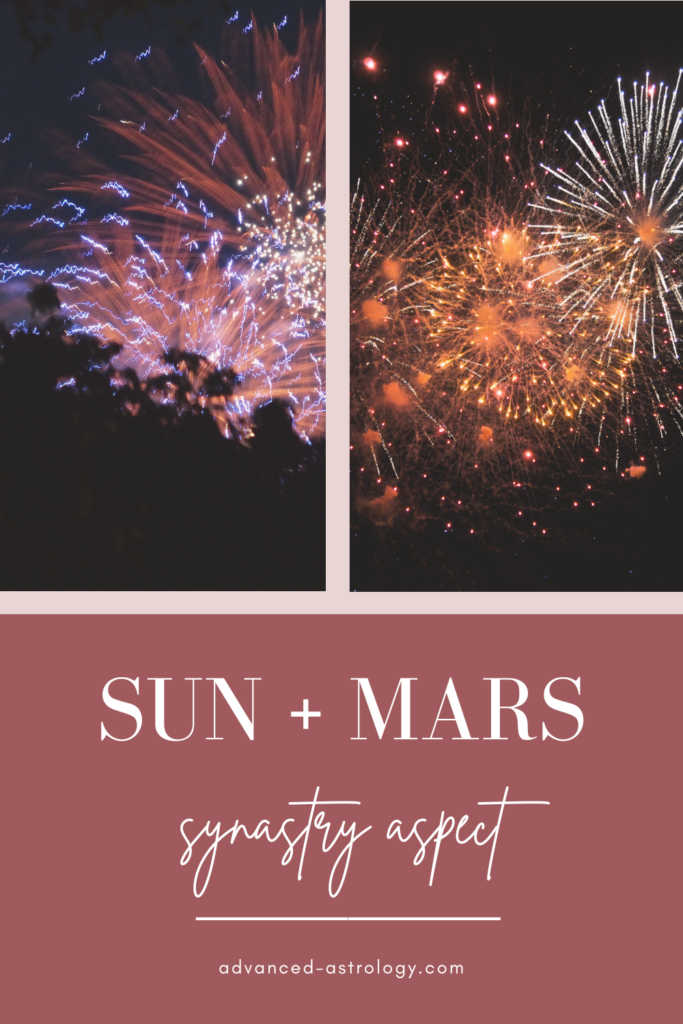 To fully understand this aspect, you should pay attention to the whole chart and also your individual birth charts. As mentioned before, the sign of the conjunction modifies how this aspect works, and the aspects shouldn't be neglected either. Finally, keep in mind that the dominant themes are repeated in the chart, so based on one clue only it's impossible to get accurate insights about the relationship.
Why Is the Sun Important?
The Sun plays a central role in a birth chart. The brightest of all celestial objects, this luminary is the heart of the horoscope. It represents energy, ambition, personality, creativity. The Sun is where your heart wants to shine the most.
The Sun rules Leo and it is exalted in Aries. It is associated with the self, authority figures, the archetype of the father and the husband. A strong suggests that the chart owner is self-confident and has a clear idea about who they are.
Why Is Mars Important?
This planetary energy is extremely raw, primal, instinctive, and passionate. Mars goes for its goals with a brute-force approach. It is linked with
Mars is the planet of action. In the birth chart, it shows what you are the most passionate about and how you go after things. This planet embodies the drive to get what you want and to protect yourself. The role of Mars is to make sure that your basic needs are met. It makes you safe and ready to thrive.
In astrology, Mars rules the sign of Aries and it is the co-ruler of Scorpio. A strong Mars indicates a very energetic, assertive, dominant personality. In good aspects, it suggests a leader, in unfavorable aspects, it can indicate a tendency towards violent behavior.
---
If you liked this article, maybe you want to save our site for later. Share it with others who enjoy learning astrology!