If you want to learn more about how to interpret a natal Sun in the eighth house, you've come to the right place. In this article, we've got you covered!
The Sun in one of the most important features of the birth chart. It represents who you really are, what makes you happy and where you will find yourself.
The eighth house in the natal chart is the house of Scorpio. It governs transformations, such as birth, death, and sex. It's the house of occult, full of secrets and mysteries. If your Sun is in the eighth house, you share a few traits with a Scorpio Sun.
The house of your Sun shows the life areas where you want to shine. You spend the most of your energy on the matters of this house.
With a natal Sun in the eighth house, you love mysteries, want to know more about the purpose of life and you are a born psychologist. No matter what's your profession, you instinctively understand how human beings operate.
Meaning of the Sun in Astrology
Here's a short overview on the Sun in the natal chart.
The Sun represents the core of your personality. It's who you are when you are authentic and free.
This makes it extremely important in astrology. The placement of the Sun reveals a lot of information about you. Its sign shows how you express yourself the best, while its house tells us the life area where you can fully develop.
Some other keywords of the Sun in astrology:
creativity
your inner self
self-expression
energy
vitality
The house where the Sun is located in is very important. It suggests where you can be (and want to be) the best. When you follow the path your Sun suggests, you feel happy and fulfilled.
What you have to know about the Sun in astrology is that it takes time. Except in some cases, your Sun is not as visible in the first part of your life as in the second. Most people start to identify with their Sun only after the age of 30, after their first Saturn return.
If you want to learn more about this luminary, read this article on the Sun in astrology.
The Eighth House in the Natal Chart
Now, you know why the Sun is important in astrology, but what about the eighth house?
As a water house (the water houses are the 4th, the 8th, and the 12th), the eighth house is not an easy to house to understand. Here, you enter the realm of secrets and things hidden under the surface.
The eighth house is traditionally associated with Scorpio in the Zodiac.
Every astrology lover worth its salt knows that Scorpio is not the one to play games with.
Scorpio is the sign of intensity, passion, life-changing experiences and mysteries. People who have Scorpio emphasized in their charts are charismatic and complex. With a natal Sun in the eighth house, the same applies to you in some amount, too.
The eighth house is known as the House of Death. Scary, right?
Well, it does tell about physical death, but first, you have to live. And life is full of changes. The eighth house governs all deep transformations. It tells about life experiences that turn your world upside down, and after they are over, you are a totally different person.
The eighth house is also the house of joint resources, tax, legacy, and assets of your spouse. This house shows your approach towards sexuality.
This house is about the hidden and the mysteries of life.
If your natal Sun is here, it illuminates them, so all this exciting stuff becomes visible to you.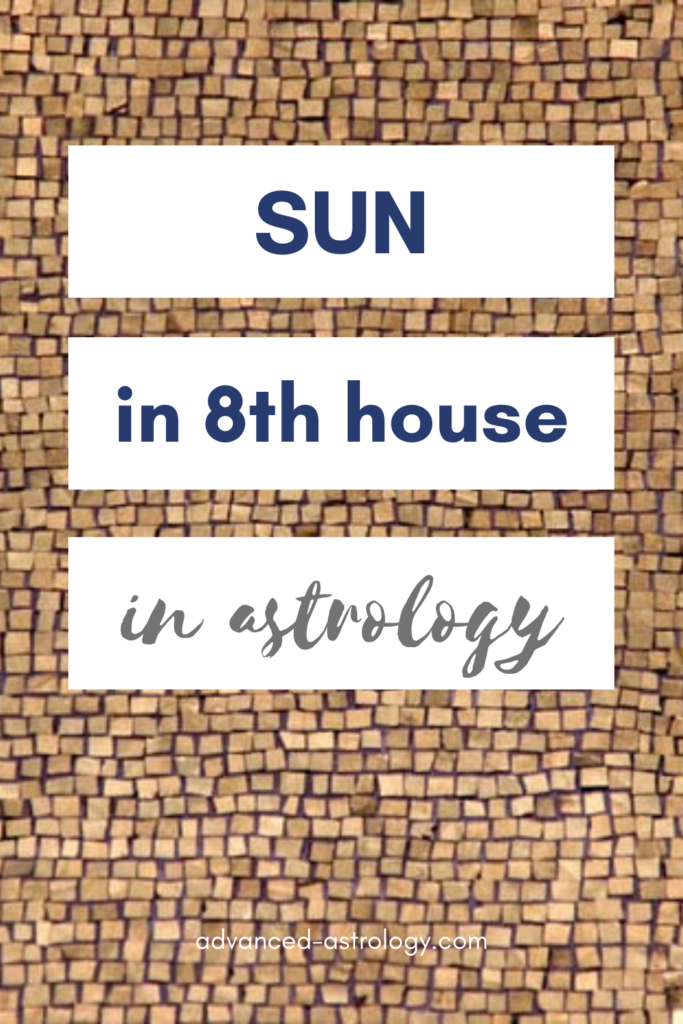 Natal Sun in the Eighth House―A Person Full of Secrets
This position suggests a very deep personality.
Reserved and mysterious, people born with the Sun in the eighth house share many traits with a person who is a Scorpio Sun.
They value privacy and carefully choose to whom they open up. First you have to prove your loyalty and trustworthiness to become part of the inner circle.
Placements in water houses (especially the eighth and the twelfth) make you very sensitive to outer influences. If you have planets here, you are intuitive and need to spend a lot of time alone. Even though you sometimes come across as a social butterfly, you are a loner deep down.
It's no surprise that such an important planet as the Sun here makes you rather introverted.
For people with planets in water houses, it's crucial to retreat from the world every now and then. This helps them recharge their batteries and sort out what are their own needs and what are merely expectations of others.
A natal Sun in the eighth house gifts you with strong intuition, sometimes even psychic abilities. You are in tune with your higher self and follow the signs your unconscious sends you. Scorpio is known as a very intuitive sign.
People with the Sun in the eighth house love mysteries. There are no taboos here. Many people with this placement are drawn to subjects as metaphysics and the occult. If you have some placements in the eighth house, it might be a reason why you are this deep into astrology!
Scorpio, the Detective
If you had to choose a sign to solve a mystery, Scorpio would be the best choice!
With a natal Sun in the eighth house, you love to investigate, just like Scorpios. Going under the surface and finding the solution is actually Scorpio's main task. Plutonian obsession comes in handy here, you don't stop until you figured it out, which is why you make the perfect detecive.
The sun in the eighth house makes you capable and resourceful.
This placement also tells about intensity. Scorpio and Pluto are prone to extremes, and with your Sun in their natural house, well, this is a trait of your, too.
This can be good or bad, it depends on how you use it. When in love, you love with all your being. And if you get hurt, it is very painful. In these moments of paint, you can be vindictive.
Even though you like to learn about the secrets of others, you don't like to give away your own secrets. This placement makes you extremely private. Your interest for taboos might be the reason for this―you are very well aware of it that some things simply can't be discussed in public.
The X-Ray Vision of the Sun in the Eighth House
With a natal Sun in the eighth house, the human psyche is an open book to you.
With Scorpio strong in your chart, chances are that you will undergo major transformations, which are turning points in your life. Of course, we all experience this, but some of us are more affected.
These experiences are often painful, and result in the death of your own self and the birth of your new one. On this journey, you gain wisdom. Add this to your innate understanding of human nature, and you'll see why an emphasized eighth house gives good psychologists.
If your Sun is not afflicted, you are very sensitive to the pain of others. You are what they call an empath.
Actually, the role of Scorpio in astrology is not to be revengeful, obsessed or unhappy. It is to heal. They are given the talent of finding hidden clues to help others overcome their problems and evolve to the next level.
You don't have to be a therapist to use this talent. As the Sun is an important career indicator, its placement in the eighth house suggests that you like to research. There are many professions where you can put this to good use. Some of typical eighth-house careers are banker, tax adviser or a surgeon, for example.
---
If you found this article helpful, maybe you want to save it for later. Make sure to share it with your friends who enjoy learning astrology!