If you have this aspect in your birth chart, consider yourself lucky! Sun trines are very favorable. With the Sun trine Saturn in your birth chart, you are realistic, grounded, a high achiever. You are somewhat reserved, but you are hard-working, ambitious, patient, persistent, strong-willed. People with this aspect are extremely self-disciplined and their eyes are on the prize, what helps them overcome the obstacles on their journey. Self-discipline comes naturally to them.
Referred to as the greater malefic, Saturn is one of the most feared planets in astrology. It has a bad name because of its restrictive nature. However, the Sun trine Saturn natal aspect and the same aspect in transit activate a completely different side of Saturn. There are many good things to this planet too, and this trine allows you to tap into them. Saturn can also be peaceful, calm, and reassuring, teaching us to work for what our heart desires.
When it comes to the aspects of malefic planets, how they manifest depends on many things. Luckily, the trine is the easiest aspect. It indicates a harmonious flow of energy between the two planets. In case of the Sun trine Saturn aspect, Saturn tends to show its positive side. However, the conjunction between these two planets can be tricky (especially in the birth chart).
Sun Trine Saturn Natal Aspect Meaning
If this aspect was to be summed up in one word, it would be capable. It suggests great inner strength. Sun trine Saturn suggests that the chart owner is strong on discipline, patience, persistence. Stability is important to them. To understand this aspect, you have to know that Saturn operates in a slow but steady way. Your personal will is aligned with the path towards maturity and fulfilling your karmic duties.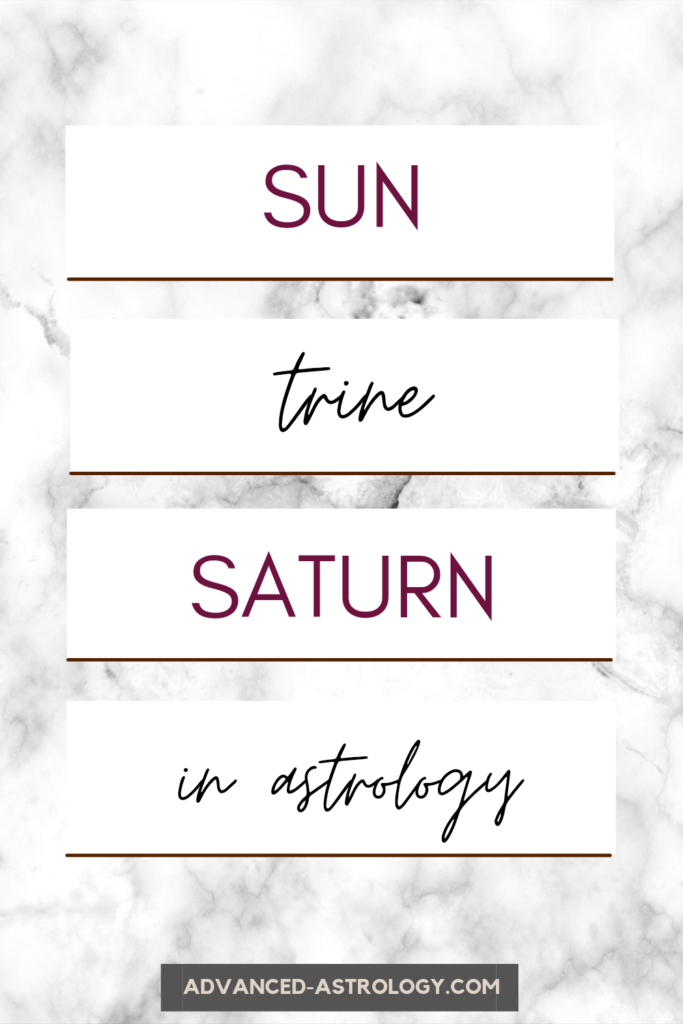 Sun trine Saturn suggests that you set goals well. You know what you are capable of achieving, and perhaps even more important, you also know your limits. You make very good plans and you are also great at executing them. It requires less effort to stay on track for you than for most people. There is a strong need with this placement to prove your worth, and you often do so through accomplishing great things. You keep going when everybody else would have given up, what is perhaps one of your greatest superpowers. Hard work is part of who you are.
People with this placement are extremely reliable. When they set up their mind to get something done, they will get it done. They are confident in their ability to do great work, rightfully so. People with a Sun trine Saturn natal aspect are well-organized, meticulous, and they take responsibility for their actions. Structure and order appeal to them. They tend to have more conservative opinions and they carefully think things through before acting on them. People with Sun-Saturn aspects often like solitude from time to time.
Saturn is a difficult planet. Even with the trine, you can feel that you can't express yourself fully. Many people with this aspect are shy, particularly when young. Your childhood was likely not completely carefree, even with the trine between the Sun and Saturn. You were likely more mature than your peers as a child.
Your self-confidence might be weaker than it should be. People with this aspect often try to hide their weaknesses and they are afraid of being seen as incapable. They can work too hard to make sure that they stay on top of things and be very hard on themselves.
Depressive moods are also relatively common, although not as much as with Saturn-Moon aspects. You can feel insecure and not worthy of love and success in the first decades of your life. You might feel pressured to be perfect and you can feel that you are worthy of love and admiration only if you are perfect.
Sun trine Saturn in the natal chart can delay success a bit, but don't worry, as you grow older, Saturn becomes easier. People with a strong Saturn tend to do better and enjoy life more after their first Saturn return. It can take some time until you see the fruits of your labor, but if you did the work, Saturn reward it.
This aspect suggests helpful authority figures in your life. You might get help from older people who often have a high place in hierarchy. Later in life you might also be an authority figure. Harmonious aspects between Sun and Saturn, such as the Sun trine Saturn natal aspect, indicate that you had a good relationship with your father (with the hard aspects, this is not the case). He was likely strict and taught you discipline and the value of hard work, but he was also supportive and someone you could count on.
When analyzing this aspect in the birth chart, don't forget to look for the big picture. The life areas of the houses these two planets rule in the chart usually support each other too. The house of your Sun and your Saturn show in which life areas this aspect comes to expression.
Read more about Saturn in the houses here.
The zodiac signs of the planets are also very important. If your Saturn is in Capricorn or Aquarius, it is very strong, and it likely operates well in the chart. In this case, discipline and persistence are likely among your strongest traits. However, a weak Saturn, such as Saturn in Aries tends to malfunction more frequently. But don't worry, with the Sun trine Saturn natal aspect, you still enjoy the blessings of Saturn.
If your Sun trine Saturn is part of a planetary configuration in your chart, such as a grand trine, it makes the interpretation even more complex.
Sun Trine Saturn Transit
Transiting Sun trine natal Saturn is a relatively frequent transit. It occurs every year twice, and it lasts for a few days. (Transiting Saturn trine natal Sun, on the other hand, is a more significant transit, happening twice in 28 years, and it lasts for a few months each time).
If you have this transit going on, you might experience increased energy levels and find that your ambitions run high. You are able to spend your energy in a way that benefits you in the long run. This is an excellent time for doing creative work too. You can concentrate well. The more you work on achieving your goals, the greater the reward will be.
Dealing with not-so-fun things might be easier. If you were putting off something, you may feel motivated to continue working on it and get it done.
Sun trine Saturn transit is a great period for making plans, especially long-term plans. Support from authority figures might also be present.
All in all, Sun trine Saturn transit is a perfect opportunity for getting things done. Make sure to make the most out of it!
Meaning of Saturn in Astrology
Saturn is one of the classical planets in astrology, and it is associated with misfortune, hardships, restrictions. Before the discovery of the outer planets (Uranus, Neptune, Pluto), Saturn was the last planet of the Solar System, known to humans. Its icy rings are one of Saturn's most well-known features.
In astrology, Saturn represents structure, order, hierarchy, time, maturity, wisdom. It also rules career, great achievements, effort, dedication, things you have to work on for a long time. It is associated with old age, the elderly, and it is linked with older men and authority figures.
Saturn governs history, the past. It rules knowledge gained through experience. Saturn is the planet of mastery, and it can only be gained through time, dedication, and hard work. The good thing about this planet is that its rewards are there to stay. Saturn has to do with the karmic lessons you have to learn in life too. Where you see Saturn in the natal chart is where you struggle more than most people.
What you have to know about this planet is that it doesn't gift its support just like that, you have to work for it. Saturn is the planet of karma in astrology, teaching us that we reap what we sow. Saturn supports you if you support yourself by being self-disciplined, persistent, patient, loyal to your goals.
This planet rules the zodiac sign Capricorn, and in traditional astrology, Aquarius. It is exalted in Libra. Saturn is in accidental dignity in the tenth house.
The Sun in Astrology
The Sun, even though not a planet in astronomy (it's a star), is one of the most important celestial bodies in astrology. The Sun is the center of the Solar System, and in a similar way, it is the center of the horoscope too.
This luminary represents the core of the personality, authenticity, self-expression, creativity. In the natal chart, it describes the chart owner's life energy and vitality.
The Sun rules Leo in the Zodiac, and it is in accidental dignity in the fifth house in the natal chart.
---
If you found this article helpful, maybe you want to save it later. Make sure to share it with others who enjoy learning astrology!