Uranus rising suggests that you are freedom-loving, independent, unique, self-sufficient. It can be a fun, thrilling placement. You are cool and aloof at the same time. You care little about society's rules and expectations, you actually love challenging the status quo. Uranus here implies that you rebel and carve a path for yourself rather than following conventional ideas. You are a heretic.
The most positive manifestation of this placement is a brilliant visionary, the most negative is being an antisocial outcast. How it exactly plays out depends on many things.
One things is for sure with a prominent Uranus ―some people (mostly the conservative) find you shocking. You might enjoy provoking them. Others are in awe when they meet you, but rarely does someone have a neutral opinion about you.
A natal Uranus conjunct ascendant aspect can make you come across as an Aquarius rising, regardless of your actual ascendant sign. If you were born during the Uranus in Aquarius transit, it doubles the eccentricity. The sign and aspects to the ascendant unveil more information about this conjunction, and planets in the first house also color the picture.
Keep reading to learn more about the meaning of Uranus conjunct the ascendant in the birth chart!
Natal Uranus Conjunct Ascendant Meaning: the Iconoclast
Planets on the ascendant have a strong effect on your birth chart and over your personality. Generally, Uranus is a generational planet with less importance than inner planets, but when it is conjunct an important house cusp such as the 1st (or a personal planet), it has a higher level of significance.
Uranus conjunct ascendant people are agents of change. You move fast both physically and intellectually. People with this placement are usually very sharp. You adapt to changes quickly and easily, what often gives you an edge in life if you use Uranian energy well.
If you integrate it properly, Uranus here indicates out-of-box thinking and authenticity above all. You can come up with really bright ideas. Staying true to yourself is very important to you. If you had to choose, you would rather betray others than betray yourself.
People with this placement rarely have conventional life paths, it is the calling of their inner compass that directs their life. Uranus here suggests that you love to question the norms. If you don't understand why something should be done, you are reluctant to do it. Uranus affecting your chart indicates that a classical life model would bore you to death. You need some form of excitement (intellectually the most often) like you to need to breathe. It is hard to relax and calm your mind. You are probably physically very active too.
A natal Uranus conjunct ascendant suggests that you have a lot of energy. Uranus buzzes with energy. However, this overflow is not always easy to deal with. Uranian energy can be reckless and impulsive. You are prone to impulsive action, suddenly starting new projects, but also suddenly ending things. It is a good idea to give your plans a second thought.
The explosiveness of this planet can also turn into impulsiveness, pointless rebellion, disagreeability. Uranus hates compromise. This placement suggests an enormous internal tension that can burst out in destructive ways. It is not a good idea to suppress this powerful influence. Uranus tends to break out when it is the least expected and the least convenient. However, if you learn to work with it, it can be a source of inspiration and gift you visionary ideas. As you grow older, it usually becomes easier to deal with such a strong Uranus.
This placement can indicate above-average intelligence. You are quick and agile. You are receptive to everything new, and you might have a great interest in technology, the internet, engineering, science, but also psychology, and astrology.
On a physical level, Uranus on the ascendant can manifest as a preference for unusual clothing, hairstyles, makeup. But it doesn't always mean that you look unconventional, but there is something about you that differentiates you from the crowd. Perhaps everyone around you likes sportswear while you prefer to dress elegantly. There might be something androgynous about your appearance.
Uranus rising people often don't know how to express their emotions properly, or they come across as unavailable and uninterested (and you indeed tend to be detached emotionally, but people fascinate you an intellectual level). Despite this, there is something about you that captivates the interest of new acquaintances.
People with a strong Uranus rarely listen to advice. You want to go your own way. Often, you have to see for yourself if something is a good idea or not. You are stubborn and opinionated.
It can be hard to fit in with your Uranus conjunct ascendant, especially if you live in an environment that doesn't support individuality and diversity. There is something aloof about these people. If your Uranus is in the 12th house, you can feel that you have to hide a part of you and your true self is locked up or that you are a well-kept secret. Self-acceptance is key here.
Being lonely or ostracized is a common experience in childhood. The Uranus conjunct ascendant natal aspect suggests that you are prone to anxiety and nervousness.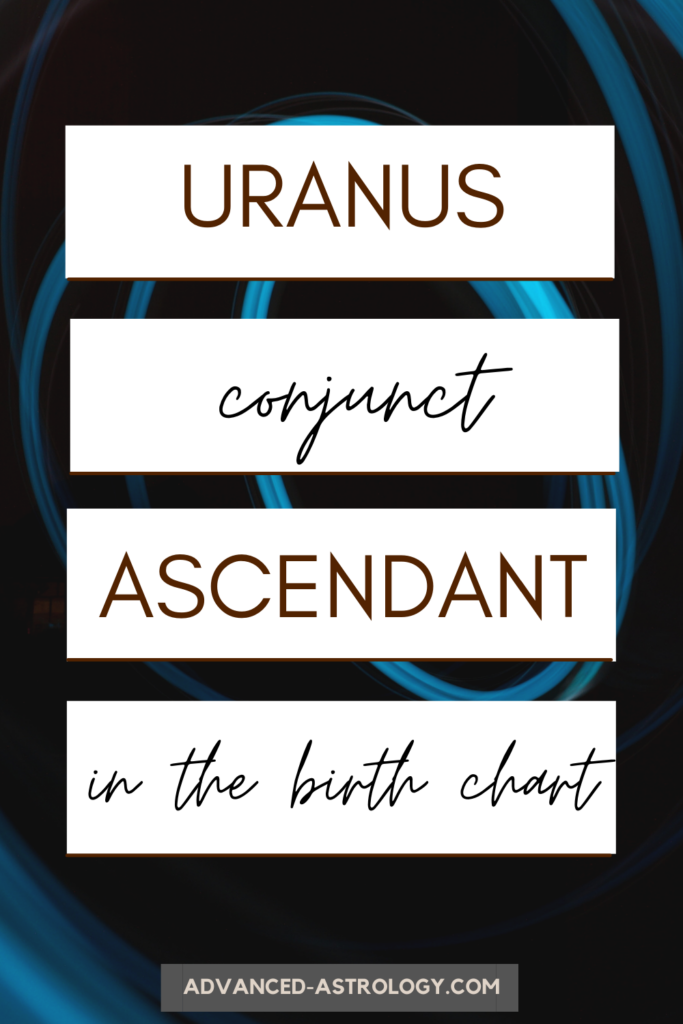 While this conjunction can be inspiring and exciting, it can also manifest in darker ways/ Outer planets are not easy to integrate and they can have a destructive effect. The worst-case scenario with this conjunction is extreme selfishness, abusive tendencies, aggression.
Ideally, you are able to spot new opportunities and reform what isn't working well. People who live the positive side of this conjunction are free of prejudices, equalitarian, open-minded. Inequality and suffering in the world upsets you. Being involved in humanitarian activities, charity, volunteering is common among people with their Uranus conjunct ascendant in the natal chart.
As with everything in astrology, forgetting about the context would be a big mistake. The sign of the conjunction between Uranus and the ascendant is really important. For example, this conjunction in Leo suggests that you are more likely to live out your unconventionality in an attention-seeking, extroverted way, while someone with Uranus conjunct the ascendant in Scorpio would rebel in private and keep their unusual things secret.
If the conjunction receives a square from Mars, it adds a great deal of impulsiveness, aggression, and suggests that you are more accident-prone. A trine from the Sun, on the other hand, helps this conjunction take form in harmonious, creative ways. Planets in aspect to Uranus and the ascendant add a bit of their own flavor.
Uranus Conjunct Ascendant and Relationships
As the ascendant and the descendant, the cusp of the seventh house are linked, planets on the ascendant can affect your partnerships too. This aspect can be tricky when it comes to relationships, especially keeping them in the long run. Some people with this placement feel suffocated after some time and have the urge to break free from the relationship. If Uranus is in some way connected with the seventh house, this becomes even more emphasized.
Are you doomed to be single?
No, not at all.
The key here is freedom, or autonomy is perhaps a better word. You shouldn't feel restricted by your partner in any way. It is important for a Uranus conjunct ascendant person to have a partner who understands their need for alone time and gives them enough space. Someone who wants to be with you all day would annoy the hell out of you. Find a partner who is independent and smart enough for your taste works the best. Intellectual connection is a must for you in long-term relationships if you have a natal Uranus conjunct ascendant aspect.
Uranus Rising Celebrities and Famous People:
Kurt Cobain
Bill Gates
Franklin D. Roosevelt
Sophie Marceau
Ariana Grande
Mike Jagger
Uranus in Astrology
What are the most important things to know about the energy of this planet?
Uranus is one of the outer planets. It is the seventh planet from the Sun, and it takes place between Saturn and Neptune. Uranus was discovered in 1781 by William Herschel (previously it was considered to be a star).
In the Zodiac, Uranus is assigned as the ruling planet of Aquarius, previously ruled by Saturn (and in traditional astrology, it is still the planetary ruler).
Uranus is linked with irregularity, unconventionalness, originality, sudden changes, unexpected events. It is also the planet of brilliance, paradigm shifts, new insights. It is radical, rebellious, uncontrollable. Uranus can be both a genius and a fool, depending on the level of consciousness. This planet is also linked with revelations, the divine spark, clever ideas, and the advancement of science and humanity on a larger scale.
With a prominent Uranus in the birth chart, you are in many ways unconventional and you are the cerebral type.
Uranus is a generational planet because of its long orbital period. It stays in the same zodiac sign for about 7 years. It makes a full circle around the Sun in 84 years.
---
If you liked this article, maybe you want to save our site for later. Share it with others who enjoy reading about astrology!