There are some things that stand out in the birth chart immediately when you take a look at it. Planets conjunct other planets (or angles or asteroids) are in this group.
What does it mean when Uranus forms an aspect to Chiron, either in the natal chart or in transit? Out of all aspects, the conjunction is the strongest influence. Uranus conjunct Chiron blends these two energies together and they have to operate together in the chart.
This conjunction brings up the themes of freedom, changes, rebellion, creativity. However, with Chiron, the asteroid of the Wounded Healer involved, this is often happening in a painful context. There are issues to work through and deep wounds to heal, but also wisdom and knowledge to gain at the end of the journey.
It is important that Uranus is a generational planet―this means that its aspects are only meaningful if the orb is tight. Unless the aspect is (almost) exact, Uranus conjunct Chiron is probably not the strongest influence in the chart. However, paying attention to this conjunction is still worth it, as it can add more details to the picture and help you understand certain events and tendencies better.
Keep reading to learn more about the meaning of Uranus conjunct Chiron in astrology!
Uranus Conjunct Chiron Natal
What does Uranus conjunct Chiron indicate in the natal chart?
This conjunction emphasizes the energy of Uranus. There is a Uranian streak to your personality, suggesting a unique, smart, but unconventional and nonconformist person. You are not satisfied with standard answers and there is a strong desire to find your own unique path in life. However, Uranus conjunct Chiron natal suggests that your early experiences with being different are often painful. This can make you so afraid of the reaction of society that you choose to stay in the safe bubble and your greatest pain often comes from this inner conflict.
In the natal chart, Chiron represents your deepest wound. Chiron does not carry the same weight in every birth chart, sometimes it particularly stands out, while in other charts in influence is not that emphasized.
Uranus conjunct Chiron natal indicates that your desire for freedom and carving out your own life as you like it is not support by others. People with displacement often experience that they are frowned upon for being different. Sometimes you feel like an outcast. You often experience that others do not approve of you for some reason and do not include you, which is one of the most painful experiences.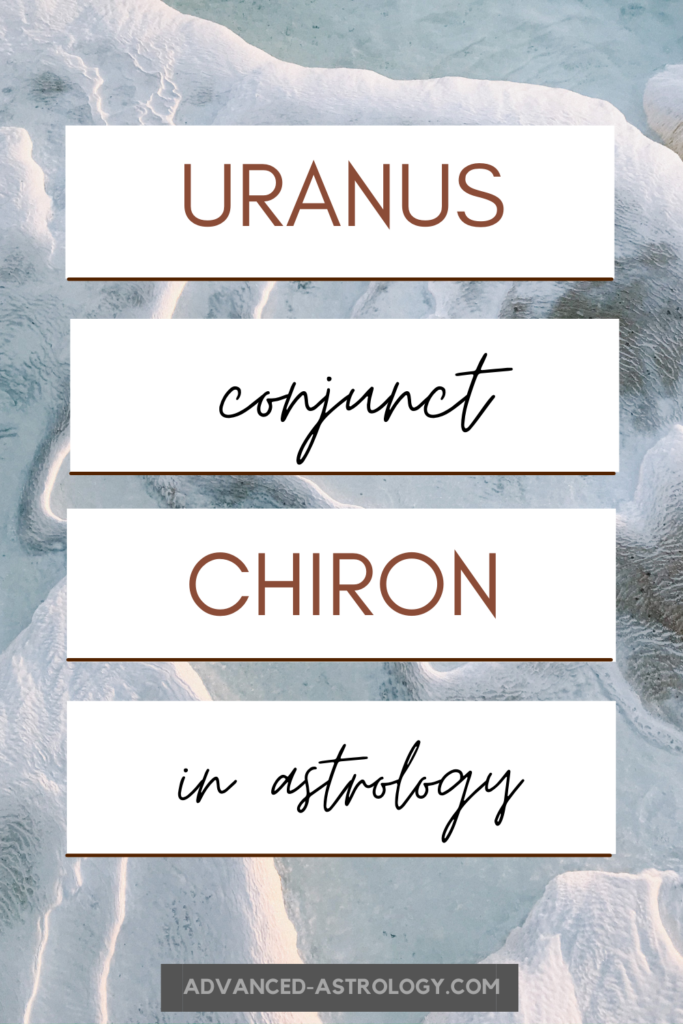 How Uranus conjunct Chiron in the birth chart plays out can go many ways. If you overcompensate it, you can become an eccentric and have constant conflicts with society. You can rebel just for the sake of rebellion. You have many unique ideas but they have no practical use. The worst case scenario is being a fanatic.
If you manage to integrate this conjunction, it can indicate extraordinary talent for healing. Not necessary in the traditional sense of the word, you can also come up with ideas that help others overcome their problems.
Ideas are important to you. You are open to various philosophies and you are open-minded. The pain of underprivileged members of society touches you quite deeply. You believe in equality and justice. This can be a great placement for social workers, volunteering, psychology. Even if you don't choose them as your profession, you are probably interested in them. Learning about these topics can accelerate your healing journey.
You often find that you are not welcome in some groups of people, but very welcome in the lives of people who has a similar life story to yours. Collaborating with others who have similar goals can be of great importance with this conjunction in the birth chart. Other outcasts can speed up your healing process.
Uranus conjunct Chiron natal suggest that you can heal by accepting your uniqueness and individuality. Pain brings changes into your life. As an adult, you can give yourself the freedom to be who you really are and fully accept yourself. When you work through your issues and heal your wound, you can be any inspiration for other people to heal themselves as well.
People with their Uranus conjunct Chiron in the birth chart are able to tap into the creativite power of the universe. They have wonderful ideas and they can contribute to the advancement of their community with them. With this conjunction in your natal chart you, can be a person who comes up with original methods to heal the wounds of society, even if 'only' on a smaller scale.
The zodiac sign of Uranus and Chiron describes how you experience and express this conjunction. The house position tells in which life area you have to face the energy of these celestial bodies. (When it comes to Chiron and Uranus, the house placement is more significant, as they spend years in each zodiac sign.)
Finally, it is important to remind ourselves that in the birth chart, everything should be read in context. How Uranus conjunct Chiron manifests in your life depends on the rest of the planetary pattern of the moment of your birth.
Uranus Conjunct Chiron Transit
Uranus conjunct Chiron transit is one of the transits that don't occur frequently. you're most likely experience this translator in your lifetime as the orbital period of Uranus 84 years.
This period is usually characterized by uncertainty and a certain recklessness. You can feel that you want to change your environment or something else in your life and you are actively seeking out ways how to do this. What you thought was good for you can turn out to not serve you. Things are being shaken up.
Uranus conjunct Chiron transit suggests a time when your hunger for freedom and autonomy grows. This can be triggered by a painful event when you are restricted and forced to play by other people's rules. They can impose their will on you.
During Uranus conjunct Chiron transit, your creativity becomes much stronger and you are able to come up with unique ideas. These can be oriented on healing yourself and others, getting rid of old beliefs that don't serve you anymore, removing your limits. Sometimes you meet new people who show you a new aspect of reality and what is possible for you.
Uranus conjunct Chiron transit can be a great time for learning astrology.
Meaning of Uranus in Astrology
Uranus is the first outer planet in the Solar System (followed by Neptune and Pluto). It was discovered in 1781. It takes 84 years for Uranus to make a full circle around the Sun, spending approximately 7 years in each zodiac sign.
Because of its long orbital period, it is considered a generational planet, as whole generations share the same Uranus sign. Uranus in signs has more influence over changes in society than over the natal charts of individual people. Here, the house position is more important.
In the Zodiac, Uranus is the ruling planet of Aquarius (previously ruled by Saturn―in traditional astrology, it is still ruled by Saturn).
Uranus is an erratic planet. It is associated with freedom, the search for something new and better, independence, rebellion, originality, everything modern and new. Uranus is the planet of brilliance and knowledge as well. It governs science, electronics, the internet, computers and gadgets.
Uranus can be quite dangerous when it gets out of control. It can lead to trying to replace old systems without coming up with anything better and more functional. Hard Uranus aspects in the natal chart can indicate a tendency for erratic behavior, a lack of self-control, being stiff-necked and stubbornness.
Chiron in Astrology
Chiron is one of the most important and most frequently used asteroids in astrology. It is not a planet, but an asteroid or a comet. Chiron is located in the asteroid belt, and its orbit takes place between Saturn and Uranus. It can be seen as a generational celestial body with its orbital period of approximately 50 years.
Chiron was discovered on 1st November 1977. It is a relatively new celestial body in astrology, and its astrological influence is still being studied. Some astrologers believe that Chiron should replace Mercury as the planetary ruler of the zodiac sign Virgo, but these theories has not withstand the test of time yet.
What does Chiron represent in astrology? The story behind the mythological creature Chiron got its name after is important for understanding the astrological meaning of this asteroid better.
Chiron was one of the centaurs in Greek mythology who was known for his exceptional knowledge and wisdom. He was the teacher of many important figures, including Heracles, who later caused his master's suffering. One day, he accidentally pierced him with a toxic arrow. The wound was so deep and painful that even Chiron, the great healer couldn't find a remedy for it.
In the end, Chiron traded his immortality for the freedom of Prometheus who was sentenced to life-long punishment for stealing fire from the gods and letting humans use it.
In astrology, Chiron is associated with the archetype of the Wounded Healer.It governs the themes of wounding, trauma, pain, suffering, the pain of injustice, but also healing yourself and others, albeit the pain of Chiron cannot be healed completely.
---
If you found this article helpful, maybe you want to save our site for later. Make sure to share it with others who enjoy learning astrology!