Uranus is a planet that shocks you, shakes you up, inspires you, and turns your life upside down. On the other hand, it can be a source of brilliant ideas and creative. Uranian energy is not easy to tame. Still, this is exactly what you need to do with Uranus conjunct the north node.
If you have this conjunction in your natal chart, it can take many years until you learn how to deal with this planetary energy.
People with their Uranus conjunct north node feel drawn to finding their unique way of life. You prefer the path less taken. There is a strong tendency to rebel against structures imposed on you. When it gets out of control, you can rebel just for the sake of rebellion, even in cases when you don't have a better idea to replace the old.
Keep reading to learn more about the Uranus conjunct north node synastry, natal, and transit aspects in astrology!
Uranus Conjunct North Node Natal
The Uranus conjunct north node natal aspect suggests that the energy of this planet is something new to you. You haven't integrated it yet, but better later than never, right?
In this lifetime, you often experience events or relationships that make you face Uranus. Your soul is on a quest for individuality, freedom, and rebellion. You have a strong need to be independent and free. This can lead to clashes between you and other people. It can be hard for you to commit, both in a relationship or in a career path.
In the first part of your life, you were probably a very conventional person. There was nothing strange or unusual about you. However, deep down, you might had felt and urge to break the rules and experiment more, find out who you really are.
Uranus here indicates a tendency to rebel against the norm. People who have this conjunction in their birth chart are often different in some way. Perhaps you have unconventional interests, or you are simply wired differently than most people. It is not easy to fit in with this conjunction.
Uranus conjunct north node natal can manifest in being nervous, sensitive, out of touch with reality. You have a different personality than most people. You can be too self-willed, to an extent that makes it hard for you to fit in and carry out your plans in society. If you are constrained from expressing the energy of Uranus, it can make you feel anxious and lonely.
With the Uranus conjunct north node natal aspect, it is the best to choose or a career or take up a hobby when you can let your Uranian creativity come to expression. Many people with this conjunction want a lifestyle that is unconventional and unique to them.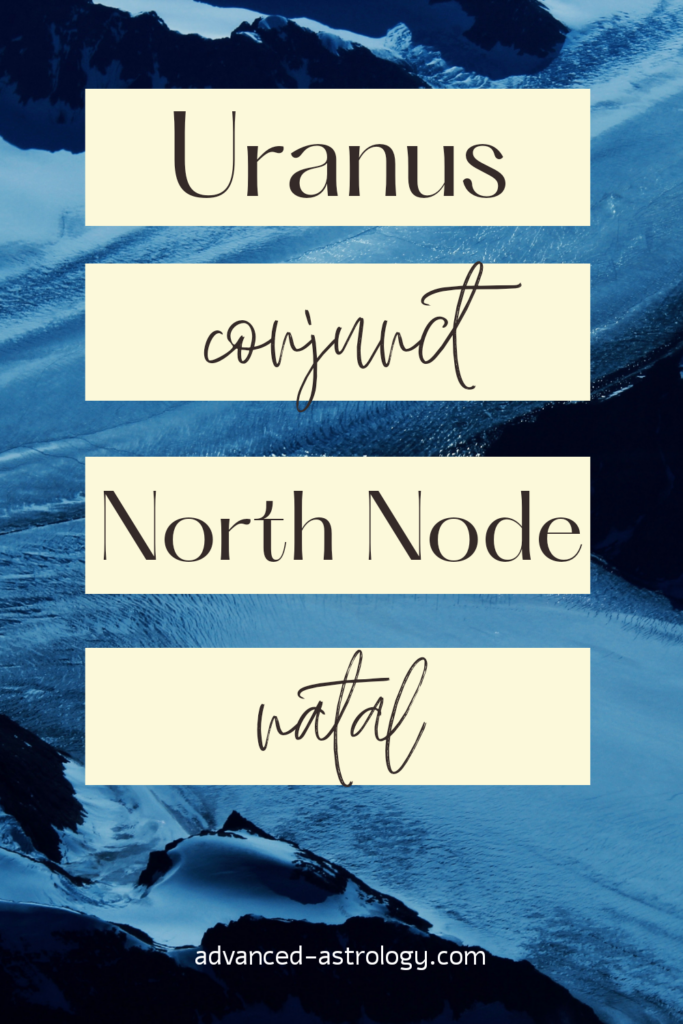 Uranus conjunct north node natal examples: some of the charts where you can find this aspect include the charts of Freddie Mercury, or Barack Obama.
Uranus Conjunct North Node Synastry
Planets conjunct the north node in synastry are very important. The same is true for the Uranus conjunct north node synastry aspect. This conjunction can be a sign of strong attraction between you.
This conjunction makes the energy of Uranus a major focus in the life of the north node person.
With the Uranus conjunct north node synastry aspect, the Uranus person can be a breath of fresh air in the life of the north node person. They force the north node person to reevaluate their idea of independence, freedom, habits, conventions. The Uranus conjunct north node synastry aspect can definitely shake up the life of the north node person. It can happen that the north node person needs to make changes in their life, and the Uranus person acts as a wake up call.
The positive manifestation of this aspect is finding excitement in life and creating a lifestyle that suits YOU, not others' idea of the person you are. The Uranus conjunct north node synastry aspect suggests that the Uranus person inspires the north node person to explore their creativity. The north node person sees the Uranus person as original and free. Independence can be an important issue in this relationship.
It can happen that the Uranus person is from a different culture or in some way, there are differences in the relationship. You might have different views or different lifestyles.
One thing to remember is that Uranus is not a compassionate, emotional planet in astrology. It has a rather cool, detached energy, preferring the intellect to the heart. Unless there are other indicators that say otherwise, Uranus conjunct north node synastry can suggest a relationship that lacks soul connection and warmness.
With Uranus conjunct north node synastry, the relationship can be just as erratic as the nature of this planet.
Uranus Conjunct North Node Transit
What to expect during Uranus conjunct north node transit?
This transit is a very rare one, the conjunction happening once in a lifetime.
Uranus has an erratic, unpredictable energy. When transiting Uranus touches an important point in your birth chart, it can be bring surprises and changes. Change is one of the most important keywords of Uranus in astrology, especially sudden, unforeseen ones. This time can be very exciting, but it can also be exhausting and make you nervous.
Uranus conjunct north node transit can be a period in your life when you want to break free. You might become tired of following the conventions, and want to find out who you are and what is your purpose in life. It can be hard to maintain your relationships and make compromises during this time.
You can find it challenging to fit in and follow the rules. This can lead to conflict in your peer groups or with authorities. It is important to replace the old, disfunctional pattern with something that actually serves you better. Watch out for rebellion without purpose.
Uranus conjunct north node transit can also be a time when you feel a need to focus on connecting with like-minded individuals and seek comfort in groups. It can be a great period for networking and learning something new. You might become more creative during this period. Interesting ideas can come to your mind.
Some people might become interested in astrology during this transit, as astrology is governed by this planet.
The Planet Uranus in Astrology
Uranus is one of the outer planets, discovered only in 1781. Because of its long orbital period (84 years), it counts as a generational planet in astrology, along with Neptune and Pluto. These planets move slowly through the Zodiac and their influence by signs is more noticeable on the level of society, rather than on an individual level.
Nevertheless, individuality is very important when talking about this planet in astrology. Uranus is the planet of originality, freedom, being different from the crowd. This planet also governs rebellion, shock, electricity, science, the internet, brilliance, inventions. Uranus is strongly oriented on the future and everything new and modern. It has a neutral energy, Uranus is neither masculine nor feminine in astrology.
In modern astrology, Uranus is the planetary ruler of Aquarius (previously ruled by Saturn). It is in accidental dignity in the eleventh house. Uranus is the higher octave of Mercury.
If you want to learn more about this planet, make sure to read this article about the meaning of Uranus in astrology.
The North Node in Astrology
There are two lunar nodes in astrology: the north node and the south node. They are always exactly opposite each other. Also called the Moon's nodes, they are calculated as the intersection between the Moon's orbit and the ecliptic. The north node and the south don't exist as physical objects, they are mathematical points. Nevertheless, they are still very important in astrology!
What do the lunar nodes represent in the birth chart?
These points are associated with the growth process of your soul. They are especially significant in karmic astrology, as they are strongly connected with your past actions and balancing them in the future.
Let's start with the north node. Most chart calculators only add the north node's symbol to the chart, as the south node takes place directly opposite it. The north node is a key feature of the birth chart. It shows why you were born, what your soul wants to master in this lifetime in the first place.
The north node represents a new, unfamiliar life area and quality that you often struggle with. The house of the north node tells in which life area you can grow, and its sign describes how.
The south node, on the other hand, shows what you already do well. You are very proficient here, and you navigate the matters of its house with ease. The south node is your comfort zone. You are amazing at it, however, there is no more room for growth here.
---
If you found this article helpful, maybe you want to save it for later. Make sure you share it with your friends who enjoy learning astrology!