There are some times in life when you get tired of the old ways of doing things. You want the new, unusual. You want to experiment and rebel.
The Uranus square Sun transit is one of these times. You are asked to take a closer look at your life and yourself and evaluate what is authentic to you and what is not. It can be a fun time of figuring yourself out, or it might be a challenging time that requires you to change yourself and get rid of the dysfunctional old.
Uranus is one of the slow-moving planets. It needs approximately 80 years to make a full orbit around the Sun. (Transiting Sun square natal Uranus occurs relatively often, twice a year, but it is a weak effect that lasts only for a few days). The transits of the outer planets are much more meaningful. Not everybody experiences them at the same time, it depends on the distance between the Sun and Uranus in your birth chart.
If you have the Uranus square Sun transit coming up, this article is for you.
Uranus Square Sun Transit
The Uranus square Sun transit is a period you will remember for a long time. It is an exciting year or two for most people. It might or might not be pleasant, but the arrival of Uranian energy implies that changes are due. How this transit affects you depends on what your starting position is, so to speak. If you have a natal aspect between these planets, their energy might be more familiar to you, thus easier to deal with.
Uranus shakes things up. You are in for a period of intense change. Your individuality and sense of self are developing during this time. This transit often implies an urge to break free.
External changes also might force you to reevaluate your life, which might be rather sudden and/or unexpected. It doesn't have to be the case, but it is a possibility. The key is to stay open to different options, and adapt.
You are exploring hidden facets of yourself. Some people experiment with various diets, for example, vegetarianism or veganism, others start studying something new, meeting different types of people than they used to. Changing your environment is frequent during the Uranus square Sun transit. You might realize that your preferences have completely changed.
Some people are scared of this transit coming up, but it can be an amazing time. The houses involved tell which life areas are the most likely to be affected by the Uranus square Sun transit.
If you are in a relationship that is overdue, this influence might be a factor in a breakup. But if the relationship is still alive and kicking, this doesn't have to be the case—only things not authentic to you are to die. Constraints might feel especially excruciating during the Uranus square Sun transit. Others might experience that their career or job is not fulfilling and want to make changes in this life area.
Useful questions to ask yourself:
Do you feel a need to course correct in your life? If yes, where and how?
What doesn't serve you anymore?
How can you be more flexible?
When do you judge yourself or others?
How do you define yourself?
Where do you want to be in 5 years?
Did you choose the circumstances in your life or were they imposed on you?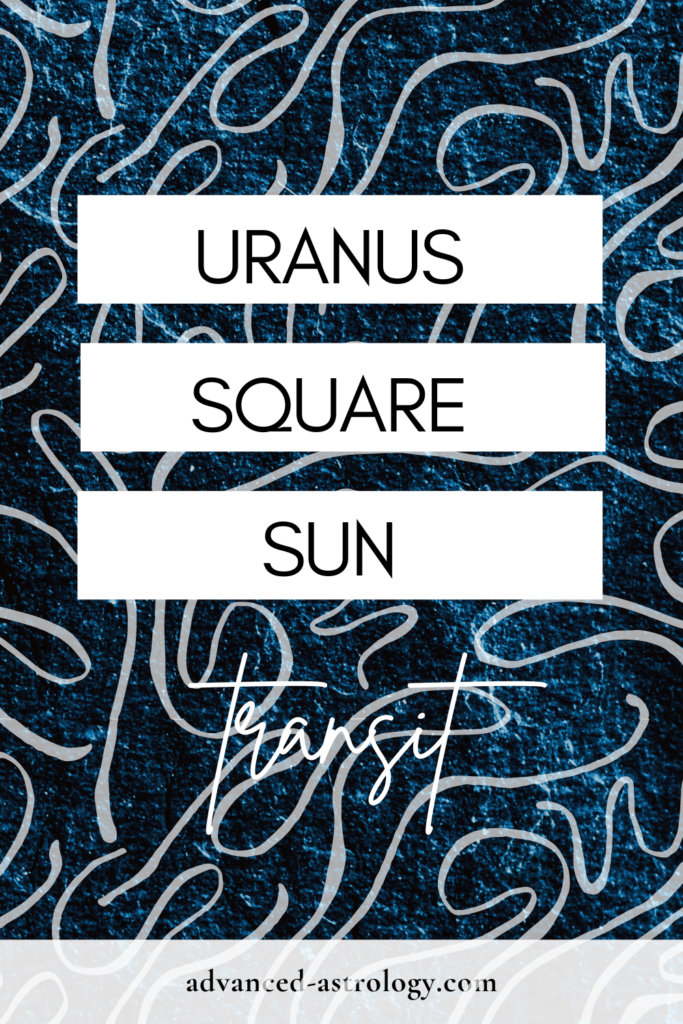 Uranus and the Sun in Astrology
Uranus and the Sun rule two fixed signs opposite each other: Aquarius and Leo. When these two energies meet, it can be quite erratic. The hard aspects indicate tension between the personal and the impersonal, warm and cold.
The Sun is a central element in the chart: it rules the ego, the self, creativity, vitality, energy. It is key to interpreting the horoscope. Uranus, on the other hand, is a transcendental planet. In astrology, it governs eccentricity, originality, the black sheep. It doesn't care about the rules or the consequences.
Uranus has an orbital period of approximately 80 years. This means that its transits to natal inner planets happen relatively rarely, but they are rather influential. They last for more than a year, and this time is colored with changes, unexpected turns, unusual circumstances.
---
If you liked this article, maybe you want to save our site for later. Make sure to share it with others who enjoy learning astrology!