In this article, you can learn about Venus conjunct south node synastry and natal aspects. This is a special conjunction in many ways. Venus is a very important planet in astrology. It governs your ability to give and receive love, be charismatic and attract to you what you want. What does it mean when Venus is conjunct the south node in astrology?
Venus conjunct south node in synastry indicates a strong and immediate attraction. You feel that you were together before when you meet.
The Venus conjunct south node natal aspect can be pretty challenging. The south node often shows a point of insecurity in the birth chart. There can be a tendency to define yourself based on your relationships with others. You are often loved and popular, but in this lifetime, you are supposed to learn that your happiness does not depend on others.
Venus conjunct south node suggests that you love expensive things which make life more enjoyable, especially when young. As you grow older, these things become less and less satisfying and you have to focus on life areas to find a sense of purpose. You find it hard to detach from the energy of Venus, especially in the first 30 years of your life. 
Keep reading to learn more about the Venus conjunct south node synastry and natal aspects in astrology!
Venus Conjunct South Node Natal Meaning in Astrology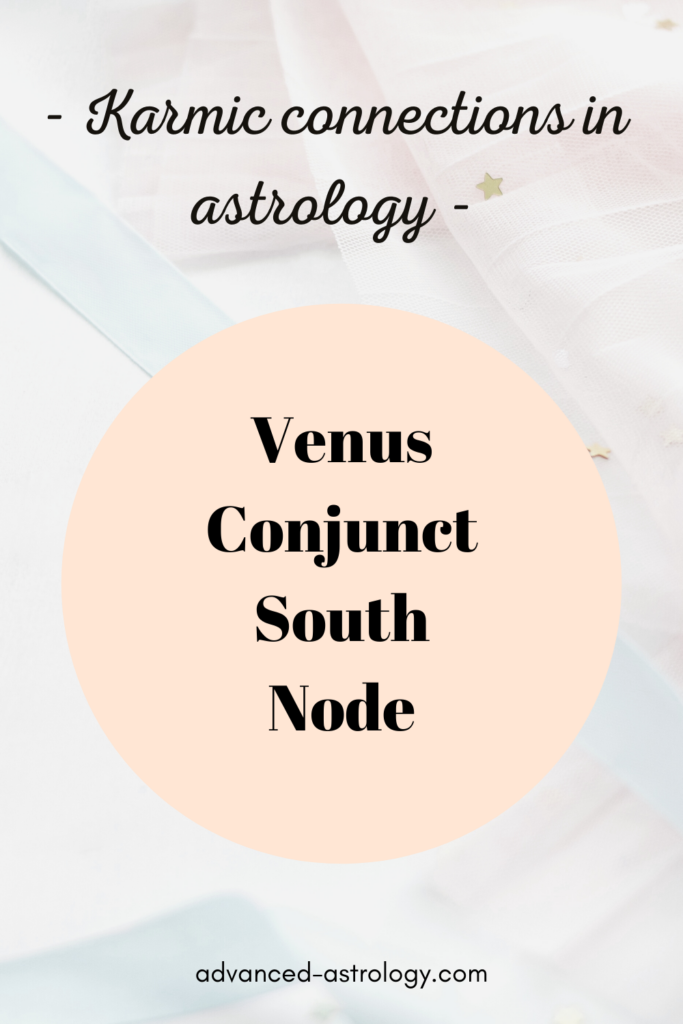 Planets conjunct the lunar nodes are extremely important in the natal chart, especially if they are inner planets moving through the Zodiac quickly. The energy of this planet infuses your karmic path. What does the south node conjunct Venus mean in astrology?
People who have this placement were often well-liked in the past. They were many times adored and perceived as of high value. The Venus conjunct south node natal aspect suggests that you have a lot of experience with society and interpersonal relationships. You often lived in happy relationships. Connecting with others comes naturally to you. You have excellent social skills, and you are charming and charismatic.
However, the south node is about the past, and in the future, you are supposed to move towards your north node. With the Venus conjunct south node natal aspect in your chart, you are supposed to learn that you are whole on your own. Relationships can take up a too big portion of your life. As you grow older, you find that relationships are less and less fulfilling to you on a spiritual level. This is not to say that you have to abandon people of course, but you have to learn to feel worthy on your own. Self-knowledge is one of the most important life lessons with the south node conjunct Venus in the natal chart. Relationships can stop you from seeing yourself clearly. 
People with their Venus conjunct south node are often used to luxuries, or at least a comfortable lifestyle. They enjoy fashion, beauty, cosmetics, expensive stuff. There is nothing wrong with this of course, but as they age, these bring them less and less happiness. When young, they are drawn to the finer things in life. However, in the second part of their life, they are likely to get bored of these things.  In this lifetime, material things don't bring you a sense of fulfillment.This placement can indicate a tendency to be self-indulgent when under stress, overeating as a coping mechanism, etc.
The sign where Venus conjunct south node takes place is important. For example, Venusian energy is much stronger in Libra, the sign which is ruled by Venus. This can make it harder to move towards the energy of your north node.
Venus Conjunct South Node Synastry
In synastry, you compare two natal charts. How the charts 'interact' with each other reveal how you two are likely to perceive each other and gives an idea about the nature of the relationship.
Venus conjunct south node in synastry is one of the strongest indicators of attraction. It is a great aspect not only for romantic relationships, but also for friends and coworkers.
This conjunction is better for long-term compability than Venus on the north node in synastry. You feel very comfortable around each other. The way the Venus person expresses affection and finds joy in life overlaps with the way the south node person experienced the world early on in life.
From a karmic point of view, Venus conjunct south node in syastry conjunction suggests that you have dealt with each other before. Perhaps you were in a romantic relationship, but not necessarily. Nevertheless, there is a strong sense of familiarity. When you meet, you immediately know that you have met someone special. Venus conjunct south node in synastry can bring an opportunity to be with each other without restrictions.
At the same time, there can be some difficulties with this aspect. The south node can be a challenging point, and the relationship can in some way pull you back. The Venus person can inhibit the growth process of the south node person. After some time, you can outgrow this relationship.
Venus in Astrology
Venus is named after the Roman goddess of love and beauty. In astrology, it is considered one of best planets, but it can also influence you the negative way. Venus rules two zodiac signs: Taurus and Libra. It is in accidental dignity in the second house and in the seventh house.
In the birth chart, the house where Venus is located is often great for you. You can find an easy flow of energy here. The sign of Venus shows how you can attract to you what you want, how you give and receive love, your aesthetics and what you enjoy doing. An afflicted Venus in the birth chart can suggest issues with receiving. Venus acts in an effortless way: it doesn't chase, it attracts. Venus is supported no matter what-people just like her.
Venus rules beauty, art, fashion, cosmetics, the finer things in life, romance, money in astrology. It has to do with everything pleasant in life. Venus rules pleasure and enjoyment, without it, life would be grey and dull.
The other very important topic associated with Venus is relating. Venus governs interpersonal relationships, love, marriage, unions of all kind, business partnerships, but also law. Venus is the planet of harmony and peace.
An emphasized Venus in the natal chart can gift the chart holder with physical beauty and charisma, a lovely persona and great social skills. On the other hand, it can indicate laziness and a tendency for over-indulgence.
The South Node in Astrology
What is the south node and why is it important in astrology? 
The lunar nodes don't exist in reality. These mathematical points are calculated as the intersection between the orbit of the Moon and the ecliptic. There are two of them: the north node and the south node. (They are always directly opposite each other.)
In astrology, the lunar nodes are often telling. These points are particularly important in karmic astrology. They are said to represent the spiritual journey of the soul.
Let's start with the south node. The south node talks about your past. In karmic astrology, it is treated as the sum of your experience in previous incarnations. If the concept of reincarnation is foreign to you, you can use it as your personal past in this lifetime. The south node shows what is familiar to you, what you have a lot of experience with and what you are excellent at. But now, you are supposed to detach from your south node and focus on your north node.
The north node represents the lessons you have to learn. It shows what can help you grow spiritually and which experiences you need to learn from. As with everything new, focusing on your north node can be very challenging. It takes a lot of time to get better at it. Most people learn the lessons of their north node after the age of 40.
The house and the sign of the lunar nodes are very important in the birth chart. They are always opposite each other. If your north node is in Capricorn in the 8th house, your south node is in Cancer in the 2nd house. Planets conjunct the nodes, like the Venus conjunct south node aspect, become more emphasized, and they often suggest an unusual life path. The aspects of the nodes are also important in the natal chart.
If you want to learn about the meaning of the north node in houses, click here, and if you want to learn about it's meaning through the Zodiac signs, click here.
---
If you found this article helpful, maybe you want to save it for later. Make sure to share it with your friends who enjoy learning astrology!