What does it mean if you have your Venus in Capricorn in your natal chart?
This is a very classy Venus sign. It is practical, efficient, sophisticated, never too much. People born with this Venus sign are reserved, polite, thoughtful.
A Capricorn Venus has traditional ideas about marriage and relationships. Their ideal relationship represents a solid foundation they can build on, and they value loyalty, structure, timelessness, order in this life area. Venus in Capricorn people make decisions regarding their love life based on logic, not emotions. They want to join forces with a capable partner with whom they can build a beautiful, stable life.
In the natal chart, Venus is an essential planet. Your Venus sign shows how you approach partnerships, how you give and receive love, if you feel worthy of love and the things you want. It also describes your aesthetic style, taste in fashion and art, and what you find attractive in general. Venus is one of the most important planets in the horoscope and in astrology.
Keep reading to learn more about the meaning of Venus in Capricorn!
What Does It Mean to Have Venus in Capricorn in the Natal Chart?
Capricorn is not the ideal sign for Venus, but as always, nothing is completely bad or good. There are many good things to Venus in Capricorn too. When it falls in this sign, Venus is under the rulership of Saturn. If there is an aspect between these two planets in your natal chart, this placement becomes more emphasized. The condition of Saturn is also important, for example, if your Saturn is in Aquarius, your Capricorn Venus works better too.
Venus in Capricorn people often struggle with their self-esteem. They often have doubts about their own worth, questioning themselves a lot. When young, many of them feel unworthy of love. It takes some time for them to gain self-confidence in this regard. Accepting and attracting the kind of love that is right for you is not easy with this placement. Actually, life can be quite lonely with a Capricorn Venus (don't worry, this tends to get better with time).
At an early age, you can feel like you were cursed when it comes to romance and relationships. Your low self-esteem is often a blockage here too, and you might allow people to treat you badly. People with this placement often find that their love life becomes better as they grow older.
They often meet their partner through work, or they end up with someone of the same profession. Older partners are also common with this placement in the birth chart. Many natives with a Capricorn Venus experience their best relationships only after their first Saturn return.
Generally speaking, to people with this placement, work comes before play. Venus is all about enjoying life, but in dutiful, serious Capricorn, the ability to have fun in the moment is restricted.
People with this placement are very grounded and calm, especially in their relationships. Venus in Capricorn suggests that you are in control of your emotions. Your eyes are on the prize, and you don't allow temporary impulses ruin your long-term plans. This is an extremely self-disciplined Venus.
Sometimes this placement is said to be cold and calculating, and while it is true that people with this placement listen to their mind rather than to their heart when making a decision, they can be warm and thoughtful as well. They are very honest and reliable. Actually, if a Venus in Capricorn gifts you with their devotion, you have a friend for life.
A Capricorn Venus in the natal chart signals that you value tradition and structure. You like things that withstand the test of time. You appreciate classical art and architecture. People with Venus in Capricorn prefer an reserved, business-like physical appearance. They like high quality materials and simple but elegant cuts.
One of the negative things about Venus in the gloomy sign of Capricorn is feeling lonely. This placement suggests that you are prone to depressive moods too. It is not easy for you to trust others and have close friends. People with this Venus sign often get along well with older people when they are young, and they get a lot of support from them on their journey too. They are often more mature than their peers, and it is hard for them to relate to them. However, Venus in Capricorn conserves youthfulness, and there is a part of you that never ages.
Venus in Capricorn is often an indicator of being successful at your profession. Because of your realistic, efficient attitude, this Venus sign tends to be well-liked in the workplace. Many people with this placement genuinely enjoy working and they are very professional. Being good at your job can be a major source of self-confidence for you.
Money is also important to people with this placement. They strive to be successful financially, what they usually achieve. They are very good at money management.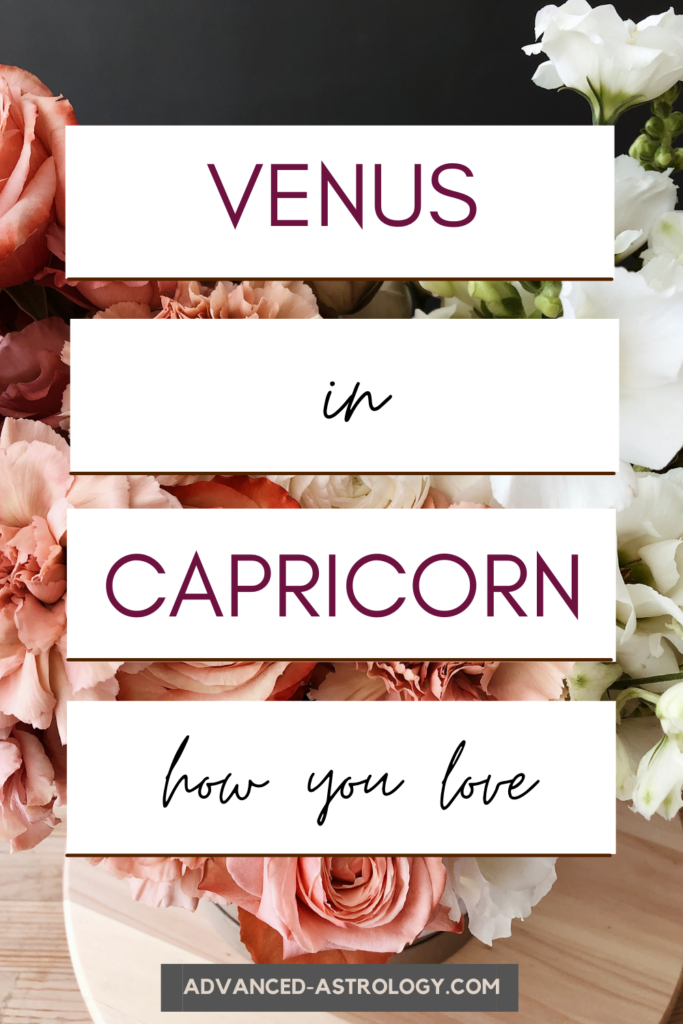 Keep in mind that the birth chart is more than the sum of parts. Besides the zodiac sign Venus is in, there are many other factors you have to take into account. The house of Venus and its aspects are also significant, and they modify how your Venus expresses itself.
For example, if you are part of the Neptune in Capricorn generation and your Venus happens to be conjunct Neptune, you are likely more romantic than you would expect someone to be based solely on their Capricorn Venus.
The house of your Venus is just as important. For example, a Capricorn Venus in 8th house wants even more commitment in a relationship, while a Capricorn Venus in 11th house is more extroverted and likes socializing.
Read more: Venus through the astrological houses
How Do You Tell if a Capricorn Venus Likes You? What Is It Like in a Relationship?
How does this Venus sign express love and what is it attracted to?
First of all, don't expect a Capricorn Venus to display a lot of affection and to be very romantic and passionate. However, this doesn't mean that they don't love you. Quite the opposite, they are able to love someone very deeply, they just don't express it in an emotional, passionate way. They need a lot of time to open up to someone. Capricorn is a gloomy, depressed sign. Venus here is suggests painful early experiences related to love, and this affects your ability to trust later.
Once they commit to you, Venus in Capricorn people are extremely loyal. They stay in a relationship even if it is not functional. This doesn't mean that they will never leave, but they try to fix things first. They are very patient and supportive.
In a relationship, the Capricorn Venus expresses affection by doing acts of service, giving thoughtful gifts, physical touch. This Venus sign doesn't consider love something abstract and dreamy, it prefers practical love.
How do you make a Capricorn Venus fall in love?
People with this placement want a partner who they can count on and build a life with. They prefer committed relationships, and they are usually not interested in casual stuff. However, they are not willing to dedicate their time just to anyone.
This Venus sign is after the perfect partner and partnership. People with this placement listen to their brain more than to their heart when it comes to love. They have extremely high standards, and they are very selective about who they let close. Integrity is extremely important to them.
They want someone who takes some of the burden on their shoulders off, and who sticks with them through the hard times.
As with Capricorn placements and Saturn in general, your love life tends to get better after your Saturn return and in the second part of your life.
Who Is Venus in Capricorn Compatible with?
Venus sign compatibility is one of the most important things in synastry. While other harmonious aspects can make up for the lack of it, if your Venus signs work together well, it indicates an easy flow of energy between you.
As an earth sign, Venus in Capricorn is the most compatible with other earth signs. A water sign Venus can also be a great match.
The best Venus signs for Venus in Capricorn compatibility in astrology:
Venus in Taurus
Venus in Cancer
Venus in Virgo
Venus in Scorpio
Venus in Pisces
Venus in Capricorn Woman
The Venus in Capricorn woman strives to always be in tip-top shape. Her physical appearance is always put together, and her style is elegant and understated. She is extremely classy and has good manners too.
When it comes to romance, the Venus in Capricorn woman wants a partner who will support her goals and ambitions. Her ideal partner is someone with a proven track record of success in life, so to speak. She wants a partner who has accomplished great things in life and has plenty of resources. It is not rare for Venus in Capricorn women to date extremely successful men who tend to be older. Even if he is not that established, it is essential that he has good work ethics and has a bright future.
The woman with a Capricorn Venus is not carried away by emotions when she meets someone. As a practical earth Venus sign, idealizing and romanticizing someone is not her cup of tea.
Venus in Capricorn Man
What does this placement reveal about a man's chart? Venus represents the feminine principle in every chart, regardless of the chart owner's gender. It also speaks about what you are after on a romantic plane and what attracts you.
A Venus in Capricorn man is attracted to ambitious, stable, successful women (in case of a heterosexual man). His standards are very high. Venus in Capricorn men often choose partners who elevate him in society.
In a relationship, he values long-term commitment. His ideal partner is someone who is intelligent, reliable, competent, established, and who is a stable point in his life.
Meaning of Venus in Astrology
The second planet from the Sun, Venus is one of the quickest moving planets with its orbital period of approximately 225 days. This means that it changes signs quickly, and its position in the natal chart is highly personal, or in other words, meaningful. Venus represents a very important part of the psyche and the horoscope. It shows your ability to maintain relationships and be worthy of what your heart desires. Venus also tells what you attracts you.
The two most important keywords of Venus are relationships and harmony. Named after the Roman goddess of love and beauty, Venus rules in astrology love, romance, all partnerships and relationships, but it also governs art, beauty, joy, money.
In astrology, Venus is the ruling planet of Taurus and Libra. It is exalted in Pisces, in fall in Virgo, and in detriment in Scorpio and in Aries. This planet is in accidental dignity when it falls in the second house or in the seventh house.
Capricorn in Astrology
Capricorn is the tenth sign of the Zodiac. The Sun moves through Capricorn at the beginning of winter (in the northern hemisphere), approximately between 22nd December and 19th January. It begins with the winter solstice.
This sign is hard-working, well-organized, persistent, resilient, rational, ambitious. Capricorn is the sign of structure, hierarchy, discipline.
Every zodiac sign has a ruling planet, and Capricorn is ruled by Saturn, the planet of time and karma. In the natural chart, Capricorn is associated with the tenth house of profession and direction of growth in life.
Capricorn is an earth sign by element. Earth signs are practical, realistic, grounded, and they are focused on the physical world. It is a cardinal sign by polarity. Cardinal signs are leaders and action takers, marking the beginning of each season. By polarity, Capricorn is a feminine or passive sign.
Venus in Capricorn Celebrities
Some famous people who have their natal Venus in Capricorn:
Edith Piaf
Anthony Hopkins
Steve Jobs
Scarlett Johansson
Michael Jordan
Simone Weil
Cindy Crawford
Pablo Escobar
Walt Disney
David Lynch
---
If you found this article helpful, maybe you want to save it for later. Make sure to share it with others!