So, you have your natal Venus in the eleventh house and you what to do with this information. Or someone you care about has their Venus in the eleventh house, and you want to understand them better.
In this article, we'll look into the meaning of Venus in the eleventh house.
With your Venus in the eleventh house, you are definitely a social creature. This placement makes you loved in groups where you belong. You sometimes even meet your partner through a group or organization!
With your natal Venus in the eleventh house, you like to help others and often enjoy volunteering.
Keep reading to learn more about your natal Venus in the eleventh house!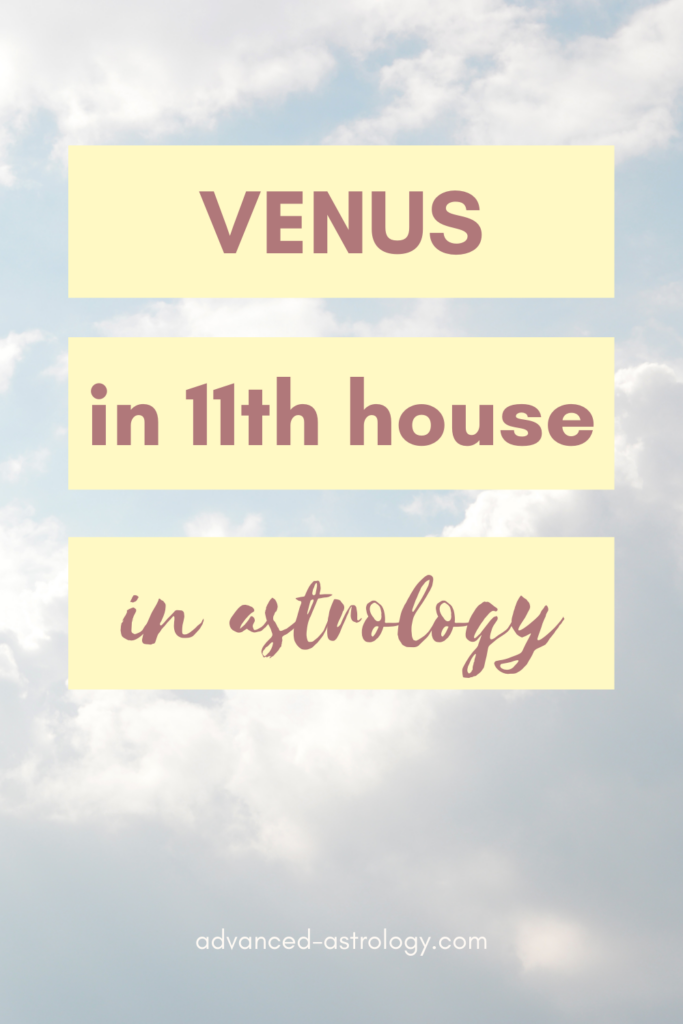 What Does Venus Mean in Astrology?
To understand what Venus means in houses, you first have the understand what Venus means, right? If you already know this, feel free to go to the interpretation!
But if you don't know much about this planet, here's what Venus means in astrology in a nutshell.
Venus got its name after the Roman goddess of love and beauty. Knowing this, it's no surprise that this planet represents the exact same things in astrology!
Venus is the planet of pleasure. In the natal chart, Venus shows what you enjoy doing, but also what kind of love you need! It describes your ideal partner, but it also suggests where can you meet them or how to attract them! Venus also tells what kind of partner are you attracted to.
Venus is all about effortlessness. This planet doesn't have to work hard, and still, she gets everything she wants. To be like Venus, we have to find joy in our everyday lives and focus on incorporating beauty into it.
Here's a list of some more things Venus rules in astrology:
partnerships
marriage
romance
unions
diplomacy
charm and grace
beauty
art
culture
luxuries
fruits, flowers
beautiful clothes, jewelry, perfumes,
and everything that's beautiful.
A prominent Venus in the natal chart makes you charismatic and charming, often good-looking and you often have artistic talents. An afflicted Venus has its dangerous side, however. It can make you lazy and self-indulgent.
Venus rules two zodiac signs in astrology, Taurus and Libra. If you want to learn more about Venus, we've got you covered here.
If you don't know in which house your natal Venus falls, you can find it out here!
The Eleventh House in the Natal Chart: Hopes and Wishes
The eleventh house is a succedent house. This means that it follows an angular house (the tenth). The resources of a succedent house support the matters of the preceding angular house.
Planets in the eleventh house help you achieve your dreams and be who you want to be in life―shown by the Midheaven and the tenth house in the birth chart. Hence the name the House of Hopes and Wishes for the eleventh house.
Some life areas associated with the eleventh house in astrology:
groups and friends
organizations
social awareness
volunteering
humanitarianism
your goals and dreams
the future.
Sometimes the eleventh house is referred to as the house of friends. You might wonder why is this so?
The eleventh house is about helping and being helped. It shows all the unknown resources of the universe that can help you to achieve your goals. Often, this help comes through your network, friends and fellow members of organizations!
The eleventh house is an air house, focused on communication and socializing. It's traditionally associated with the zodiac sign Aquarius.
Want to learn more about this house? Here's an article about the eleventh house in the chart wheel.
What Does Venus in 11th House Mean in the Natal Chart?
Venus is one of the most beneficial planets in astrology, and it's a good planet to have in any house, except maybe the twelfth. It brings harmony and luck to the matters of the house where it is located―and the eleventh house is no exception!
Of course the first thing that comes to your mind is the importance of social life. Venus in the eleventh house wants to be around other people, make new friends, be part of something bigger. You enjoy socializing.
You have many friends with this placement. They often help you get ahead, both in your professional and private life. There is always someone around you who can show you a new opportunity, help you connect with someone or get you involved in a new project.
Venus in the eleventh house is a good placement when it comes to finances. The eleventh house shows what comes into your life and money you make through your profession.
You have many interests. However, Venus in the eleventh house people enjoy an activity more when do it together with others. You are often part of societies and organizations, where people are connected by a common goal or hobby. No matter if it's a group of cat lovers or an organization that helps the elderly, you enjoy being a part of it.
Your Ideals, Hopes and Wishes
You have a big circle of friends, and you are innately talented when it comes to socializing. You are attractive to other people and they come to you without you having to do anything. Your friends are often female or from the opposite sex.
Venus in the eleventh house people are usually smart and have many ideas. They like to question how things are done and wonder if there is a better way to do it. You enjoy connecting with like-minded people on your journey.
Venus here is often involved with clubs and organizations. You enjoy being part of a group, where you can make new friends and help each other. You have a lot of professional connections.
Venus in the eleventh house people like to volunteer. This is an excellent way to meet new friends and work on making the world a better place. You often have humanitarian ideals with this placement.
Venus in the eleventh house is open-minded and tolerant. A person with this placement has modern views as opposed to a traditional value system.
The eleventh house is the house of ideals. Venus here suggests that you have many of them, sometimes even too many. If there is a lack of earth signs in your chart, it can happen that you lose touch with reality.
Venus in the Eleventh House and Your Love Life
In the natal chart, Venus shows how you love and how you want to be loved. Its placement is an important indicator when it comes to your love life. Here's what a natal Venus in the eleventh house reveals about your relationships!
With this placement, your lover is also your friend. This is a good position for long-term relationships, because you share the same goals and visions for life.
Venus in the eleventh house people often attract people with their intelligence. A mental connection is important to you, you want someone who thinks in a similar way as you do.
If you haven't found your soulmate yet, you should get involved with social activities, volunteering, fundraisers or some chart work! Also make sure that you spend a lot of time with your friends.
You often become romantically involved with someone who is your friend or someone you met through friends. It also happens that you meet your significant other through volunteering or your circle of friends. They are sometimes a member of the same group or organization which you are part of, too.