If you have your natal Venus in the ninth house, you'll love this article!
It's all about this placement of Venus. This is a fascinating house for this planet, and it shows that you are optimistic, cheerful and hungry for new experiences.
This Venus is curious and always wants to go on an adventure. You love to travel and you are drawn to foreign cultures. Venus in the ninth house sometimes indicates that your spouse is from a different country or culture.
If you have this placement in your birth chart, your Venus soaks up some Sagittarian energies.
Keep reading to learn more about a natal Venus in the ninth house!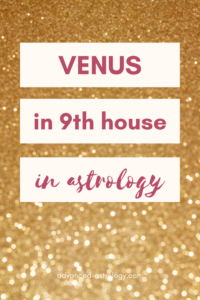 What Does Venus Mean in Astrology?
If you already know what Venus represents in astrology, skip to the interpretation part! But if you are not sure about this planet, here's a short description of Venus in the natal chart.
In astrology, Venus rules everything that makes life enjoyable. In the natal chart, Venus shows what you enjoy doing the most.
It's no surprise that Venus is the planet of love in astrology. Its position in the birth chart describes how you give and receive love. Venus also tells what kind of partner you want and how you attract them in your life. A weak Venus suggests that you don't feel worthy of affection, what can give you a hard time in relationships.
Here's a list of some other things associated with Venus in astrology:
partnerships
romance
marriage
tact
diplomacy
aesthetic and art
culture
flowers, fragrances
luxuries.
There are two zodiac signs that belong to Venus in astrology: Taurus and Libra. Taurus shows the hedonist side of Venus, while Libra is focused on relationships and creating balance.
A prominent Venus in the natal chart indicates artistic talent, good social skills and makes you popular. If it touches important personal points such as the ascendant or the Sun, the person is usually very good-looking.
However, an afflicted Venus can make you lazy! Venus is all about ease. It makes good things come into your life without you having to do anything―the trine aspect is a good example.
An afflicted Venus suggests a tendency towards self-indulgence, too.
Want to know more about Venus in astrology? Here's an in-depth article about what Venus means in the natal chart.
The Ninth House in the Natal Chart
The ninth house is traditionally associated with Sagittarius. This zodiac sign is ruled by Jupiter, the planet of luck and abundance.
Sagittarius is all about adventure, new experiences and optimism. This fire sign always looks in the bright side. When you loose hope, turn to a Sagittarius for inspiration and motivation.
The ninth house serves growth and learning in astrology. All activities associated with this house help you broaden your horizons.
Some of the life areas associated with the ninth house:
long-distance travel
foreign cultures and countries
religion
higher education
philosophy
law.
As you can see, the ninth house includes a lot of different life areas! However, there is one common trait to them: they all help you gain experiences and give you new ideas about how the world works.
People who have an emphasized ninth house are curious, always want to expand their minds, love reading and they often go traveling.
If you want to learn more about this fascinating house, here's an article about the ninth house in astrology.
Now that you know what Venus and what the ninth house stand for in the language of the sky, let's interpret a natal Venus in the ninth house!
Venus in the Ninth House: Lust for Life
If you have your natal Venus in the ninth house, you don't enjoy spending your life in your hometown. People who have this placement are in love with the world, and they want to explore as much of it as they can.
You are freedom-loving and full of energy. Venus in the ninth house people enjoy learning about other cultures and religions.
They are often drawn to foreign art. Venus here makes it easy for you to learn foreign languages, you usually speak more than one language. You are attracted to people who come from a different background. They often become your friends or lovers.
You usually spend a few years traveling and discovering the world. Venus in the ninth house dreams a lot about visiting far-away places. They wonder what life might be like there. Venus here is often bored by their everyday life, and they wait for an adventure to happen and bring some excitement.
You are open-minded and tolerant. Freedom is very important to you. If you feel restricted in a relationship or in a situation, you'll leave no matter what.
Venus in the ninth house loves learning. You like to learn both in a traditional setting and on your own, though reading books and getting first-hand experiences.
People who have an active ninth house (they have planets there) are often well-educated. In some cases, they become teachers themselves. Sometimes Venus in the ninth house makes you interested in law.
Venus in the Ninth House and Spirituality
Philosophy is an important part of your life. You love reading about it, and you also wonder a lot about the big questions of life. Venus here loves to discuss what comes to their mind with others.
The ninth house is the house of the higher self.
Venus here suggests that you enjoy learning abut spirituality. You are not necessarily religious in the traditional sense of the word, but people with this placement have their own value system and ethics, and they live their life according to their own beliefs.
What Venus in the Ninth House Reveals About Your Love Life?
Venus in ninth house people are often married to someone who comes from a foreign culture. It happens that you meet your partner on a trip. Perhaps your higher self gives you this wanderlust to find love in a distant country?
The ninth house is also the house of higher education and spirituality. Meeting your partner in college or through spirituality is common among Venus in the ninth house people.
The ninth house is the natural house of Jupiter, the planet of luck. There is always some luck to this house. Venus here absorbs this good energy, and you are often in lucky in your marriage.
Venus shows what kind of people are you attracted to. With Venus in the ninth house, you want a partner who is educated and modern rather than traditional. You want someone who is a citizen of the world.
A philosophical connection is important to you, and you seek wisdom in your partner. It's important to you that this person has similar values to you, and that they live according to their ethics.
In astrology, the sign of a planet shows how this planet will express itself. How you love and want to be loved is described by your Venus sign.
The ninth house is the house of your in-laws. Venus in the ninth house indicates that you'll have a good relationship with them, and they will be a beneficial influence in your life.