Venus in Libra is very strong, as this is one of the sign Venus rules. All of its good qualities come to expression easily. What does it reveal about you if you have a Libra Venus in your natal chart?
People with this placement intuitively understand how relationships work, and they are good at navigating the world of social interactions. They are intelligent, eloquent, charming, diplomatic, people generally like to be in their company. Venus in this sign indicates that you make your life joyous and entertaining.
Venus is all about lovely and pleasant experiences. In the birth chart, it is one of the most important planets. Your Venus sign tells how you give and receive love, if you feel worthy of love, speaks about your self-esteem, but it also has to do with your aesthetics. People with Venus strong in their charts are usually drawn to beauty, art, and they are quite sociable.
Keep reading to learn more about Venus in Libra in the natal chart!
Venus in Libra Characteristics and Personality
If you have this Venus sign, your Sun sign is Leo, Virgo, Libra, Scorpio, or Sagittarius.
Venus is very strong here, because it is the planetary ruler of Libra. It is at home in this sign, and has access to all its resources, so to speak. It operates very well. This placement suggests that the themes of Venus have a central role in your life, especially if Venus is in a prominent place in the birth chart, for example on the ascendant, and/or it forms many aspects.
Venus in Libra is focused on harmony. Those born with this placement intuitively know what needs to be done to achieve balance.
You believe in romance and your heart is full of pure love. However, you don't really get emotionally involved in most of your relationships. Libra is an air sign, detached from emotions. It has an intellectual approach to relationships. This allows it to see a disagreement unbiased and it makes it effective at problem solving and negotiation.
If you have this placement, you are likely extroverted. You are a very friendly person. The Libra Venus likes to go out and have fun. People with this placement are approachable, easygoing, adapt to every situation quickly, and they carry themselves with grace. Gracefulness and kindness are integral parts of their character. There is a certain charm to the Libra Venus that sweeps people off their feet. This placement indicates luck in the matters of socializing and relationships.
Venus in Libra individuals are impossible not to notice. They are usually very good-looking, have excellent taste in fashion, and know what suits them the best. Many of them are interested in things related to beauty.
Venus in Libra people are not only beautiful on the outside, they have very good manners too. They instinctively know how to behave, and they get along with almost anyone. Venus in Libra finds something lovable in everybody. Even in their enemies. If you have this placement, you are very optimistic about people. You are able to see the best in everybody, and others respond to this very positively. You don't really judge people, what is something they unconsciously appreciate in you. However, in your close relationships you tend to hold grudges. You don't forgive imperfections, especially the imperfections of your romantic partner.
Social interactions are a big part of your life. You enjoy light-hearted, fun conversations. You naturally attract people—Venus Libra is very good at expanding its network. Your network can help you a lot with this placement in the birth chart. Giving and taking in an equal measure comes easily to you. You strive to be fair in every situation. Venus in this sign suggests that you genuinely enjoy it when you can help someone, and people like to help you too.
One of the negative traits of the Libra Venus is self-absorption. Depending on the rest of the horoscope, you are in love with yourself in the first place. This placement suggests that you measure others to yourself and decide how close you let them based on how much they live up to your ideal version of them. At the same time, you try to avoid direct confrontation, but you still have your own perception of them, just keep this to yourself. If Venus is afflicted in the horoscope, you can be calculated and two-faced.
Aesthetics are important to this Venus sign. It enjoys being in a beautiful environment and has a very good sense for everything related to design. People with this placement are drawn to art, and they tend to be quite talented themselves too.
A Libra Venus is a very good placement for professions working with people. People with this placement are especially talented at settling arguments, negotiation, law. They also tend to do well in public relations or in any field where you deal with the public. Your sense of tact helps you navigate tricky situations.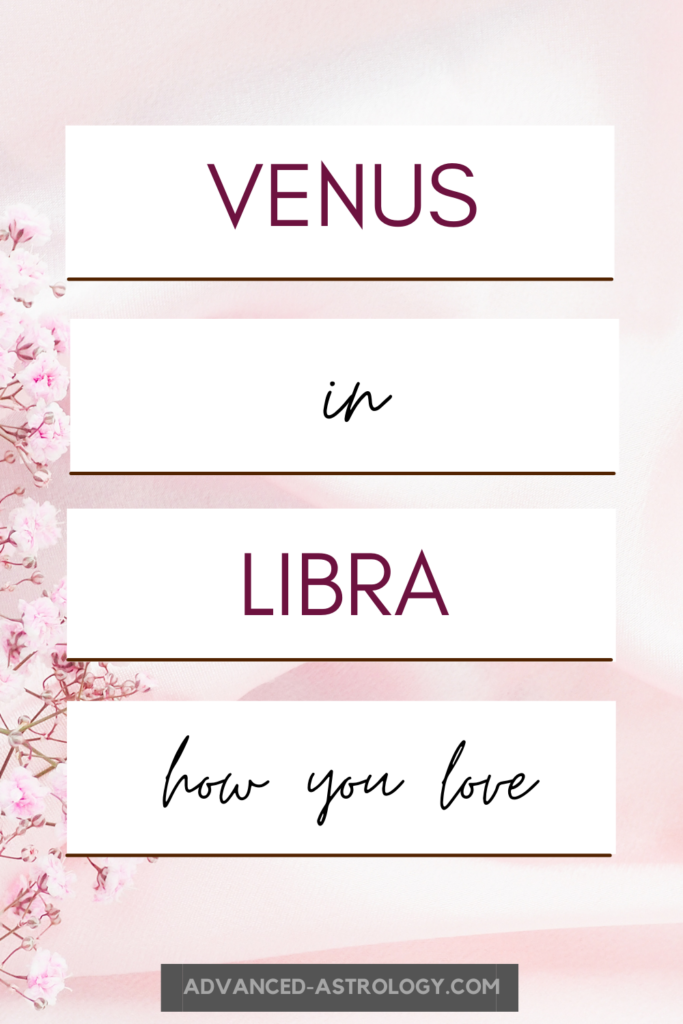 The sign of Venus is very important in the birth chart, but other factors modify its behavior. Aspects from other planets to Venus how this planet plays out, and its house is just as significant. The house of your Venus tells in which life area it expresses itself. You can read more about Venus through the astrological houses here.
Venus in Libra: in Love with Love
How do you know a Venus in Libra likes you?
Relationships play a very important role in the lives of people with this placement. You know that a Venus in Libra is interested in you if they share with you what's on their mind, do romantic gestures for you, make you feel very special. Venus in Libra is the perfect lover.
Venus in Libra is a hopeless romantic. It believes in true love, sometimes wanting to believe in it. People with this placement want to be in a loving relationship, however, they are also afraid of commitment. Libra knows that saying yes to something means saying simultaneously no to a myriad of other things.
However, once in a relationship, you stick with your partner. You want to be there for them in hard times, and you are determined to help them. The detached nature of Libra helps you see clearly the shortcomings of your relationship, and makes it easier to work on improving it. Your good communication skills and tactful delivery also help here. One of the pitfalls of Venus in Libra is attracting people who need some form of help.
This Venus sign indicates a need for constant validation. You feel the best about yourself if others approve of you. They boost your self-esteem. You feel more worthy when there is someone else to reflect yourself back to you.
There is a strong desire to live up to other people's expectations (depending on the rest of the chart). Venus in Libra suggests that you are impressionable and can be somewhat naive. You tend to romanticize everything and idealize people, sometimes ignoring red flags. Venus in Libra suggests that you dislike being on your own. There is a tendency to make too many compromises just to avoid being alone.
Balance is one of your greatest motivations in relationships. You see both sides, and want to make sure everyone is satisfied. When there is a disagreement, you are able to communicate in a refined, tactful way to get your point across. However, you can be afraid to stand up for yourself in a conflict.
Venus here wants peace. It dislikes harsh behavior, vulgarity, conflict, aggression. Unkindness is also something you prefer to avoid in people. You want to surround yourself with people who have good manners.
Venus in Libra Woman
In the horoscope of a woman, Venus describes how she perceives her femininity. It also speaks about her personal style and aesthetic.
Venus in Libra women are the epitome of a lady. They are always elegant, extremely well put-together, have good manners. Venus in this sign in a woman's chart suggests that her movements are graceful and she has a beautiful presence. She is never boring.
When it comes to love, women with this placement enjoy courtship and romance. However, they don't fall in love quickly. To win over her heart, you there has to be an intellectual bond too.
Venus in Libra Man
In the chart of a man, Venus speaks about the kind of women he is attracted to or his ideal lover. It tells what he values in his love interest.
Venus in Libra men are attracted to elegant women. They are turned on by a sophisticated, refined personal style. graceful movements, and good manners. They are very romantic.
The Venus in Libra man is polite, polished, and has a great sense of style. He is charming and charismatic. He tends to get along well with women, and he is not the typical macho type (depending on the rest of the chart). It is important for him that his partner expects him to be a gentleman and treat them with respect. He is looking for someone who inspires him and makes him more balanced.
Libra Venus Compatibility
Which Venus signs are the best match for a Libra Venus?
As an air sign, the way the Libra Venus loves is the best understood by other air or fire signs.
The best Venus signs for Libra Venus compatibility:
Venus in Gemini
Venus in Aquarius
Venus in Aries
Venus in Leo
Venus in Sagittarius
For some reason, many Venus in Libra people find themselves in a relationship with Capricorns.
Meaning of Venus in Astrology
As one of the most prominent features of the night sky, Venus is an extremely important planet in astrology. Venus is one of the quick-moving celestial bodies. The second planet from the Sun, it has a short orbital period of 225 days. Because of this, its position in the birth chart is highly unique and personal.
Venus has been already known to ancient civilizations (however, it was sometimes thought to be two separate celestial bodies, referred to as the morning star and the evening star). Venus is named after the Roman equivalent of Aphrodite, the goddess of love and beauty.
In astrology, Venus governs women, relationships, diplomacy, tact, harmony and peace, art, beauty, luxury, money.
In the Zodiac, Venus is the ruling planet of Taurus and Libra. This planet is in accidental dignity in the second house and in the seventh house.
In the natal chart, your Venus sign describes your attitude to relationships and other people. Venus is generally considered a beneficial planet (the lesser Benefic), and its presence in any house is favorable. It tends to indicate luck and ease in the life areas linked with its house.
Libra in Astrology
Libra is the seventh sign, linked with the seventh house of partnerships in the natural chart. Using the tropical Zodiac, the Sun transits Libra approximately from 23rd September to 23rd October (the exact date varies).
Libra is an air sign by element. Air signs are oriented on people, but from an intellectual perspective. They are detached, objective, but easily connect with everyone.
Libra is one of the cardinal signs in astrology (the other three are Aries, Cancer, and Capricorn). Cardinal signs are initiators. This zodiac sign is masculine by polarity.
The symbol of Libra (which is Latin for scales) is the scales of justice. Libra is the only zodiac sign linked with an inanimate object.
Libra is sometimes described as two-faced and inconsistent in relationships, which is true to some extent. Libra is a hopeless romantic, being in love with love. As an air sign, it values intellectual bonds.
Venus in Libra Celebrities
Some famous people who have this Venus sign:
Grace Kelly
Beyoncé Knowles
Ryan Gosling
Pablo Picasso
Stephen King
Bernie Sanders
Warren Buffett
Woody Allen
Oscar Wilde
Arthur Rimbaud
Claudia Schiffer
---
If you found this article helpful, maybe you want to save it for later. Share it with others who enjoy learning astrology!