Venus is the planet of luck, love and beauty in astrology. Learn what a natal Venus in second house reveals about you!
People with this placement are their own greatest asset. They have a healthy self-esteem, and they believe that they deserve the best.
This placement show luck when it comes to money matters. The second house is the house of possessions and money in astrology. Venus here shows that you have an above-average earning power.
This placement is stable and grounded rather than passionate, and you want the same qualities in your partner, too.
Keep reading to learn how to interpret a natal Venus in the second house in the natal chart!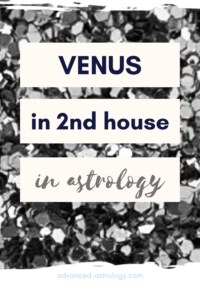 Meaning of Venus in Astrology
Venus rules two planets in astrology: both Taurus and Libra. Taurus is the sign associated with the second house, so this house feels very natural to Venus!
Venus governs a lot of things in astrology:
harmony
balance
love
relationships
beauty
art
luxuries.
In short, Venus rules all things you enjoy in life! In the natal chart, it shows what you love, and if you feel worthy of love. Venus is about attracting to yourself what you want with ease and grace. Venus is a very feminine planet.
Its sign describes how you love and how you want to be loved. The house of Venus tells in which life areas you find happiness, and where you feel loved. As the planet referred to as the lesser benefic, Venus is often a point of ease and luck in the horoscope.
Venus rules two zodiac signs: it's the ruler of both Taurus and Libra in astrology.
The Second House in the Natal Chart
The second house is the House of Values. Your second house shows what you find important in your life.
This is a succulent house, what means that it follows an angular house. Succulent houses support the preceding angular house―the second house's possessions support your physical existence.
It tells about your physical possessions, but also about your value system. The second house even shows how you value yourself, your self-esteem and self-confidence.
The second house is often called a money house. It tells about your approach towards money, if you feel that you deserve it or not, how you can make money, and it describes your financial life. The second house is the house of all possessions except land and real estate (these belong to the fourth house).
A well-aspected second house shows prosperity and abundance. If it's not that well aspected, you have to work on your self-esteem and build self-confidence in what you do and charging for it.
Here's What a Natal Venus in Second House Reveals About You
Several planets in the second house suggest that you have strong values. You are a person with both feet on the ground.
Venus is in accidental dignity here, as this house is traditionally connected with Taurus. Venus is one of the best planets to have here when it comes to financial success.
If you have your Venus in the second house, you usually become well-to-do. This placement suggests a person who works hard towards a comfortable life, especially if Venus is in an earth sign (Taurus, Virgo and Capricorn).
You enjoy what life has to offer. Venus in the second house people value art, nice clothing, jewelry and the finer things in life. This placement is hedonistic, which is good to a certain extent, but if you become self-indulgent, it leads to trouble.
Venus in the second house people often pursue a career in the arts, beauty industry, fashion, interior design, or in any field where you need a lot of creativity and refined aesthetic skills. Working with women can be good, too.
Venus in 2nd House and Resources
Venus attracts effortlessly. It's so charming and beautiful that it's actually you who is pleased that you can gift her something she wants.
Venus in the second house people usually have luck when it comes to finances, they make money easily and have an innate understanding of how the material world works. You are practical and down-to-earth, especially is your have several planets in earth signs (Taurus, Virgo and Capricorn). This placement suggests that you have enormous earning power.
You know how to make money. However, if Venus here receives hard aspects, you spend a lot of money, too. This can be an issue, because financial is success is not about how much you make, it's about how much you keep.
A natal Venus in the second house suggests that status is important to you. You spend a lot of money and effort on becoming affluent. However, focusing too much on status can lead you astray.
In extreme cases, Venus here can make a person focused only on material gain, sometimes to the extent of stinginess.
Read more: Venus in Signs in astrology
Venus in Second House: Talents and Relationships
The second house is a talent house. Venus here indicates artistic talent and a fine taste. You appreciate beauty in the world, and you are also a source of beauty. Taurus rules the throat in astrology, and Venus in the second house people often have pleasant voice.
Besides this, you have a talent for money, too. You can be quite materialistic with this placement, and you love financial stability.
When it comes to love, your motto would be slow and steady.
You don't rush into a relationship. First you like to get to know your partner, and decide if it's a match. But once in, you are in. Your love is lasting.
Venus in the natal chart shows what kind of partners are you attracted to. Venus in the second house is usually drawn to genuine, affluent and handsome people. In relationships, you want stability and security. Being in a relationship makes you feel loved, especially if your partner expresses their love in a tangible way.
---
If you found this article helpful, maybe you want to save it for later. Make sure to share it with others who enjoy learning astrology!