If you have your natal Venus in the twelfth house, this article is for you!
The twelfth house is a strange place. Planets here are hard to access, you often feel that their energies are missing from your life.
Venus in twelfth house is no exception. It suggests that you have problems with your self-worth and you don't love and value yourself. You have a hard time connecting with others on a deep level and getting the love you want. You often fall for people who are unavailable because of some reason, and you are often involved in secret relationships.
Keep reading to learn more about a natal Venus in twelfth house in astrology!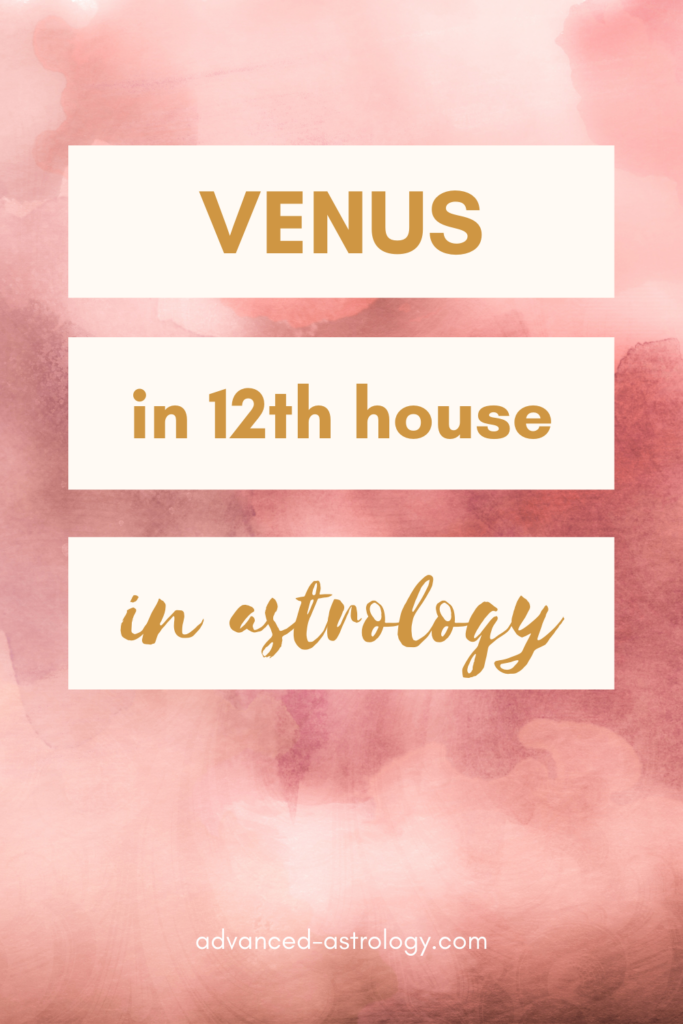 What Does Venus Mean in Astrology?
To understand this placement, first, it's good to know what Venus means, right? If you have already mastered this topic, feel free to go to the next part!
Venus represents the lighter side of existence. It governs pleasure, romance, socializing, art, and everything that makes life enjoyable. Named after the Roman goddess of love and beauty, Venus is all about love and beauty!
In the natal chart, Venus shows what you enjoy doing the most. It also describes your feelings about love. Venus tells how you give and receive affection, what kind of partner you want in your life, and also how you can attract them.
If Venus is weak in your chart, for example, it's in a sign where it can't function well or it receives hard aspects, you often feel that you are not worthy of love.
Venus is a beneficial planet in astrology. It's the planet of harmony, after all, and it brings harmony and luck to its house in your natal chart. Where you see Venus, you can expect things to have an easy flow.
There are two zodiac signs associated with Venus in astrology. One is Taurus and the other is Libra.
Some more things Venus rules in astrology:
relationships
union
diplomacy
charm
beauty
luxuries
art
culture
flowers, fruits, fragrances, etc.
Want to learn more about this planet? Here's what Venus means in astrology.
The Twelfth House in the Natal Chart
Now that you know what Venus is all about, you just have to get a clear picture of the twelfth house.
But the twelfth house is covered with fog.
It's the house of mystical Pisces and Neptune. The twelfth house doesn't belong fully to our everyday world. It shows life areas and parts of you that are unknown and hidden.
The twelfth house is the house of isolation, confinement, places of seclusion, for example, hospitals, jails or monasteries. The twelfth house is also connected with faraway countries (on the other side of the ocean).
There is a strange duality to the twelfth house. It can be a source of divine inspiration and fantasies, but if you don't know when to stop, you'll end up stuck in maladaptive daydreaming.
The twelfth house is sometimes referred to as the house of
Some of the associations of the twelfth house:
overseas
hidden places
hidden enemies
the collective unconscious
inspiration
unconditional love
spirituality
addictions
dreams and sleeping
the sea, ocean, and maritime matters.
If you want to learn more about the twelfth house, here's an in-depth article about the twelfth house in astrology.
Natal Venus in Twelfth House
Venus here is in the house of Pisces, and Pisces is its sign of exaltation. Even though the only planet that's truly beneficial here is Jupiter, Venus, the lesser benefic offers some protection, too.
You are a kind and compassionate soul. If your Venus is not very afflicted, you strive to help others and give a helping hand those who are suffering. In return, life helps you when it seems like all is lost.
Venus in twelfth house people often experience that right when they are on the verge of giving up, the rescue comes. Some higher force helps you, in a similar way than Jupiter in the twelfth people experience it. People who have these placements are always protected.
Twelfth house people are very sensitive and often shy.
Planets in the twelfth house indicate that you are an introvert. People with this placement need a lot of time alone. An emphasized twelfth house gives enhanced sensitivity and strong intuition, but for these to work properly, solitude is a must. You have to retreat from the world from time to time and connect with who you really are.
A natal Venus in twelfth house suggests that you have artistic talents. You can easily tap into the mysterious world of Neptune and this placement is a source of inspiration in your life. Making art is a great way to recharge and let go of stress.
Venus in the twelfth house shows that you have a lot of emotions, but you either repress them or you keep them secret from others.
Venus in Twelfth House and Secret Love Affairs
A natal Venus in the twelfth house shows that you often fall for people who are not available. This can be for any reason: maybe they are already married, for family or professional reasons, but the common thing between them is that they can't get involved in a public relationship with you.
In some cases you choose not to let the person know of your feelings.
Sometimes you are in a relationship or even married when you fall in love with someone. You experience an inner fight, you don't want to cheat on your partner, but we can't choose not to feel emotions.
Your love life is often a source of suffering. You probably got your heart broken at some time in your life.
Venus in the twelfth house people tend to fall in love with people who are emotionally unstable. Your partner is often suffering or has experienced great pain in life. You have a tendency to attract those in pain and you want to help them. However, it's important to keep in mind that one has to help themselves first before others can help them.
Venus in twelfth house suggests that you have secret bad habits. Venus is all about pleasure and enjoying life, however, you have to know where is the limit. Here, Venus often needs too much of good things, and people with this placement are often self-indulgence. This placement describes someone who for example eats a lot of sweets when no one is watching.
The reason behind this is that you often repress your need for love. However, this is a basic human need, and you can't get rid of it―it's what makes us humans. Venus in the twelfth house often projects this emotional need for example into overeating or overspending.
---
If you liked this article, maybe you want to pin it for later. Make sure to share it with your friends who enjoy learning astrology!