Virgo is the sixth sign of the Zodiac. Did you know that Virgo is one of the most powerful zodiac signs in astrology? Their discipline and work ethics help them achieve great success in life.
But there is much more to this wonderful zodiac sign. The following 10 Virgo facts will help you understand your Virgo loved ones better.
If you want to discover the personality traits of a Virgo, keep reading to learn their secrets!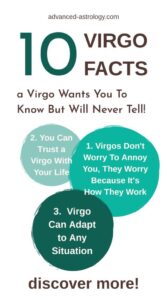 1. Virgos Don't Worry To Annoy You, They Worry Because It's How They Work
For more laidback people it can be annoying that Virgos worry a lot. It's simply that this sign knows how many details can go wrong, and they want everything to turn out perfect. No one told them that perfection doesn't exist on this planet!
2. You Can Trust a Virgo With Your Life
Virgo is one of the most responsible zodiac signs in astrology. If they promise you to do something, they will do it no matter what. Conscience is Virgo's another name. There are few as reliable people as Virgos.
3. Virgo Can Adapt to Any Situation
As a mutable sign, Virgos embrace changes. They know that the only certain thing is uncertainty, and they accept this as a part of life. They are incredibly adaptable.
Those born under this sign have no problem adapting to a new workplace, person or any life situation. This is one of their greatest strengths, because they are able to overcome any challenge in life.
4. Virgo Is Super Capable
At first glance, Virgo seems to be a shy and quiet sign. But beneath the surface, there is a warrior who can accomplish just about anything.
Virgo is all about efficiency and productivity. They like to have their ducks in a row. Always tidy and organized, a Virgo never wastes time looking for their things―and their mind is just as focused and sharp. Add their multitasking abilities to the mix, and you get a very capable person.
5. They Don't Like To Show Off
Virgo is modest and humble. They usually dress and live in a simple way. If you had to describe Virgo's style in one word, it would be minimalism. They leave showing off to the rest of the Zodiac.
6. Privacy Is a Must
There are people who enjoy spending their lives in the limelight. They are not Virgos. This zodiac sign prefers to work hidden from the world, preferably in a work environment that is clean and organized. Loud and invasive people are two or their biggest pet peeves.
7. Discipline Equals Freedom
Virgo doesn't believe in creative chaos. On the other hand, they do believe in the power of being organized. Virgo knows it very well that the longest journey starts with one step, and they do in the present everything they can to secure the success of their ventures in the future. (Even though this doesn't stop them from worrying about it.)
8. Analytical Thinking Is One of Virgo's Greatest Weapons
It can be annoying when you tell your Virgo friend that your partner broke up with you, and instead of offering a shoulder to cry on, this villain offers you an in-depth analysis of why things didn't work out.
To maintain a relationship with a Virgo, it's important to understand that they see the world through the glasses of analytical thinking. This zodiac sign is not too emotional, hence they don't really know how to deal with their own emotions, let alone the emotions of other people. The best they came up with is a rational overview of the feelings.
9. A Virgo Wants a Long-Term Relationship
Virgo dreams of finding the perfect partner and real love. They want a deep emotional bond, and intimacy is very important to them.
Virgo is a sign that values loyalty and dedication more than anything, because these are its own qualities. Virgo is faithful and you can always count on them, both in a romantic relationship and in friendships. This sign wants someone to spend their life with. Virgo is famous for its patience and persistence, so once they chose you, they will stay with you no matter what. If your partner is a Virgo, you are very lucky!
10. Intellectual Connection Turns Them On
A Virgo is an intellectual being. Hence, intellectual connection is a must for them for a relationship to be successful. It's good if you have similar hobbies or share the same interests. Sometimes Virgos choose a partner from the same profession.
---
If you liked this post, make sure to share it with your Virgo friends and friends who have Virgos in their lives!