Once you learn about aspects, it's a straightforward question if some of them are 'better' (more favorable) than others. What you label as good or bad is of course, highly subjective—just as the list below.
However, we can generally say that some aspects require more work and self-awareness to overcome than others. The experiences they are connected with are no fun (hence the saddest aspects title). Most if not all charts are a mixed bag: even if you have some of the worst aspects in astrology, you are more than likely to have supportive ones as well that somewhat balance it out.
Even though these aspects are not pleasant, don't forget that by choosing to make this tendency conscious, you are undergoing tremendous growth as a person and you will for sure come out stronger on the other side. If you have several 'bad' aspects, this means that you are a very brave soul. According to astrology, you choose the moment of your birth and your chart so that it helps you grow and evolve the most. The challenges difficult aspects represent make you step out of your comfort zone and be more self-aware.
No aspect is isolated. How bad a bad one is depends on the rest of the chart. If the planet involved has good aspects otherwise or it is placed in a sign where it can thrive, you are equipped with more tools for facing the challenges the difficult aspect 'bestows' upon you. Many of the aspects in this article are related to relationships because according to research, fulfilling relationships are among the factors that contribute the most to overall happiness (on average).
Out of all aspects, usually the square creates the most tension, thus it's the most mentioned in this article (if you need a quick summary of the aspects, read more here). Besides the square and the opposition, a quincunx (also called the inconjunct) can also have these effects.
Without further ado, here are some of the worst aspects in astrology. As you can see, in most cases, a personal planet receives a hard aspect from a malefic planet (Mars, Saturn). Outer planet influences can be challenging as well (Uranus, Neptune, Pluto).
Worst Aspects in the Birth Chart
(in no particular order, based on the 10 planets)
Moon Conjunct/Square/Opposite Saturn
The Moon is the most delicate planet in the chart. If the Moon receives damaging aspects, it's really felt. Saturn in a hard aspect to the Moon suggests that your childhood wasn't carefree and your parents didn't respond to your needs properly, brushing off your worries. Love had to be earned.
People with these aspects have a hard time trusting others. Forming meaningful relationships is often a challenge for them.
Moon Conjunct/Square/Opposite Pluto: one of the worst aspects in astrology
Moon-Pluto aspects tell a story of loss, trauma, lack of safety. They can also indicate family trauma. Moon in a hard aspect to Pluto suggests a tendency for anxiety and a deep fear of change and abandonment.
Your emotional reactions are so strong they scare you and you choose to shut them out. Working toward emotional stability is no easy feat, but on the other hand, Pluto here gives you a strong insight into human nature and intuition that guides you. It's important to keep this well of wisdom clean in you and practice good spiritual and mental hygiene. You absorb the vibes around you like a sponge. If you are not in a supportive, inspiring environment, it can affect you really negatively.
The Moon's general condition matters a lot here. Moon-Pluto aspects indicate hypersensitivity, a tendency for anxiety and depression. It can also indicate feeling ashamed for no reason. The key is that you have to accept the dark, messy parts of yourself as well.
The good thing about Pluto aspects is that they inherently possess an ability for transformation. It indicates a gift for introspection and healing.
Moon Square/Opposite Uranus
This one is perhaps not that bad but it definitely takes some time to learn how to manage. People with this aspect got used to erratic circumstances and instability growing up, adults around you having unforeseeable and random reactions instead of giving you an emotionally stable environment. Perhaps there were some sudden changes in your life. Moon in aspect to Uranus very often indicates that the home life was turbulent, with some kind of incompatibility between the family members. Your mom is probably a very independent personality and so are you.
There's constant tension with Moon-Uranus aspects. Although this is a good aspect for creativity, you may be too excited all the time to actually get something done. You are chronically overstimulated. Something new always catches your attention. Your need for freedom is unparalleled, which is not a bad thing but you may be afraid of commitment when you want something more stable. It's common to detach from your emotions.
Venus Conjunct/Square/Opposite Saturn
Another Saturn aspect made it to the list of the top 10 worst aspects in astrology. People with this aspect very often struggle with forming close relationships. Venus in a square to Saturn suggests low self-esteem and self-worth, inhibitions in accepting love, and unconsciously choosing experiences that will hurt you. It also suggests being insecure about your gifts as a person.
Your most fulfilling relationships usually come at a later age. This aspect can also indicate a big age or other types of difference in your relationships.
Venus Square Pluto
People with Venus-Pluto difficult aspects have enormous capacity for love, yet they are often in toxic situations. They crave intense experiences, but they may end up with the wrong person many times. This aspect suggests that you have a certain type of charisma that mesmerizes the other sex, but the attention is not always positive. Unfortunately, this aspect is often linked to being a victim.
This placement can also manifest as being too demanding in a relationship, ending up with domineering, controlling or straightforward tyrannical partners, paranoia, jealousy. If you go too far in the other direction, it may be you who embodies this energy in the relationship.
In addition, people with this aspect are often viewed as the black sheep.
Mars Square/Opposite Saturn
This is a very difficult one. Mars in a hard aspect to Saturn in the birth chart is extremely challenging. It is often described as one of the worst aspects in astrology, if not the worst.
You struggle with focusing your energy, containing yourself, and either suppressing aggression or displaying it too much. This aspect takes a lot of time to learn to handle. You either overexert yourself and your energy use is not sustainable or you experience inhibitions and blockages all the time. You have a brute-force approach to life. It's hard to stay on track with your goals. In addition to what they reveal about your personality, these aspects also suggest that it's hard for you to get support from authority figures around you. You rebel against the structures but may end up destroying yourself. Unfortunately, these aspects are linked with violent experiences as well.
Showing vulnerability was usually not approved of during your childhood. Mars-Saturn hard aspects suggest that there was no one around you could truly trust and ask for help, and reaching out for help often stays a challenge in adulthood too.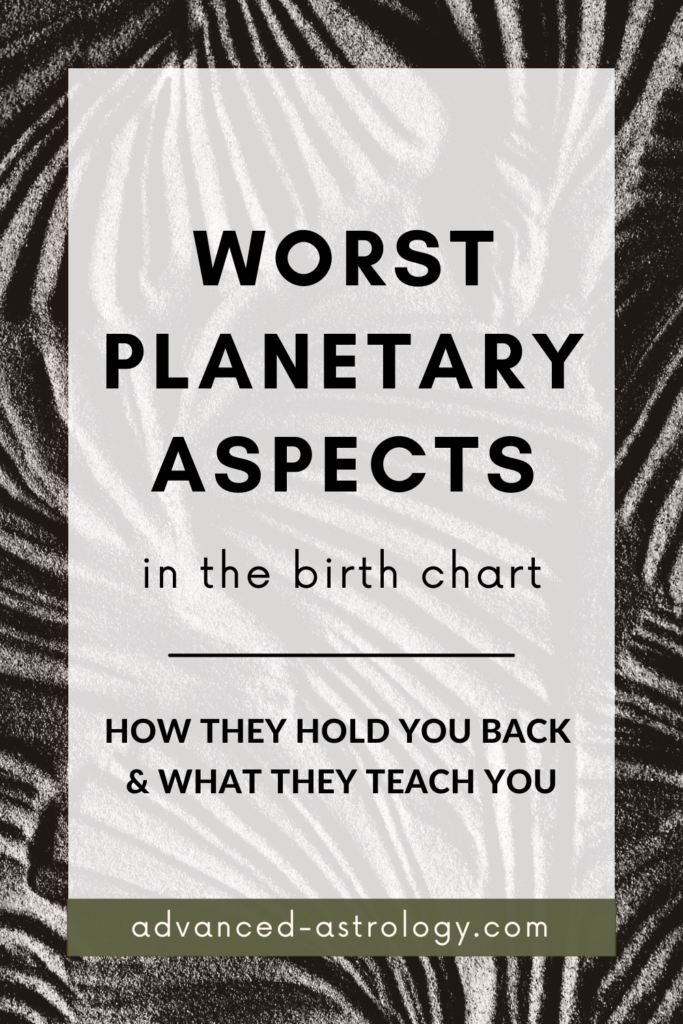 Sun Square/Opposite Neptune
Neptune is a tricky planet. Of course, it has many magical things to gift you, such as creativity, art, spirituality, kindness. However, its negative side can be quite challenging to deal with. The Sun in a difficult aspect to Neptune indicates a lack of a clear self-image. It also suggests low self-confidence and self-doubt. You may feel weak and that you don't have the necessary energy to pursue your ambitions. You are very caring and sympathetic but others may take advantage of that (especially with the opposition between the Sun and Neptune). Sometimes this aspect indicates issues with addiction.
Sun Conjunct/Square/Opposite Saturn
Hard Sun-Saturn aspects suggest that your creativity couldn't flourish. Self-expression was probably stifled in childhood and it takes some time to overcome this. These aspects often indicate a very strict authority figure (usually the father) during your first years who criticized you a lot. People with these aspects usually had a strict upbringing. As an adult, you are very hard on yourself.
Sun in aspect to Saturn indicates scarcity mindset, a lack of self-confidence. You find your strength by climbing a few mountains first.
Moon Square Sun
At first sight, this one may seem innocent compared to a menacing Mars or Saturn square, but don't let it fool you. The two luminaries in a difficult aspect is no good to see in a chart. If you think about it, these two planets represent the essence of a personality. The Sun is the conscious self, the Moon is the unconscious self. Ideally, they work in tandem. However, Sun square Moon in the birth chart suggests that your unconscious, instincts, needs are not aligned with your personal desires and goals. It's like knowing that you should work for X goal, yet you keep sabotaging yourself. Very often, this indicates that your parents were divorced or they were not on good terms.
---
If you liked this article, maybe you want to save our site for later. Share it with others who enjoy reading about astrology!