What does it mean if you have your natal Lilith in Cancer?
In the natal chart, Black Moon Lilith shows where you face troubles, challenges, temptations, chaos. It tends to be a painful point, at least until you learn to integrate it. Lilith's mechanisms are subconscious and hard to catch, but they can be very destructive. Once you make peace with your Lilith, it becomes your source of power.
Lilith in Cancer suggests that you feel extremely vulnerable and lacked nurturing as a child. It is hard to ask for help and accept it with this placement. There can be a fear of being a burden on others. Lilith in Cancer is insecure and anxious. It feels stuck in its shell.
If you have this placement in your birth chart, you are strongly tied to your family and roots, but this bond tends to be sabotaging. It i hard for you to think of yourself as a separate individual. Because of this, the process of growing up is hindered. Lilith here has to learn to be emotionally independent.
Keep reading to learn more about Lilith in Cancer in the natal chart!
Black Moon Lilith in Cancer
Black Moon Lilith expresses itself in various ways. It can be repressed, but also overcompensated. The real challenge is to find balance. Lilith in water signs is subtle and indirect. It expresses itself in mysterious but powerful ways. In astrology, Lilith represents the dark side of the soul.
People with Lilith in Cancer lacked security as children. Their domestic life was often stressful and made them anxious. In extreme cases, this placement can even indicate trauma. It can also play out as one of the family members having serious problems that poison the domestic atmosphere.
When Lilith falls in the sign of the Crab, it is likely that your parents didn't fulfil all your needs as a child. When you expressed your needs or wanted to get nurturing, you didn't get it. Behind closed doors, your family was completely different than what we can see in commercials.
If you have this placement in your birth chart, it suggests issues with your sense of safety. Cancer is all about being safe, nurtured, taken care of. Lilith here can either manifest as rejecting the idea of nurturing, or alternatively, being obsessed with it and overcompensating it.
Lilith here is an indicator of frustrations at home. Your relationship with your parents is usually troubled, especially with the mother. Many people with this placement come from a dysfunctional family. You often lack a healthy mother figure. Perhaps she was not available in some way, or she was overly protective and didn't give you enough space to learn to be independent and grow up.
Power struggles with family members are also common. This can include your relationship with your children too, if you have any.
Some people with this Lilith sign feel an urge to move out at an early age. They feel like they were strangers in their own family. As adults, they are only in touch with their family if there is an emergency.
Learning to be emotionally stable is one of the most important lessons of this placement. Until you learn to accept and nurture yourself, Lilith here can cause a lot of trouble.
Lilith in Cancer rejects feminine energy. You can deny the creative, nurturing part of your soul (regardless of your actual gender). It is very hard for you to get the support you need. You can't support yourself properly (on an emotional plane in the first place), and it is also hard to accept it from others.
This placement can also manifest as rejecting the role of the parent. Black Moon Lilith in Cancer dislikes the idea of having children, and being a family person in general. It can indicate problems with fertility or pregnancy too.
Lilith in Cancer can be an indicator of family karma, especially from the mother's side. Lilith in this sign is somewhat similar to having Lilith in the fourth house of roots and ancestors. Lilith in Cancer is a sign of women suffering in the family and transgenerational trauma.
People with their Black Moon Lilith in Cancer need a lot of time to get over things. Traumatic experiences need a lot of time to heal here.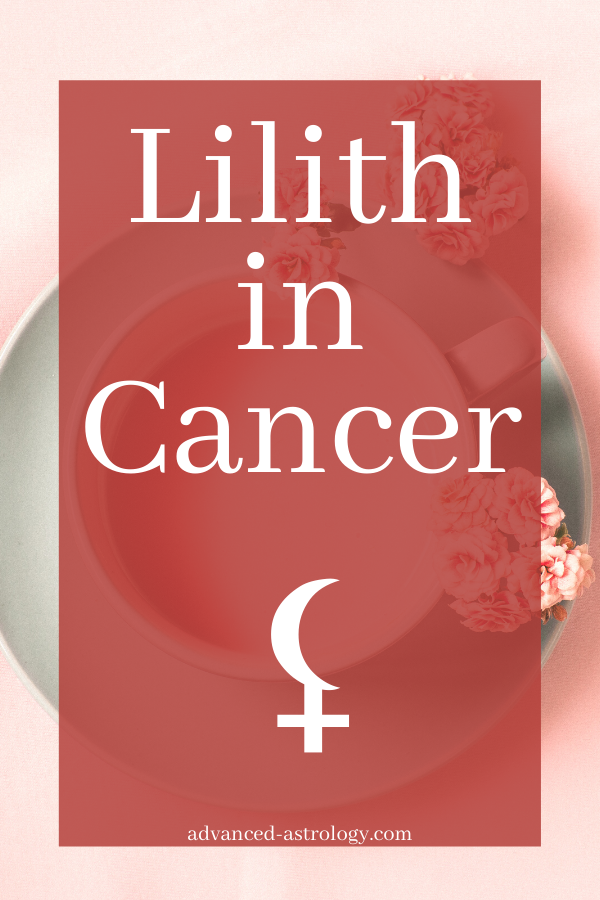 Black Moon Lilith Meaning
Lilith is one of the newer astrological concepts. Its meaning and effects are not fully known yet, but in general, it is linked with autonomy, rebellion, shame, rejection, trauma, sex, the repressed parts of someone's personality.
Black Moon Lilith is a fictional point. It is not the only Lilith in astrology, there is an asteroid called Lilith 1181 (which is the only existing celestial body in the group), and there is a hypothetical planet Dark Moon Lilith (also called Waldemath Lilith).
The archetype of Lilith is based on Jewish folklore. She was created as the first woman and the wife of Adam, and she wanted to be his equal partner. However, Adam wanted her to be obedient and sexually submissive, and Lilith rejected this. Out of vengeance, Lilith was sent into exile and had to leave the Garden of Eden. She later turned into a demonic figure.
In the natal chart, Lilith shows your subconscious fears, wounds, desires. It is often not easy to access it, but understanding your Lilith can help you understand your healing journey better. Lilith is in some way similar to Pluto.
Cancer in Astrology
The Crab is the fourth sign of the Zodiac. It is linked with the fourth house of home and family in the natural chart.
Cancer is protective, nurturing, sensitive, emotional, and it has a very strong intuition. It holds grudges, can be passive aggressive, manipulative. This sign is oriented on taking care of others and it is extremely receptive to the environment's reactions.
By element, Cancer is a water sign. Water is the element of emotions and the soul. When it comes to polarity, Cancer belongs to the group of cardinal signs.
The ruling planet of Cancer is the Moon, the astrological planet of emotions.
---
If you found this article helpful, maybe you want to save it for later. Make sure to share it with others who enjoy learning astrology!