In this post, you can read about the ruler of the Midheaven through the zodiac signs. This topic is really useful when looking for information about someone's career and professional life.
Rulership is where things come together. It allows you to really see the patterns of a chart, and what themes are repeated. It shows how the different life areas interact, what is related to what, and how these planetary connections operate in your chart. Beware, it's not easy concept to grasp for the first time you come across it, but it's definitely worth practicing because it helps you uncover so much about a chart.
The zodiac sign where the ruling planet of your Midheaven is located colors how this planet operates, and in turn, how your Midheaven operates as well.
Key info about the Midheaven:
MC sign
MC ruler's house
MC ruler's sign
aspects to the MC ruler
If you want to read about the Midheaven through the signs, go here. For info about the Midheaven ruler through the houses, click here.
What Does the MC Represent?
If you are not sure why you should study your Midheaven, here's a quick summary. If you know the meaning of the Midheaven, feel free to skip it.
In short, the Midheaven (abbreviated as MC-Medium Coeli) is an angle that describes your professional aspirations and the role you play in the world, how you put yourself out there. It is not an existing celestial object, it's a calculated point. This also makes it highly time-sensitive-if you have no data about the exact time of your birth, unfortunately, the Midheaven can't be calculated. The MC is the cusp of the 10th house in quadrant house systems (e.g. Placidus).
Despite its importance from the point of your career, this angle is not just about your career. The Midheaven also tells what you are known for, what people who don't know you personally think about when they hear your name. It is associated with your reputation and public image, and also how you are remembered.
The Midheaven is also about authority and authority figures in your life. As such, it's no surprise that it describes one of your parents as well. If your Midheaven receives challenging aspects, it can indicate that your relationship with this parent was not without frictions.
The Midheaven is an important career indicator in the birth chart. It is about your professional path rather than about how you make a living, though. It shows what your soul wants to represent in the world and what you can get really good at. Just don't forget that the Midheaven depicts a quality that you are learning to deal with, so give yourself some grace in this life area. It's not something we are naturally good at and have plenty of experience with, like the ascendant.
Now that you know why you should study your Midheaven, let's move on to the next step: finding the ruler of your Midheaven.
How to Find the Ruler of the Midheaven?
The ruler of your Midheaven is the ruler of the zodiac sign that's on your Midheaven. Here's which planet rules which sign:
Aries: ruled by Mars
Taurus: ruled by Venus
Gemini: ruled by Mercury
Cancer: ruled by the Moon
Leo: ruled by the Sun
Virgo: ruled by Mercury
Libra: ruled by Venus
Scorpio: ruled by Pluto (traditional ruler: Mars)
Sagittarius: ruled by Jupiter
Capricorn: ruled by Saturn
Aquarius: ruled by Uranus (traditional ruler: Saturn)
Pisces: ruled by Neptune (traditional ruler: Jupiter)
For Scorpio, Aquarius and Pisces, you may also want to read the description for the traditional rulers because the modern rulers stay in the same sign for more than seven years, so it's not really relevant on a personal level.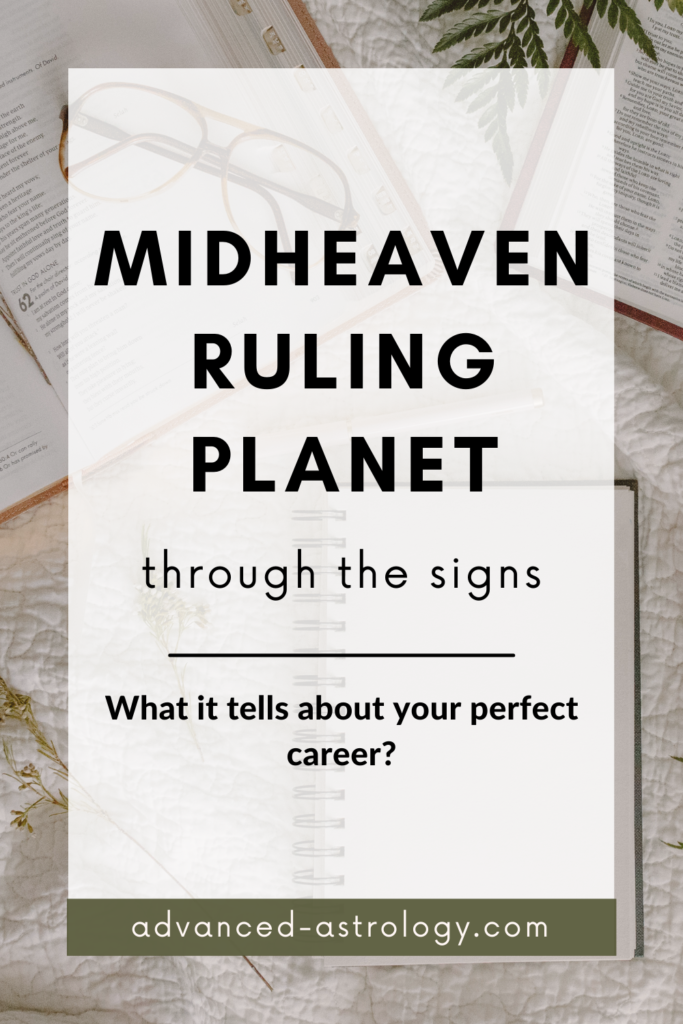 Ruler of the Midheaven in Signs
Find the sign of your MC ruler below:
Midheaven Ruler in Aries
If you have your MC ruler in Aries, your career may be linked to engineering, the military, sports. You also may find working for yourself attractive. In your career, you probably have to display leadership, quick reactions, have an innovative spirit. The world may know you as someone who is brave (even a daredevil), dynamic, outgoing, hot-headed, fierce, assertive, sometimes even aggressive.
Midheaven Ruler in Taurus
With the MC ruler in Taurus, your career is often oriented on creating something tangible. This may be fashion, beauty, food, agriculture. Art is also a common career path. You may also end up working in finance. You are willing to work hard and be patient to see the fruits of your labor.
Midheaven Ruler in Gemini
The MC ruler in Gemini suggests that you have a career that requires you to be mentally alert and process a lot of information. Your profession often puts you into contact with lots of different people. Your career may also be linked to transportation. Communication-oriented profession are very common with this placement.
Midheaven Ruler in Cancer
People with this placement need a career that they are drawn to on an emotional level and you find emotionally fulfilling. The Midheaven ruler in Cancer can suggest a career related to taking care of others. It indicates that you approach your work with intuition and creativity.
Midheaven Ruler in Leo
The MC ruler in Leo can indicate a career related to working with children, teaching, public speaking, but also related to creativity and self-expression. You need a profession that allows you to shine. This placement can suggest that you are fairly well-known in your community for what you do.
Midheaven Ruler in Virgo
This placement suggests that you take your career seriously and you put a lot of effort into it. The MC ruler in Virgo implies a profession that allows you to apply logic, handle complex matters, all while staying in the background somewhat. Some typical career paths associated with a Virgo-influenced Midheaven are science, healthcare, administration, accounting. The Midheaven ruler in Virgo can also indicate service jobs.
Midheaven Ruler in Libra
If you have your MC ruler in Libra, your career is probably related to solving problems in human relationships, for example, law, politics, counseling. In your career, you apply empathy, tactics and try to keep things in balance. This placement often indicates professions where you work with people but it can also suggest a career related to art.
Midheaven Ruler in Scorpio
With your MC ruler in Scorpio, you want a career that's intense and you are passionate about. You would probably do well in a profession that requires you to do a ton of research, keep secrets, use your intuition. Career paths may include finance, healthcare, psychology, research. Your charisma might help you get ahead.
Midheaven Ruler in Sagittarius
If your MC ruler is in Sagittarius, your want freedom and autonomy in your professional life. You love to experiment in this life area. Your career may lead you to foreign countries and cultures. It may include a lot of travel. The ruler of the Midheaven in Sagittarius can also indicate a profession related to religion, teaching (especially higher education), academia, philosophy, writing.
Midheaven Ruler in Capricorn
The MC ruler in Capricorn suggests a career that requires persistence and self-discipline, has many rules to keep in mind. You take your responsibilities very seriously. This placement often indicates a career within a highly hierarchical organization, e.g. government jobs, big corporations.
Midheaven Ruler in Aquarius
This placement suggests that throughout your career, networking and peer groups are important. In your professional life, you are open to new approaches.
With your MC ruler in Aquarius, a career in technology is probably attractive to you. People with this placement often end up in a profession related to engineering, computer science, the internet. The ruler of the Midheaven in Aquarius can also indicate humanitarian work, a career related to society in some way. Some people with an Aquarius MC ruler are known as astrologers.
Midheaven Ruler in Pisces
If you have your Midheaven ruler in Pisces, you use intuition often in your work.
The MC ruler in Pisces suggests that you want a career that allows you to tap into your creative side or to help people. This placement is common among artists, writers, people working in the film industry, but it can also indicate a career in healthcare, pharmacy, social work.
---
If you liked this article, maybe you want to save our site for later. Share it with others who enjoy reading about astrology!