In astrology, the Midheaven shows what qualities you aspire towards throughout your life, what you want to accomplish in the world.
The Midheaven in Aries suggests that you are seen as a leader. This is a trailblazer placement. You are fascinated by challenges and you need a career you are passionate about. As a fire sign MC, there is a need to do creative work. You also have high expectations for yourself. Ideally, your line of work allows you to work autonomously. You have high ambitions, although you might keep them to yourself and let the results speak for you instead. The Aries MC asks you to become comfortable with putting yourself out there.
The Midheaven is one of the most significant points of the chart. This point shows the part of the sky that was the highest at the minute of your birth. MC stands for Medium Coeli, which is Latin for top of the sky. This point implies what other people know about you who have never met you. It's your reputation, greatest accomplishments in life, and the MC is essential when it comes to your career (it's not necessarily the same as your job, though, which is seen through the sixth house in the birth chart). This point is not as much a personality marker as a general indicator of your path in life.
To calculate your Midheaven, you need your time, date, and place of birth. That said, let's dive into the meaning the Midheaven in Aries!
What Does Midheaven in Aries Mean?
Very important: to paint a detailed picture of your Midheaven, it's imperative to find its ruler and take this planet into consideration too. The ruler's sign and house placements tell more information about your Midheaven in Aries career path. For this placement, you should be looking for Mars in your chart (Mars rules Aries).
Read more: Midheaven ruler in houses
In the birth chart, the Midheaven in Aries suggests that you forge your own authentic path in life. At a young age, you might be self-conscious and care more about what other people think about you than what you want for yourself. As you grow older, you let others distract you less and less from goals that would really excite you. As an adult, you are probably seen as someone who is assertive, energetic, bold. It's essential that you love what you do, more than for most people.
You are likely to have a path that is unique to you or one that leaves a lot of space for your individuality. The Midheaven in Aries suggests that you dislike authorities and you need autonomy in your professional life. Often, a classic 9-5 job feels restrictive to you. No wonder many people with this placement end up running their own businesses. Depending on where the ruler of your Midheaven is, you are likely to be a self-starter when you become older (maybe if the ruler is in the 7th house, you work with others to achieve your goals, but you are still more likely to be the leader). At a young age, you might wait on others to validate your ideas. People with this placement often find themselves in situations where they can only rely on themselves so that they can learn to act independently.
In your professional life, you might be seen as a pioneer. The Aries MC suggests that you love to win. This placement suggests good leadership skills. You might be too aggressive in your approach with hard aspects, however. If the chart as whole hints at such tendencies, you might be involved in conflicts or you even might be seen as a bully or someone who acts rashly. Alternatively, you might face the most conflicts in your professional life.
Many people with their Midheaven in Aries thrive on competition. You love a good challenge and you put a lot of effort into coming up with a solution. You need goals that stretch you a bit. You are good at navigating challenging situations.
The ultimate goal with the Midheaven in Aries lies in embracing your own ideas and desires while simultaneously contributing to your community and helping others grow as well.
Depending on the house system you use, the Midheaven might be the cusp of the 10th house (e.g. in Placidus), or it might not even fall in the 10th house. In this case, you need to blend the energy of your tenth house with the Midheaven. Planets around the MC are in the Gauquelin-sector and they are generally considered outstandingly important in the natal chart.
Most often, people with their ascendant in Cancer or in Leo have their MC in Aries. However, other combinations are also possible, depending on the place of your birth.
Midheaven in Aries Careers
Although career depends on the many factors in the birth chart, the Midheaven should definitely be included when analyzing this life area. Here is a short list of some typical Midheaven in Aries careers:
entrepreneurship
engineering
careers related to metal
careers in the military
manual work
sports
surgeon
A classical office job is probably not your cup of tea.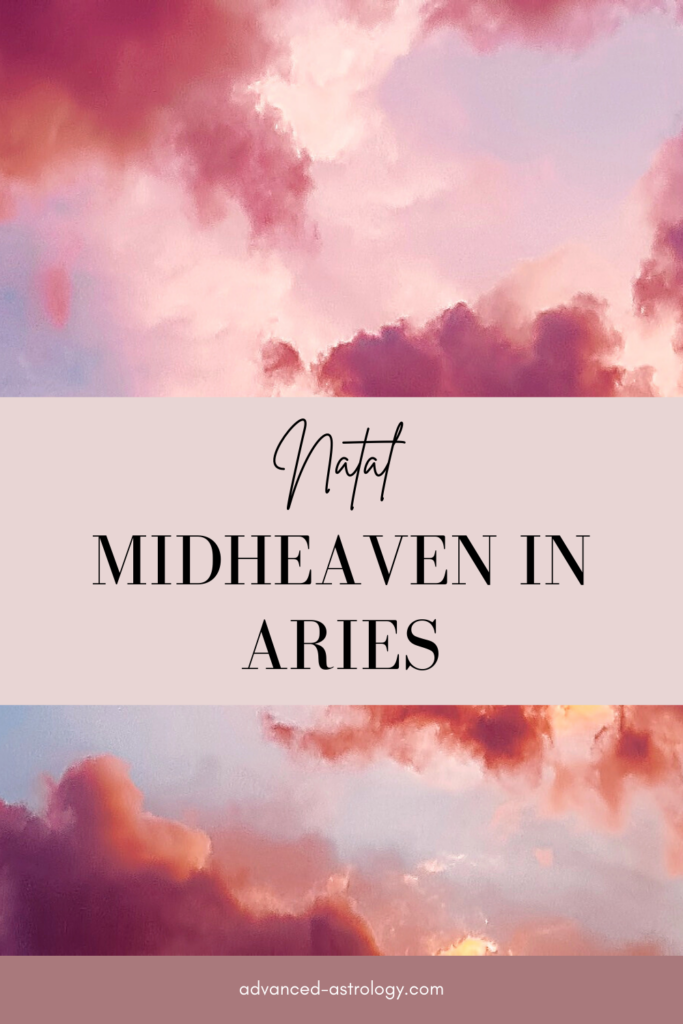 IC in Libra
Let's talk about the other half of the MC-IC axis: the Imum coeli in Libra. These points always fall in opposite signs. The MC is the part of you in the spotlight. The IC, on the other hand, is the most hidden part, the one you only show to the people closest to you. Since the IC speaks about your family and home life, it's important when it comes to your roots as well. This phrase means bottom of the sky.
The IC in Libra implies that in your childhood, you were expected to maintain peace. Many people with this placement had to walk on eggshells. Because of this, they might struggle with assertive communication as adults. The peace in your childhood was achieved at the price of not voicing what really bothers you. Self-expression was often discouraged.
You strive to be fair from an early age, and this colors your professional life as well. Many people with an Aries MC are not as cutthroat as you would expect this Mars-ruled sign to be. Although you learn to shift away from prioritizing others as you mature, you probably never completely stop taking their needs into account too.
You love a peaceful home where everyone gets to enjoy the time spent together. You might enjoy interior design and home decor.
Midheaven in Aries Celebrities
Some famous people and Midheaven in Aries celebrities:
Bill Gates
Meghan, Duchess of Sussex
Richard Branson
Jack Nicholson
Cindy Crawford
Angelina Jolie
Kanye West
---
If you liked this article, maybe you want to save our site for later. Share it with others who enjoy learning astrology!