When embarking on your astrological journey, modality and elements are among the first things as soon as you start scratching the surface. And this is not without a reason. Time spent studying element and modality is time well spent. These topics are essential if you want to understand why is a sign the way it is, and how planets act in different zodiac signs.
There are four elements in astrology: fire, air, water and earth signs.
Another way to group the zodiac signs is by modality: there are cardinal, fixed and mutable signs.
Every zodiac sign is a unique combination of an element and a modality.
To fully understand how the zodiac signs operate, you need a deeper understanding of their element and modality. This becomes even more important once you go to the next level and start working with aspects.
It makes a big difference whether a square is cardinal or mutable in a chart. Similarly, a fire trine will give you different energies a water trine would.
The majority of us have all four elements present im our charts, but I'm different proportions.
A Leo Sun and Sagittarius rising person has a pretty fiery personality, while someone with Pisces Sun and a Moon in Cancer is more on the watery end. Nevertheless, we all have all the zodiac signs are somewhere in our charts.
Element in Astrology
There are four elements in astrology: fire, earth, air and water. Each of the four cosmic elements has its own positive and negative traits.
This classification origins from alchemy, but the roots of the division by elements go back to the ancient ages.
Most ancient cultures used a similar division of energy. Aristotle added a fifth element, called ether or void. The famous Greek physician, Hippocrates described the human body comparing to the fluids to the four elements.
The elements in astrology are also called the Triplicities because there are three signs in each group:
Fire signs in astrology include Aries, Leo and Sagittarius.
Earth signs in astrology include Taurus, Virgo and Capricorn
Air signsin astrology include Gemini, Libra and Aquarius
and Cancer, Scorpio and Pisces are the water signs in astrology.
Now you have a basic idea about which zodiac sign belongs to which group.
Fire represents the spirit, earth the body, air the mind and water the soul.
Let's see what are the characteristics of each element.
Fire Signs in Astrology (Aries, Leo and Sagittarius)
Read more: Fire in astrology
Fire is the force of nature. It gifts us with warm and light. On the other hand, it's important to keep it under control, because fire is so powerful that it can destroy everything it touches.
Make sure it's under control and you can do wonders with the help of fire.
In astrology, fire signs in astrology represent the inner drive to keep going.
Their enthusiasm lights the way and helps you get through life even in the darkest times.
These signs in astrology are full of energy. They are oriented on the future and focus on the possibilities. Fire signs are optimistic and driven. They have great leadership skills and enjoy the limelight.
Fire signs in astrology are brave, enthusiastic and vivacious. Full of creativity, if you need some motivation, fire signs are the go-to person. These sings in astrology truly believe that every problem can be solved.
The shadow side of the fire element consists of self-indulgence, lack of follow-through and a bossy attitude that the other signs find hard to work with sometimes.
Earth Signs in Astrology (Taurus, Virgo and Capricorn)
Read more: Earth in Astrology
Earth signs are focused on survival in the physical world. In the cosmic workflow, it's their task to make sure there will be enough resources for the tribe.
This makes earth signs practical and economical. They are goal-oriented and work hard to achieve what they set their mind on. These signs are famous for their persistence. Earth signs are delicate and refined.
A person with many placements in Taurus, Virgo or Capricorn is grounded and focused on the here and now. Their practical approach might make them seem insensitive, especially to the more emotional signs.
But this is rarely the case, it's just that earth signs in astrology want to find a solution as soon as possible instead of dwelling on problems. Even though empathy is not why we love the earth signs in astrology, they offer stability and safety for the rest of the world.
Air Signs in Astrology (Gemini, Libra and Aquarius)
Read more: Air in Astrology
This element in astrology has an intellectual perspective. They are rather logical than emotional and aren't focused on bonding on a truly intimate level.
Air signs in astrology are quite detached, more brain than heart-driven.
Gemini, Libra and Aquarius share this element in astrology. Don't expect these signs to express their emotions on a daily basis. Air signs are quick and alert, and they offer an invaluable objective perspective.
Air signs enjoy socializing. They are curious, skilled conversationalist and easily connect with anyone. Communication skills are one of their strengths.
Gemini, Libra, and Aquarius have an insatiable hunger for information and they convert the new knowledge into actionable ideas.
Their weak points are nervousness, superficial approach and sometimes they walk on thin air.
Water Signs in Astrology (Cancer, Scorpio and Pisces)
Read more: Water in Astrology
Many placements in water signs add depth to your personality. These signs are nurturing and gentle. They are extremely sensitive and full of empathy. Water signs in astrology are natural counselors.
If you need compassion and empathy, now you know where to find it. Water signs in astrology have the ability to tap into the wisdom of the unconscious mind. Cancer, Scorpio and Pisces are all very intuitive. In some cases, this even means psychic abilities.
Water signs are romantic, they love deeply and intimately. These signs often have artistic talent as they have a free entry to the world of dreams and inspiration.
Because of this sensitivity, it's important for people with many watery placements in the natal chart to set boundaries and spend enough time alone.
The negative side of water signs is that they are prone to exaggeration and mood swings. Because their feelings run deep, they can be hurt easily.
Quality in Astrology
Besides elements in astrology, there is another classification of the Zodiac.
Here are three categories: cardinal, fixed and mutable signs.
The qualities are also called Quadruplicities because there are four signs in each group. Let's see which signs belong to which group:
Cardinal signs: Aries, Cancer, Libra and Capricorn
Fixed signs: Taurus, Leo, Scorpio and Aquarius
Mutable signs: Gemini, Virgo, Sagittarius and Pisces
Cardinal signs: Aries, Cancer, Libra and Capricorn
Cardinal signs mark the beginning of a new season (Aries – Spring, Cancer – Summer, Libra – Fall and Capricorn – Winter). They are initiators and they are the first to act. Cardinal signs like to have control over the flow of events.
Fixed signs: Taurus, Leo, Scorpio and Aquarius
These signs are the ones that will turn ideas into reality, Fixed signs mark the midpoint of each season. They are infamous for their stubbornness (I'm looking at you, Taurus). They provide stability for the rest of the Zodiac.
Mutable signs: Gemini, Virgo, Sagittarius and Pisces
Everything comes to an ending sooner or later. In astrology, it's the mutable sign's job to finish the season. They stand for endings and for the transition process. Mutable signs embrace change which is their greatest asset.
Here is a handy table that shows the element and quality of each zodiac sign: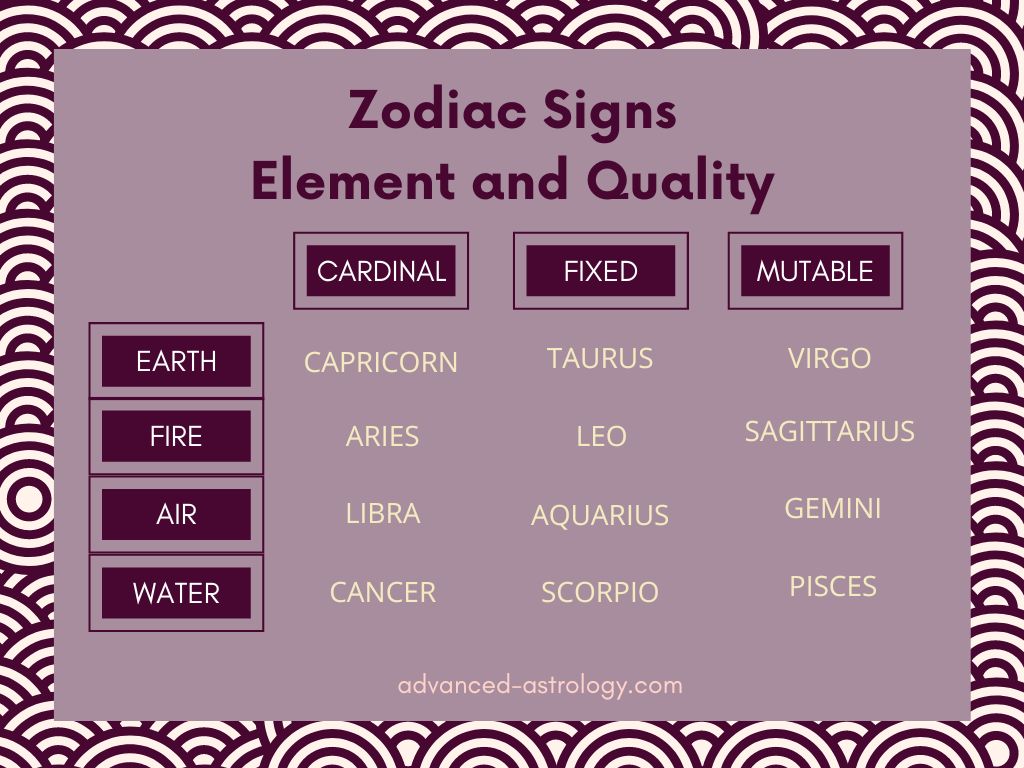 Bonus Division: Polarity in Astrology
There is one more division of the Zodiac in astrology. The signs can be active or passive.
Active signs are focused on taking action and making things happen (you would never guess, right?).
Passive signs, on the other hand, react to the events.
Active signs: Aries, Gemini, Leo, Libra, Sagittarius, Aquarius
Passive signs: Taurus, Cancer, Virgo, Scorpio, Capricorn, Pisces
Another name for this classification is gender: active signs correspond to the male, while passive signs correspond to the female principle.
Modality, Element in Astrology and How to Read a Natal Chart
If you have wondered how you can put this new knowledge to use, your time has finally come. Elements and modality are super important when you want to know someone better based on their natal chart. Stay tuned to figure out why.
The natal chart shows your unique energetic signature, the planetary energies that were present at the moment of your birth.
There are ten planets in astrology, plus a few meaningful angles. Each of them takes place in a sign. To determine the strength of each element and mode in your chart, count how many of the planets are in each element or mode. Pay extra attention to the sign of your Sun, Moon, Ascendant and Midheaven. They play an important role in your overall personality.
The proportion of the elements and qualities in your birth chart describe your personality and show your approach to life in general. For example, someone with a stellium in a cardinal sign will get things started, while a person with a mutable stellium prefers to see first what others will do in a situation.
Similarly, the dominant element describes a person in a great amount. If you have many placements in a water sign, you will be much more focused on emotions than a person with air placement. They have a more intellectual approach to life.
Temperament, Modality, and Element in Astrology
Do you know people who get so angry that their face turns red and their temporal vein starts to pulse? If you see the first signs of a storm coming, it's wise to take shelter.
These people have a sanguine temper.
The four fundamental types are sanguine, choleric, phlegmatic and melancholic. Each of them relates to an element in astrology. Sanguine temperament translates to air, choleric to fire, melancholic to earth, and phlegmatic to water. Most people don't belong to one distinct type, the majority of us have mixed temperaments.
To determine a person's temperament based on the natal chart, add up the planets in each sign and find which element is the dominant one.
---
If you liked this article, maybe you want to save our site for later. Share it with others who enjoy reading about astrology!