Ruled by Venus, Libra is all about harmony. Libras wants balance everywhere around them, both in the physical world and in relationships. This sign is very special, so let's learn some more about how Libra in astrology works.
In general, Libras are charming people with good social skills and a fabulous taste. They have a relaxed approach to life, there is no reason to be upset for a Libra. They only stress over if they are accepted and liked. Libra is the ultimate peacemaker of the Zodiac. ❤️
Some Data on Libra in Astrology
Libra is the only zodiac sign which got its name after an inanimate object—Libra means scales in Latin. Even the glyph used for Libra in astrology looks like scales: ♎. Scales always strive to be balanced. The same is true for people with important placements in Libra (Libra Sun, Libra rising, etc.) Those born under the Scales want to find a balance and make sure that both everyone is equally happy in a relationship. Libra, ruled by Venus, is the sign of peace.
In astrology, Venus rules two zodiac signs, Taurus and Libra. Diurnal Venus is associated with Taurus and nocturnal Venus with Libra. This darkness of the night (different than the darkness of Scorpio) is somewhat present in Libra people, as you will see later.
During the year, Libra season starts on the 23rd of September (September equinox -the perfect balance between the day and night) and lasts until the 22nd October, when it's time for Scorpio to welcome the Sun.
As we mentioned before, Libra is ruled by Venus, the planet of beauty and love. In the natural chart, they are connected to the seventh house. The seventh house in astrology is the house of all partnerships. This include marriage, committed relationships and business partnerships.
Libra Element and Quality
You can group the zodiac signs by element, quality and polarity. Each sign is a unique combination of these classifications. To understand a sign fully, you need to know which category they fall in.
By element, Libra is an air sign. Other air signs include Gemini, Libra, and Aquarius. Air signs are intellectual, enjoy socializing and communication. They are somewhat detached, however, Libra needs commitment more than the rest of the air family. These signs love freedom and they always have a creative idea or two.
By modality, Libra belongs to the cardinal group, along with Aries, Cancer, and Capricorn. The seasons of cardinal signs align with the beginning of a new season of the year. Knowing this, it's no surprise that cardinal signs love to start new projects and take action. These signs are full of enthusiasm and ambition, but on the negative side, there is a tendency toward impulsiveness.
By polarity, Libra is a masculine or active sign.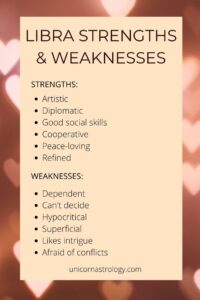 How to Know If Libra Is Strong in Your Natal Chart
Generally speaking, the most important components (as in have the most influence over you) of the natal chart are the Sun, Moon and the ascendant. In case you have any of these in Libra,chances are high that you identify with this zodiac sign A LOT.
If you already know some astrology, you already know that the Sun represents the core of your personality, the essence of who you truly are. If your Sun is in Libra, it's quite self-explanatory what this sign means for you.
The ascendant is the coat of your personality, the mask you wear in the world. If you are a Libra rising, this mask makes you come across as a Libra when someone meets you for the first time.
In the natal chart, the Moon represents your emotions, nurturing style, and what you need to feel safe. If you have your Moon in Libra, you probably need a lot of socializing and a beautiful environment to feel happy and nurtured.
It's important to note that the house of Sun gives some of the energy of its natural zodiac sign to the Sun. The Sun in the seventh house acts much like the Sun in Libra.
A stellium in Libra or in the seventh house also emphasizes this sign. (A stellium is when three or more planets are close to each other and their energies blend together.)
Why We Love Libra in Astrology
Because they are simply loveable. As you know by now, Libra is ruled by Venus. Venus is a very beneficial planet in astrology, astrologers referred to it as fortuna minor because it brings fortune.
Libras are kind and soft souls. They need love like they need the air they breath. Those born under the scales are extremely charming and charismatic people. They are open-minded and on a scale from 1 to 10, they score 11 for friendliness. You can always go to your Libra friend if you need someone to talk to.
As an air sign, Libra thrives on mental stimuli. They prefer to get their daily dose in form of conversations with smart people. Libras enjoy to be in the company o folks who have a lot to say.
Most often, they are quite popular and fit in everywhere quickly—but it's important to don't abandon yourself for others, if you are a Libra. Libra people have excellent social skills. Venus makes these folks super diplomatic. They are the master negotiators of the Zodiac.
This sign wants harmony, so it is peaceful and easy to get along with. Libra is all about fairness. Actually, this sign rules legal affairs. It wants justice and the truth. Libra finds it important to hear out both parties in a conflict and find a fair solution. Even Lady Justice holds balance scales in her hand. It's this how intertwined Libra and law are. Fair judgement is impossible without Libra because they always want a win-win ending. Judicial is a right word for Libra.
Libra, the Artist of the Zodiac
Venus is the planet of beauty. Libra people, ruled by Venus, want to make everything around them beautiful. They have an innate talent for aesthetics. You will find many Libras in professions where a sense of beauty is important, for example, most artists have Libra or Taurus emphasized in their charts.
Those born under Libra have a very strong need for harmony and balance. These are the building blocks of artistic composition, so Libras find it easy to get art right. A prominent Venus in the natal chart is another indicator of artistic talent.
Libra people often spend heaps of money on making their home comfortable and aesthetic. They don't perform well in a chaotic or straightforward ugly environment. Keep in mind that Venus rules luxuries, too, and Libras enjoy expensive and high-quality clothing, perfumes, artworks, and so on.
People born under the scales are often beautiful themselves, too. If Venus touches some personal point in your birth chart (let's say it is conjunct your Sun or ascendant), you are probably quite handsome in this case, too. There is an air of grace around Libras. They prefer to wear elegant clothes that fit them perfectly, but they are graceful by themselves, too. Add their lovely personality, and you'll get a truly charming & charismatic person.
Weak Points of the Zodiac Sign Libra
Libras hate being alone. This is perhaps their biggest weakness because it makes them tolerate things they really shouldn't, no matter if the other person will leave them. Libras have to learn that their needs are important, too, in a relationship and make sure that they are met. Insecurity is a major pitfall here.
The reason behind Libra's lack of self-confidence can be the fact that the Sun is in fall in this sign. In the natal chart, the Sun represents your self-esteem and self-confidence, among others. If the Sun is in weak dignity, it has few resources and can't shine fully. Plus add the fact that Libra is ruled by nocturnal Venus, and you'll see that Libras don't have it easy. As you grow in confidence and maturity, these problems will be less apparent and gradually, you'll stop wanting validation from others.
Actually, many Libras don't know who they are, and this might be the reason why they want to be around others all the time.
Because they are so cooperative and willing to make compromises, Libras have a hard time when it comes to conflicts. They hate them so much that they will do everything just to avoid them. As the sign opposite of Aries (who isn't afraid of confrontations at all), this is no surprise. Libras don't function well in a hostile environment with negative vibes.
Indecisiveness aka Libra in Astrology
Do you know how many decisions people make daily?
Some studies suggest that the average person makes 35,000 choices per day which translates to 2,000 decisions per hour if you sleep 7 hours a day.
Libras always go for equilibrium. But there are times when you must ruin the balance and make a decision. This is when Libras freak out.
Decision-making is not the greatest strength of Libra in astrology. It doesn't matter if we are talking about buying a new cardigan or choosing who to marry, Libras would prefer to avoid making up your mind altogether—if you don't choose sides, you don't make enemies, after all.
Libra in Love
It's well-known that Venus, the ruling planet of Libra governs love in astrology. Libras really dislike being alone. If the Scales are your sign, being in a committed relationship is probably one of your top priorities in life. (Heck, the seventh house, the house of Libra describes marriage in the natal chart.)
When it comes to love, Libras have high self-confidence, what in turn makes them even more attractive. Those born under the scales make very good lovers, as they have a knack for romance. Libra is one of the most affectionate signs in astrology. It takes time to make them commit to you, but once they are in, they are very loyal and caring partners.
---
Signs of the Zodiac
Aries | Taurus | Gemini | Cancer | Leo | Virgo | Libra | Scorpio | Sagittarius | Capricorn | Aquarius | Pisces