There are few places more mystical than the twelfth house in astrology. Still, this house has had a bad reputation through the ages. For a long time, astrologers considered the twelfth house to be the House of Sorrow—isn't an inviting house, right? If you looked up this house, especially if you have some planets here, you could easily loose your lust for life.
To give you an idea about what's going on here: the twelfth house is among others the house of constricted places, illusions, suffering and hidden enemies.
But what's the truth? Are you really doomed if you have some placements in the twelfth house in the natal chart?
Keep reading to learn more about the twelfth house in astrology. If you are willing to look into yourself, you'll discover a treasure house here, I promise.
What Is the Twelfth House in Astrology?
The twelfth house is the hardest house of the natal chart for us to get a grasp of. It is complex and foggy, and mystical place and the realm of dreams—literally and in an abstract sense, too. This house is part of a different world, but nevertheless, we can still try to get a basic understanding of it.
Here is a list of the keywords of the twelfth house:
spirituality
fantasies and inspiration
sleeping
dreams
the subconscious
places of confinement: prisons, mental asylums, hospitals, monasteries
secrets
sorrow
suffering
confusion
addiction
escapism
large animals
Now that you got a general idea of the twelfth house in astrology, let's learn more about its natural sign.
Neptune and Pisces, the Sign and Planetary Ruler of the Twelfth House
Every house is associated with a zodiac sign they share similar qualities with. Of course, for every rising sing, there is a different sign on the cusp of the twelfth house in the natal chart. But in the natural chart, every house has a particular sign traditionally assigned to. For the twelfth house in astrology, this zodiac sign is Pisces.
The twelfth house in astrology is about illusions, a different state of mind, but also about spirituality, inspiration unconditional love. Pisces is a very sensitive sign, full of love and art but confused on not cut out for this world.
Because of these qualities present in both of them, Pisces is connected with the twelfth house—can you see how similar they are?
Every zodiac sign has a planetary ruler, Neptune being the ruling planet of Pisces. Neptune is an outer planet and it was discovered only in 1846. Before the discovery of Neptune, astrologers considered Jupiter the ruling planet of Pisces. Some astrologers keep using Jupiter as the ruling planet of Pisces, others use both, while modern astrologers recognize Neptune as the ruler.
Neptune is the planet of mystical experiences and inspiration. It represents dreams and intuition. But on the negative side, Neptune also governs addiction, escapism and illusions. It can be a retreat if used wisely but it becomes a trap if you don't manage to return to reality.
The twelfth house counts as a cadent house in the natal chart. Planets here are less obvious in the physical world but they influence deeply your inner processes. Even though cadent houses are generally considered to weaken planets here, don't underestimate the area close to the ascendant. Actually, this part of the twelfth house is one of the Gauquelin sectors and planets here have extreme influence over you.
Why the Bad Reputation?
Planets in the twelfth house? You are doomed.
This was the approach to the twelfth house in astrology for a long time. Luckily, nowadays astrologers see this house as a source of hidden talent and creative force instead of a sign that you'll end up in prison or in a lunatic asylum.
The twelfth house governs endings, sorrow, self-undoing, suffering, seclusion, places of misery, prisons, monasteries, hospitals, lunatic asylums. It's also the house of restrictions, confinement, limitations, illusions, escapism, confusion and getting lost. If you haven't had enough negativity, the twelfth house in astrology is also the house of hidden enemies. For a long time, the twelfth house was held for a house with no hope.
Well, you can't deny that the twelfth house is far from being an upbeat and cheerful house. All water houses are mysterious and containing a lot of the past—which is not always easy to cope with.
But being the house just above the ascendant, the twelfth house is the first the Sun illuminates after sunrise.
This house can be your source of power or it can be the end of you—it's up to you and how you approach it.
Are You a HSP?
The twelfth house is a place where boundaries are loose. You are free to walk from one state of consciousness to the other—this is both a blessing and a course.
People with placements in the twelfth house navigate easier between the world of dreams and reality, but they need to make sure that they won't get stuck there. We are on this planet to focus on the here and now most of the time.
But staying grounded can be hard if you are extremely sensitive. Planets in the twelfth house in the natal chart make you a highly sensitive person.
Highly sensitive people are easily overwhelmed by many people around them, bright lights, strong smells or harsh noises. They need to retreat from time to time and sooth their senses. On the other hand, if you are highly sensitive, you notice little details others don't, and enjoy subtle things in life more than the rest. Being a highly sensitive person helps you a lot if you make art or have any creative pursuits because you find inspiration everywhere around you.
The twelfth house is an opportunity to connect with the undercurrents. It can be a gift to be able to tap into the waters of the unconscious—many inventions and creative pieces were inspired by a dream. Your unconscious knows all the answers, you just need to find out how to calm your mind and connect with it.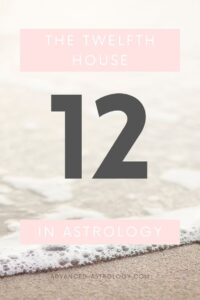 Locked Up
The twelfth house governs all places hidden from the world. This includes hospitals, monasteries, prisons or any kind of place that you can't leave when you want. The twelfth house also governs large institutions that have persisted for a long time, for example, religions.
This house is about isolation and being far away from the world. If you have some important placements here, for example the ruling planet of your ascendant, you are not the kind of person who enjoys being in the limelight. On the contrary, it suggests a desire to stay in the background. You prefer to work behind the scenes and if possible, work in a setting where you don't have to interact with people all the time.
The twelfth house is the house of solitude—an opportunity to recharge and be who you truly are, without the influence of the world's expectations. If this house is emphasized in your natal chart, make sure to spend enough time alone, as it is crucial for your well-being. Because of your sensitivity, other people have enormous influence over you and sometimes overshadow your true self. To let go of foreign influences, retreat from the world every now and then. Creative pursuits can be great assets here.
The Twelfth House As A Source Of Inspiration
The twelfth house is the realm of Neptune—it's no wonder that some part of it always slips through your fingers when you want to get the meaning of the twelfth house in astrology. Neptune is about escaping the here and now and visiting a place full of magic (which is hidden, however, from the noise of the everyday life). This planet governs dreams and fantasies. A prominent Neptune in the chart often indicates some kind of artistic talent. The twelfth house can be an endless source of creative inspiration.
Artists often have an emphasized twelfth house or Pisces in their charts. However, they are not the only ones who can utilize creativity. There are many professions where you need to be very creative to find the beset solution. For example, a surgeon has to display a lot of creativity when she is facing a challenging problem. Or a lawyer also has to be creative to make the right law.
The House of Self-Undoing
That's what this house has been called traditionally. Not too inviting, right?
The twelfth house shows how you undermine yourself. It's also referred to as the house of secret enemies. But if you think about it, these enemies are very often in the place where you'd never look for them: in yourself.
The twelfth house is the house of the subconscious, and as such, it contains many patterns of behavior that don't serve us. Or which are straightforward destructive! Loops that are repeating themselves over and over harm us in many ways. The worst is that you aren't even aware of them and it often takes years to realize that something isn't right (this is why I love astrology, it quickens up the process of self-discovery).
Often, you build your own prisons. Most people are the captives of their own limitations and false beliefs. A way to let go is through finding the connection with the source. The twelfth house in your natal chart suggests issues holding you back.
Life Before Life and After Death
The twelfth house is the area of the chart preceding the ascendant. The latter represents the beginning of your life, from the moment of you first breath. However, the environment affects us long before we are born. When in the womb, the fetus already senses the attitude of people towards them and their mother. Not all impulses are positive and encouraging, however.
Babies understand that their survival depends on the parents thus they want to appeal to them as much as they can. If your parents suggest you that some parts of your personality are unacceptable—you'll try to change yourself.
However, you can ignore some parts of yourself but you can't make them go away. They go right to the…
…twelfth house. Planets here often indicate that the traits of that planet weren't welcome in the family. The twelfth house is the place of confinement, remember? We often lock up painful experiences here.
Planets in the twelfth house often suggest behavior which weren't welcome in the eyes of the parents. For example, with Neptune in the twelfth house, the person's creative pursuits wasn't looked at with a good eye in childhood. But the problem is, each planet in astrology represents an aspect of the human soul. If you can't live out them fully, your personality is mutilated.
Addictions and How To Get Out
When talking about the twelfth house in astrology, you have to mention its dark side: escapism and addiction.
As you know by now, the twelfth house is a place full of inspiration, fantasy and love. But we are supposed to visit it only from time to time, and in the meantime to live in the word where we were put and face reality.
However, in the twelfth house, the temptation is strong to stay there forever, or at least for way too long. This is when things go south. Don't forget that the twelfth house can suck you in and never let out. If you spend too much time there, you will never come back and solve your problems, or at least the road back will be long and hard.
The twelfth house governs all addictions. These can be well-known addictions as alcoholism or drugs, or they can hide in subtle forms, like internet addiction or simply just escaping your problems. If you have something to face in real life (no matter what, a relationship, money or career problems, anything goes here), and choose to procrastinate or flee to a fantasy world, you experience the negative side of the twelfth house in astrology.
An afflicted twelfth house in the natal chart (just like strong Pisces or Neptunian influence) suggests that the person is prone to choosing the easier way and building up a fantasy world instead of solving their problems.
---
If you found this article helpful, maybe you want to save it for later. Make sure you share it with your friends who enjoy learning astrology!