Looking for talents and strengths in the birth chart is perhaps the best part of reading. Your natal chart gives information about your strengths, weaknesses, potentials, and aspirations. Writing talent in astrology is no exception. Harmonious aspects, planets in good dignity, or planets placed in houses where they feel at home can all suggest some kind of dexterity.
In this part of the Talents in Astrology series, you can read about some typical writer placements. There are some planetary positions and aspects that are frequently present in the natal charts of writers. These indicators often come to expression at a very early age. Kids who have them tend to be obsessed with writing and they are bookworms.
Writing talent in astrology is primarily seen through the position of Mercury and Gemini, but there are some other important planets and signs, too. In the chart wheel, the third house is associated with communication and writing. Planets in the third house suggest a strong urge to share your thoughts with the world.
As always, it is essential to analyze the chart as a whole. In the natal chart, the key information is repeated multiple times. Without further ado, let's move on to the typical clues you are dealing with a writer, poet, novelist!
Writing Talent in Astrology
In astrology, Mercury rules everything related to thinking and communication. This planet governs reading and writing, books, journals, newspapers, everything that enables us to share our thoughts with each other.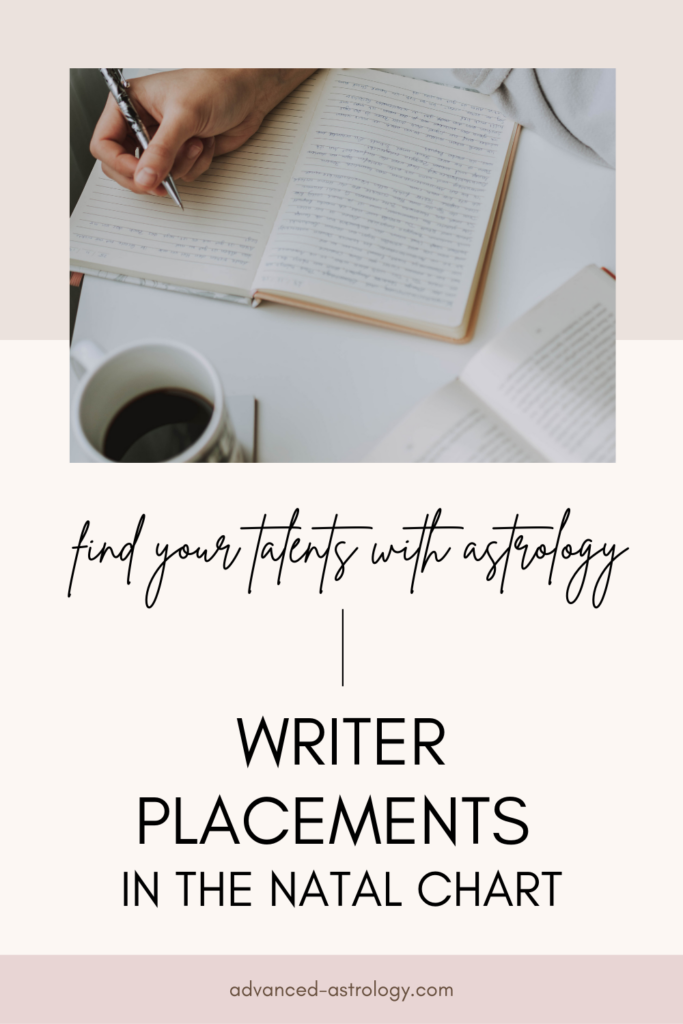 When talking about writing talent in astrology, Mercury is the most important planet to look to in the natal chart. In the birth charts of writers and poets, Mercury is usually a dominant planet.
When analyzing this planet, you have to look at its sign, house, aspects, its dispositor (the ruling planet of the sign where Mercury is placed in your natal chart). The sign of Mercury describes how you express your thoughts, how you communicate and connect with others. It also shows your thinking process. Your Mercury sign hints what kind of writing you feel the most compelled to do. For example, people with their Mercury in Scorpio are drawn to complex, psychological, investigative stories.
Read more: Natal Mercury in Signs
Sun
The Sun is the center of the natal chart. This luminary rules creativity and self-expression, both essential for literature. A well-aspected Sun gives you a unique and interesting personality. It helps you convey your message in a fun and entertaining way. If the Sun is in a creative sign such as Gemini, Leo, Sagittarius, there is a need to share your thoughts with the world.
Moon and Writing Talent in Astrology
The Moon is one of the most important planets when it comes to any form of creative ability. This luminary helps you nurture your ideas and help them grow into The Moon shows your emotional nature, your intuition, instincts, subconscious, memory. A well-aspected Moon suggests a person who is sensitive and artistic. The Moon feels very comfortable in Cancer, Pisces, Taurus.
For example, Moon-Mercury aspects often indicate writing talent in astrology. They suggest strong empathy, enable you to tap into your emotions naturally, and there is a need to share your thoughts.
Venus and Writer Placements
Venus is the planet of art, beauty, harmony. A prominent Venus is often the sign of an artistic personality. Writing talent has a lot to do with Venus, too, especially if it aspects Mercury in the birth chart. These aspects are a typical indicator of writing ability in the natal chart. You are able to translate your feelings and thoughts into words in an aesthetic way. Venus gifts you with grace and charm. People with this planet strong in their natal chart appreciate beauty in all forms.
Jupiter
The most beneficial planet in astrology, Jupiter expands everything it touches and brings luck and good fortune. It is one of the most important indicators of talent, including writing talent in astrology.
Jupiter in contact with Mercury enhances writing talent. For example, Mercury conjunct Jupiter helps you hit the nail on the head in a way few people can. However, Jupiter aspects are almost always helpful, even if you have a hard aspect. When it comes to literature and books, Jupiter also rules publishing.
Neptune, the Planet of Inspiration
Neptune governs fantasy, divine inspiration, imagination. A strong Neptune gives an artistic, intuitive style of writing. Neptune in aspect to Mercury suggests a talent for writing poetry in astrology.
Pluto and Writing Talent in Astrology
As always, Pluto adds depth and intensity. A strong Pluto in the birth chart can indicate a born psychologist, someone who knows people very well. They also know how to use people, this planet is also associated with manipulation. A touch of Pluto makes your writing investigative, somewhat dark, and you don't settle for anything less than the truth.
Zodiac Signs and Writing Talent in Astrology
Each zodiac sign flavors your writing style with its unique traits. However, there are some signs more drawn to writing than most. When talking about the relationship between zodiac signs and writing, the most important placements to look to are:
the Sun
Moon
rising sign
Midheaven
Mercury
Venus
If you have some of these in a sign that is connected with writing, it can be an indicator of writing ability in the natal chart.
Gemini and Writing Talent in Astrology
Gemini is the sign of writing. Gemini is the most communicative zodiac sign with the strongest talent for verbal self-expression. People with a strong Gemini have a way with words, they are versatile, smart, observe every detail, and they have what it takes to be a writer. The main weakness of Gemini can be its short attention span and lack of focus. An emphasized Gemini in the natal chart is a strong indicator of writing talent in astrology.
Virgo, for Adding the Final Touches
Virgo is the other zodiac sign ruled by Mercury. Virgo is a detail-oriented, precise sign. Writers who have a strong Virgo are just like that: they love t notice small details and incorporate them into the story. They have an analytical mind and they dissect the topic meticulously. All part of writing talent in astrology.
Libra
Libra is ruled by Venus, the planet of art and beauty. Several placements in Libra suggest a strong sense of harmony. Peace and balance is important to you, and you have a refined taste. Mercury in Libra suggests an elegant, graceful, objective way of writing.
Scorpio
Scorpio is a frequent sign among writers. This zodiac sign is connected with going under the surface, seeing through lies, an insight into human nature and psychology. A strong Scorpio in the natal charts of writers can suggest darker themes, such as detective stories, horror, morbid or taboo themes. Scorpio can also indicate sexual topics.
Pisces and Writing Talent in Astrology
Pisces is ruled by mystical Neptune. Placements in Pisces suggest an introspective person who is sensitive to their surroundings. With Pisces strong in your chart, you notice a lot of things others don't and you can easily tap into the unconscious. Neptune is the planet of poetry in astrology, ruling fantasy and imagination. This planet is particularly great for writing fiction and poetry.
Houses and Writing Ability in the Natal Chart
There are twelve houses in the chart wheel. They all govern a life area, and some of these life areas are particularly important for writing talent in astrology.
Planets in these houses can be indicators of writing ability in the natal chart.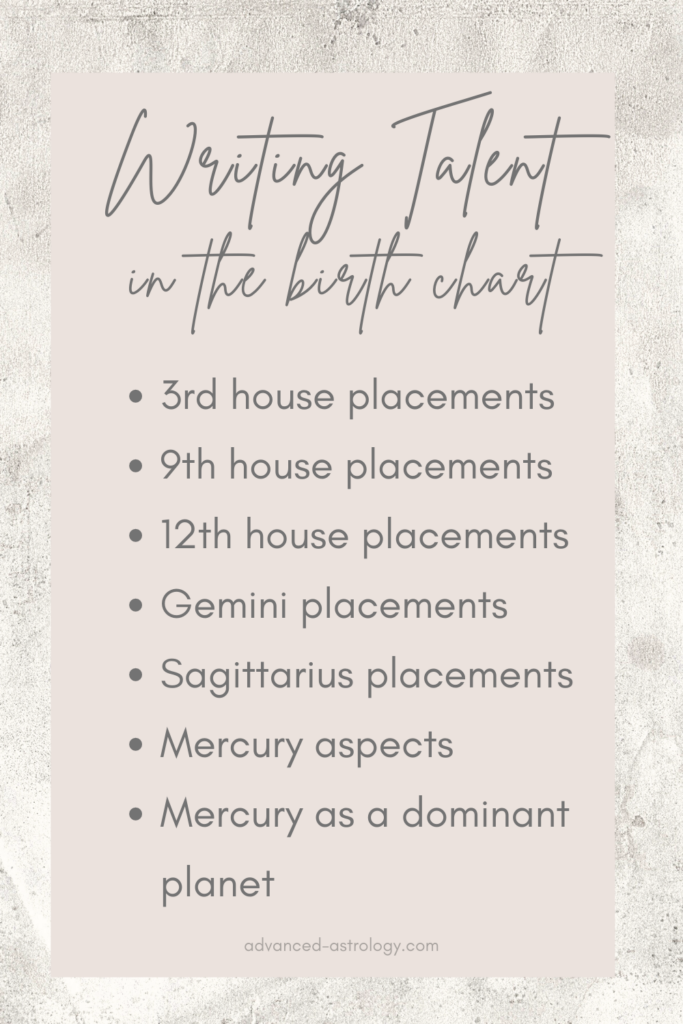 The First House
Planets in the first house describe your personality (and also your physical appearance). The Sun or Mercury in the first house indicate that you have a lot of things to say.
The Third House and Writing Talent in Astrology
The third house is important when it comes to writing for multiple reasons. This is the natural house of Gemini, and Mercury is in accidental dignity here. This house governs communication and thinking in astrology, including writing, observing your surroundings, and gathering information. Planets in the third house suggest a person who loves reading and they often write themselves, too. This powerful urge to write is often associated with this house in astrology.
The Fifth House
The fifth house is the house of creativity and fun. Mercury, Venus, Neptune here can be indicators of writing talent in astrology, Placements in the fifth house you find joy in writing and creative self-expression.
The Ninth House
The ninth house is the house of the higher mind. Traditionally connected with Jupiter and Sagittarius, the ninth house is all about expansion. Planets here suggest an avid reader. You often excel in academic writing.
The Tenth House
The tenth house is an angular house, the house of career and public reputation. Planets here are important career indicators. Mercury in the tenth house can indicate a career that involves a lot of writing and communication.
The Twelfth House
The twelfth house is the natural house of Pisces, the sign of imagination and inspiration. This house deals with long periods of isolation and solitude. Both are necessary for writers as they spend long hours on their own honing their craft. Planets in the twelfth house also indicate great sensitivity and the ability to understand how others are feeling deep down.
Writer Aspects in the Birth Chart
Aspects involving Mercury are typical indicators of writing talent in astrology. Some typical aspects:
Sun in aspect to Mercury
the Moon in aspect to Mercury
Venus in aspect to Mercury
Neptune in aspect to Mercrury
Pluto in aspect to Mercury
Other writer aspects in the natal chart:
Venus in aspect to Neptune
the Sun in aspect to Neptune
the Sun in aspect to Venus
Venus in aspect to Chiron
Indicators of a Career in Writing in Astrology
Career is one of the most complex topics in astrology. You have to take into consideration a variety of factors that describe the chart as a whole. The most important information is contained multiple times in the birth chart, so it is not wise to make assumptions on one indicator only.
In the natal chart, the tenth house describes your career. Its cusp is called the Midheaven, one of the angles of the chart. Planets in the tenth house, the sign on the Midheaven, and the position of its ruler all reveal information about your career.
For a career in writing, usually, Gemini, Mercury, and the third house are involved.
---
If you liked this article, maybe you want to save it for later. Make sure to share it with your friends who enjoy learning astrology!