Have you ever dreamed about finding your hidden talents? Luckily, astrology can come in handy here. Your zodiac sign can reveal what you are naturally good at. It's time to discover your hidden talents!
Unexpected Hidden Talents of the Zodiac Signs
What are the superpowers of the zodiac signs? Each of the twelve signs has its unique set of advantages and weaknesses. They are all special in their own way. All twelve signs have their own assets which make them strong: some stand out because of their energy levels, others are super resourceful. In this article, we will look into their greatest strengths waiting for you to capitalize on them.
Aries Hidden Talents
Let's start with the first sign of the Zodiac. The hidden talent of Aries is its strong will. Impossible goals? No problem. Someone blocking your way? No problem. Aries has it all under control. If the Ram is your sign, your boldness makes you invincible. Your forcefulness is the greatest resource on your journey. Once you tap into these Aries superpowers, the world's your oyster.
Taurus Hidden Talents
As a Taurus, you are here to build, but also to enjoy the fruits of your labor. Your hidden talent is your zeal. You have a knack for all the good things in life and you won't find peace until you get them. Practicality is a Taurus superpower. Your observations are right on the money.
Bonus point: the infamous laziness of Taurus is another hidden talent―it drives you to come up with the most efficient solution.
Gemini Superpowers
The most important Gemini superpower is your gift to connect with others. Gemini is the bridge between people. You are very aware of others and you know how to make people tick with your words. Plus, you notice every detail, every change in a pattern of behavior. Gemini's hidden talent is reading subtle clues well and talking its way to the goal. Your exceptional communication skills are your superpower. Your ability to keep track of many different things at the same time helps you not to get lost in your relationships. These strengths are definitely worth nurturing!
Cancer Hidden Talents
Let's talk about the Crab's aptitudes.
Cancer's hidden talent is its excellent memory. Your ability to remember the smallest details is off the charts. You can recall anything, especially it evoked a strong emotional reaction in you. Don't upset a Cancer-they will remember you being an annoyance for a long time. For a very long time.
Two other Cancer superpowers are empathy and intuition. Your extremely powerful intuition guides you towards your dreams and it is a reliable compass throughout your life. Being an empath can be exhausting. Once you learn to protect your energy it allows you to understand what is going in someone's mind. You are able to understand people better than they understand themselves. Cancer is talented at persuasion.
Leo Superpowers
As a Leo, your hidden talent is your entitlement. What? This might sound silly, but it drives you not to settle for anything except the very best. Your taste for excellence is a reliable compass. Deep down, you know that you are worth it. This helps you build up an amazing life that allows your creativity to flow freely, another one of Leo superpowers. Your desire to shine carves you out new opportunities.
Virgo Hidden Talents
Virgo's superpower is its insurmountable intellect. You grasp complex things in minutes. Your mind is your most powerful asset. Nothing escapes your attention. You are able to organize extreme amounts of information. Your standards are super high. If others would try this, they would go crazy in a minute.
Bonus point: Virgo's hidden talent that can help others is your devotion to those in need. You genuinely love to be there for people. You are an excellent caretaker and others can always count on you.
Libra Hidden Talent
What are the talents of Libra?
Your greatest strength is your ability to get what you want without stepping on anyone's feet. You get your point across in an exciting, adorable way. You read people like an open book and you charm your way to people's hearts. Libra's superpower is bargaining. You are excellent at negotiation. Mature Libras are driven by logic, not by their ego. Cool-headedness is a Libra superpower.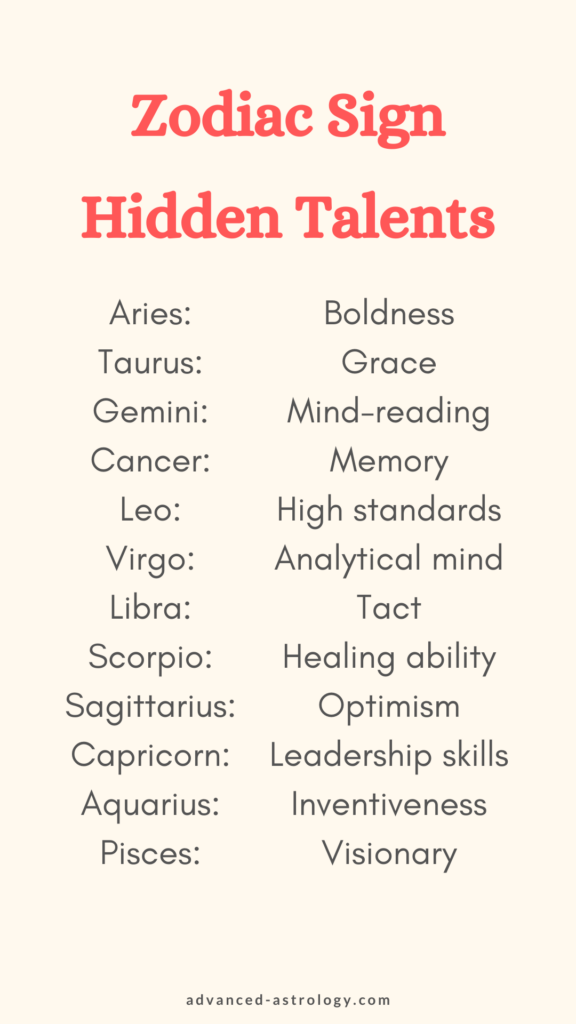 Zodiac Sign Superpowers: Scorpio
The ultimate Scorpio superpower is healing ability. Scorpio is here to help us make substantial changes. You have unrestricted access to the world of pain. At the same time, you also understand the transformation process. The ultimate role of Scorpio is to help others ascend their pain and evolve into a wiser version of themselves.
The hidden talents of Scorpio are its resilience and intuition. The first allows you to rebirth yourself a thousand times if necessary in a stronger, upgraded version of yourself.
Sagittarius Hidden Talent
What are Sagittarius talents?
Your ability to see behind things takes you places in life. You are able to ascend beyond the mess of everyday life. Sagittarius's hidden talent is the courage to step out of your comfort zone. You are always open to new adventures, what lets you capitalize on opportunities others never dreamed of. Your optimism is a true blessing.
The Archer This Sagittarius superpower lights up even the most boring room.
Capricorn Hidden Talent
Capricorn's superpower is its consistency. You know that no matter how good your plan is, if you are not dedicated, the chance of success diminishes. If you are a Capricorn, your hidden talent is your leadership ability. You are an excellent manager.
Aquarius Talents
What about the Water Bearer?
Openness and creativity are the ultimate Aquarius superpowers. Your knee-jerk reaction is never to reject something. You are here to see things differently and share your unique views with others. Your innovative ideas help humanity advance. You are particularly good at understanding abstract theories.
Authenticity is one of the greatest Aquarius superpowers. You would rather die than betray yourself. Your uniqueness often helps you create a beautiful life for yourself.
What Are Pisces Superpowers?
Last but not least, Pisces has its own set of hidden talents too. The Fish is in many ways special as the final sign of the Zodiac. The superpower of Pisces is its capacity to see things as they could be. As a Pisces, you are the visionary of the Zodiac. Pisces was born to easily receive inspiration and divine guidance.
Your hidden talent as a Pisces is your perceptiveness. You are able to notice nuances no one else can. Your artistic ability is outstanding and another Pisces superpower. If you enjoy creative activities, developing your craft is a very good idea.
---
If you liked this article, maybe you want to save our site for later. Share it with others who enjoy learning astrology!