After the worst aspects in astrology, it's time to change the topic to something more cheerful. Here are some of the best aspects in astrology that you can have in your birth chart. There are many nice aspects that one can have, though, and it's impossible to include them all in a post.
Most astrologers say that there are no so-called good and bad aspects. A difficult aspect can teach you helpful lessons and a harmonious aspect can end up with negative consequences. However, in this post, you can read about some of the best aspects in astrology in the sense that they indicate ease and natural talent.
The biggest danger of good aspects is over-relying on them. Although Jupiterian influence is generally positive, it can spoil you if you are not careful. It can end up in an overpromising underdelivering spiral or displaying false self-confidence.
It's subjective which aspect you consider to be the best aspects in astrology. Almost all aspects have a favorable and a less favorable manifestation. It also depends on what you generally consider good in life. Howerver, some aspects indicate important gifts such as creativity, courage, authenticity, the ability to form meaningful relationships and create love around you.
How an aspect exactly works depends on the rest of the chart. You can learn more about an aspect if you find out which houses the planets involved rule because this tells how the life areas interact with each other. In short, astrology is complex and there are many things the interpretation depends on.
Best Aspects in Astrology
(in no particular order)
Sun Trine Uranus
This aspect indicates creativity, out-of-the-box thinking, a love for self-expression, embracing your uniqueness. You are able to inspire others and contribute to the world by being authentic to yourself. You are autonomous and not afraid of the unknown. When facing a new challenge, you come up with innovative and creative solutions and you adapt easily. People with this aspect carve out a unique life for themselves. You are an eccentric but this trait is well-received by others. Differences excite you.
The conjunction and the sextile are also favorable between the Sun and Uranus. Harmonious aspects to the Sun are nice to have in general because they indicate a nuanced and multi-faceted personality. You find many ways to express your individuality.
Sun Trine Pluto
No matter what life throws at you, you come out (at least) two times stronger on the other side. You are extremely resilient. Sun trine Pluto often indicates physical strength as well. This aspect also gives you street smarts and a very good understanding of the human psyche. You see through people and it's hard to fool you. You don't like it when things are watered down.
Sun-Pluto aspects indicate a desire to understand yourself on a deep level and evolve throughout your life. Transformation is easy for you. This aspect suggests self-confidence rooted in having faced your shadow side. You are able to handle a lot. Your willpower is very strong and you are able to achieve your goals no matter what.
Mars-Jupiter aspects: one of the best aspects in the birth chart
Mars-Jupiter aspects are among the best aspects in astrology, even the hard ones. The easiest flow of energy is with the trine and the sextile. The conjunction can be a bit intense but in general, it's a very positive one too.
If in your chart, Mars is in an aspect to Jupiter, you are brave, generous, energetic, uplifting, friendly, decisive. You have an unshakeable faith in life and believe that things will work out in the end. Mars in aspect to Jupiter indicates an optimist. If you were born with this aspect in your birth chart, you have an abundance and growth mindset. You are self-confident and have faith in that you could do something even if you haven't done it in the past. You never stop learning new skills. You also enjoy travel and adventures.
Very often, favorable circumstances seem to keep coming to you. You are a magnet for luck. Being offered an opportunity is one thing, but Mars-Jupiter aspects suggest that you intuitively find out what the best course of action is to make the most out of a situation. You are a natural action-taker and these aspects indicate leadership abilities as well. People see you as inspiring and warm. You love supporting good causes and it makes you happy when you can help someone.
Moon-Venus harmonious aspects
Moon in a harmonious aspect to Venus (conjunct, sextile or trine) is excellent for all things relationships. Even if your Moon is afflicted in your chart, a nice aspect from Venus mitigates the tension. You are emotionally balanced and you can easily express your needs in a way that others understand. You are not afraid of feeling your emotions. You instinctively recognize who is good for you and who you are compatible with. You are patient, affectionate and kind. People love being around you.
This aspect is also great for creativity. It suggests that you channel your emotions into your art. You usually have excellent taste and enjoy being surrounded by beauty.
Mercury-Venus aspects
We have only two major aspects in this group, the conjunction and the sextile. Mercury in a good aspect to Venus gives tact, kindness, and it's a good placement for communication. You are subtle and graceful yet you get your point across. These aspects indicate that you are an excellent conversationalist.
Mercury in aspect to Venus also suggests that you can maintain relationships easily and people enjoy talking to you.
Harmonious Mercury-Pluto aspects
These aspects indicate a very powerful mind. People with good aspects between Mercury and Pluto can get really good at what interests them. The obsessive nature of Pluto helps you stay with a problem and work through it. You quickly spot patterns. Your mind is complex and you are able to understand difficult topics well. This aspect also helps you get along with others because Pluto gives you a certain psychological insight that enables you to understand the agenda of others. In a debate, you are a scary opponent. People with a good Mercury-Pluto aspect tend to be extremely intelligent.
Harmonious Sun-Jupiter aspects
If you have your Sun conjunct, sextile or trine Jupiter, you were born under a lucky star (quite literally). This is very good to have in a birth chart, Sun-Jupiter conjunct, trine and sextile are among the best aspects in astrology.
With these aspects, you are enthusiastic, optimistic and easy-going, people see the good in you and they want to help you. Older, wiser people love to advise you. These people attract favorable circumstances.
Besides this, you are also hungry for knowledge: you are open-minded, learn quickly and you enjoy interacting with people who are in some way different from you. Morals are important to you.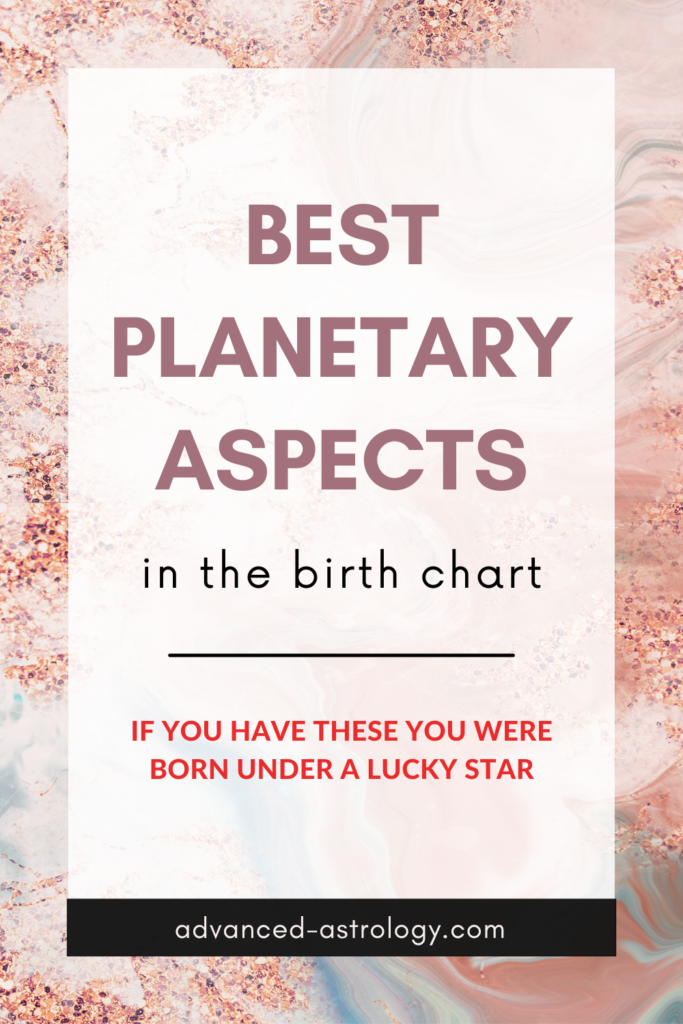 Venus in aspect to Jupiter
This is another classic born-under-a-lucky-star aspect, in some cases, indicating that you were born with a silver spoon. People who have a harmonious aspect between these two planets often attract favorable circumstances. Creating abundance is easy for you, not just materially but also intellectually and spiritually. You swim through problems as gracefully as a swan.
You have an appreciation for all things beautiful (and expensive). Venus in aspect to Jupiter suggests a talent for art and aesthetics and a refined taste. People with these aspects are often good-looking and well-groomed. You have a warm and affectionate presence, no wonder you are often quite popular.People born with a harmonious Venus-Jupiter connection are generous, kind, enjoy sharing their knowledge and helping others. They often give very good advice.
The Moon in a good aspect to Jupiter: one of the best aspects in astrology
Moon-Jupiter aspects are among the best aspects in astrology. This is a charisma and serendipity aspect.
Moon-Jupiter aspects are linked to good morals, abundance, popularity. Especially with the conjunction, people flock to you. You enter a room where you know no one and five minutes later, you have made ten new friends who are over the moon to have the privilege of talking to you. People see you in a very positive light. You are optimistic, excited about life, and generally a positive person to be around. You are generous and it makes you happy These aspects are also great for travel and foreign matters.
People with these aspects are quick learners and they are very creative. The Moon in a harmonious aspect to Jupiter suggests a well-developed intuition. You instinctively know what the best course of action is in a situation.
Moon-Jupiter favorable aspects are also good for family matters. Your mother was probably an educated, cheerful, fun woman whose influence was key for your personality development.
Mars Trine/Sextile Uranus
People with these aspects have a quick mind, they absorb new information very quickly, and achieving a goal makes them very happy. They are independent thinkers. These people are usually talented in multiple fields and they can get really good at most things. This aspect indicates high energy levels. It implies that you are a driven, dynamic and bold personality. It's easy for you to get others on board with your goals.
Mars puts into action the creative ideas of Uranus. With these aspects, you are able to craft effective action plans and you are also able to actually take action and turn your ideas into reality, what's perhaps even more important. There are few challenges you can't overcome. No wonder many people with harmonious Mars-Uranus aspects are high achievers. You spot opportunities but you are also realistic and don't take on more than what you can accomplish in a given amount of time. If a circumstance changes, you adapt quickly and easily.
All in all, good aspects between Mars and Uranus are very powerful and one of the best aspects in astrology.
---
If you liked this article, maybe you want to save our site for later. Share it with others who enjoy reading about astrology!