What does your Mercury reveal about how you learn the best? In the natal chart, Mercury offers insight into how your mind works and how you absorb information. In this post, you can read about how other planets aspecting Mercury affect this.
Aspects to this planet describe how you process and retain information, how you approach intellectual pursuits, but also how you communicate with others. In the natal chart, an emphasized Mercury suggests a mentally active, smart, versatile person who has superb communication skills.
Your Learning Style in Astrology
When finding out which planets you Mercury aspects, you can also take into account the minor aspects, especially the quincunx (which is also called the inconjunct). Just make sure the orb is fairly small, up to 1-2 degrees. Besides Mercury, your 3rd house also has a say in how you learn and communicate the best. As you can see, your learning style in astrology depends on a few things, but Mercury has a central role in it.
Here's how you learn the best based on your Mercury aspects!
Mercury-Sun: the Confident Learner
(Similar to: Mercury in Leo, Mercury in 5th house)
If your Mercury is in aspect to your Sun, you are very expressive and you learn the best when you explain the material to someone else. These aspects are great for teaching in general. People with these aspects often prefer having a study buddy (or more) as opposed to studying alone. Being with others helps you see things from multiple perspectives that you later integrate into one.
When it comes to studying, you prefer a spontaneous, fun-based approach. People with these aspects often like reading out loud the material.
Mercury-Moon: the Emotional Learner
(Similar to: Mercury in Cancer)
A harmonious connection between the Moon and Mercury is excellent to have. It indicates that your subconscious and conscious mind work in sync. If something evokes emotions in you, it's much easier for your mind to absorb it. In your mind, stored information is often linked to what you were feeling while you learned it.
Your current emotional state affects your productivity. You study the best when you are in the mood for studying. Your motivation may ebb and flow.
Moon-Mercury aspects suggest that you have an excellent memory. You learn the best at the comfort of your own home, writing things down. This aspect can feel like your brain is in your hand. Reading is more natural for you than watching videos.
Mercury-Venus: the Aesthetic Learner
(Similar to: Mercury in Taurus, Venus in 3rd hosue)
You are an artistic learner. You love beautiful stationery, notebooks, colorful study materials. Your notes look jaw-dropping. People with Mercury-Venus aspects in their birth chart tend to be visual learners. It's important to you that your environment is aesthetically pleasing as well.
Mercury in contact with Venus suggests that you have a flair for writing and communication. Studying with someone may make it easier for you to grasp a new concept.
Mercury-Mars: the Active Learner
(Similar to: Mercury in Aries, Mars in 3rd house)
Mercury-Mars aspects indicate that you are the kinesthetic type—you need to be physically involved in the learning process. For this reason, folks with these aspects greatly value learning by doing. If you can see how something works in the real world, it's much easier for you to learn it. You enjoy doing projects rather than just reading about abstract theories. You learn the best when you are highly motivated.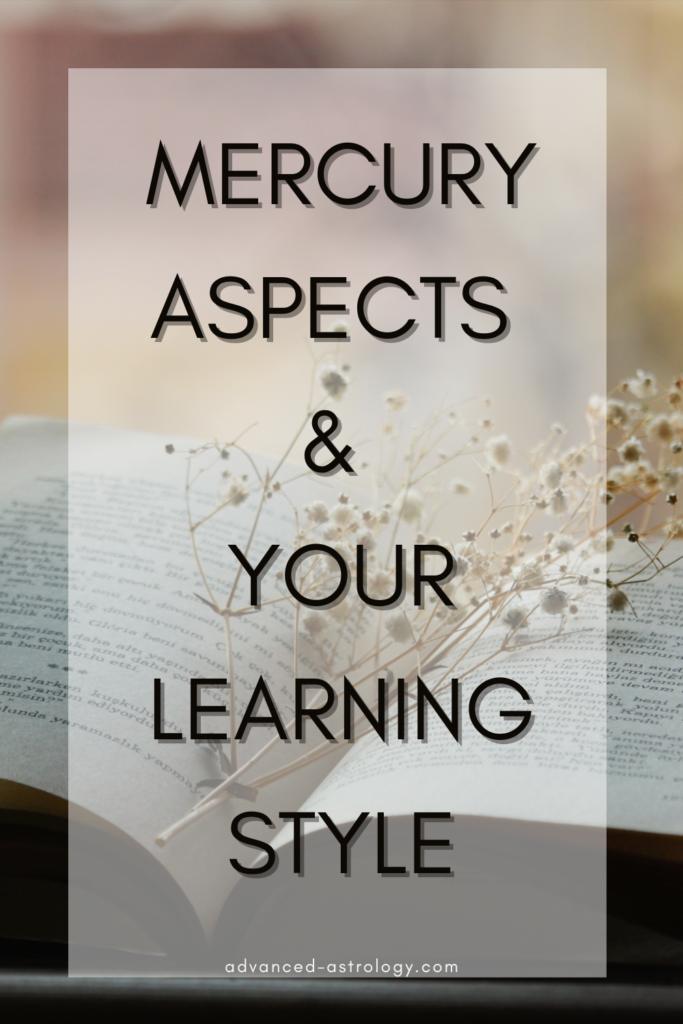 Mercury-Jupiter: the Big Picture Learner
(Similar to: Mercury in Sagittarius, Mercury in 9th house, Jupiter in 3rd house)
You are interested in many things. You usually love learning and continue your education even after graduating. Mecury-Jupiter aspects often indicate a talent for learning languages.
When learning something, you are more interested in the big picture then in the details. You are able to connect the dots, but sometimes you skip details. You have a multidisciplinary learning style in astrology.
People with Mercury-Jupiter aspects also tend to be kinesthetic learners. You prefer to learn in an interactive way and to be involved in the process. Learning by teaching is also a typical learning style in astrology for these aspects. In fact, Mercury in aspect to Jupiter often indicates a talent for teaching and education.
Mercury-Saturn: the Elaborate Learner
(Similar to: Mercury in Capricorn, Saturn in 3rd house)
If you have a Mercury-Saturn aspect in your chart, you are methodic in your approach. You process information slowly but you don't skip anything. Thinking on your feet is probably not your strength, but you make up for it with your systematic and organized style. Saturn suggests that you find active recall the most effective. You learn the best when you practice the material over and over, and then it stays in your mind for a long time. When it comes to studying, consistency is important to you.
Your notes are very organized and you jot down even the tiniest details. The information is also well-organized in your mind. However, you may doubt yourself and get discouraged if something doesn't turn out as you expected. People with Mercury-Saturn aspects are often good at maths and at recognizing patterns.
Mercury-Uranus: the Quick Learner
(Similar to: Mercury in Aquarius, Uranus in 3rd house)
Uranus in aspect to Mercury indicates that you are mentally very active. You love to experiment with different ideas and you are very creative. You may have a completely unique learning style that others may criticize but you swear by it. People with these placements often prefer learning by listening rather than learning by making notes. You probably enjoy thinking about abstract ideas. Mercury-Uranus aspects suggest that you have sudden insights and aha moments.
You often think outside of the box. You have strong critical thinking skills, you test a piece of information before accepting it. Because of this, if your teacher is not a genuine authority on the topic, you prefer learning on your own.
Mercury-Neptune: the Imaginative Learner
(Similar to: Mercury in Pisces, Mercury in 12th house, Neptune in 3rd house)
If you have a Mercury-Neptune aspect in your chart, you have a vivid imagination and your mind works very intuitively. You tend to be a visual learner. These aspects often indicate a very creative person. You have an affinity for abstract, poetic things.
When studying, you prefer to visualize the material. The environment you are in is important for successful studying, you are very sensitive to the things around you, noises, lights, and even smells or textures may be annoying if they are not what you like.
Often, people with these aspects learn a lot from movies. With the difficult aspects, you may be prone to maladaptive daydreaming.
Mercury-Pluto: the Investigative Learner
(Simliar to: Mercury in Scorpio, Mercury in 8th house, Pluto in 3rd house)
With Mercury-Pluto aspects, you have a very powerful mind. When something catches your interest, you are like a dog with a bone.
When learning, you test and dissect every piece of information. You love doing independent research. You need to find a purpose in learning something. You prefer the material to be presented in a concise, to-the-point way.
You also like to experiment with solving a problem on your own first without asking for help.
---
If you liked this post, maybe you want to save our site for later. Share it with others who enjoy reading about astrology!